In this podcast episode, I talk about my brand new book, Platform: Get Noticed in a Noisy World (Nashville: Thomas Nelson).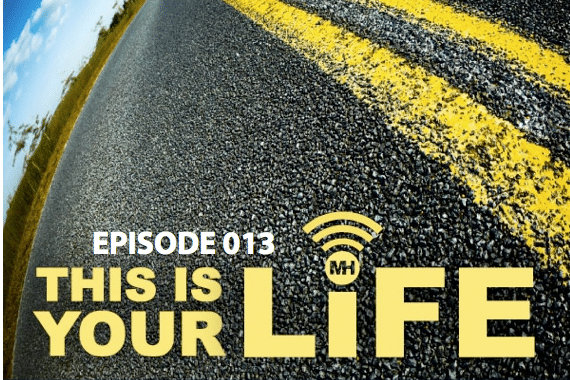 Yesterday was the official publication date. I am celebrating this entire week with a special, AMAZING offer that I can't wait to tell you about. If you can't wait, you can find the offer here.
Click to Listen
Subscribe to Podcast in iTunes
Episode Outline
Four centuries ago, William Shakespeare said, "all the world's a stage." That is more true than ever before. If you have something to say or sell—whether it is a product, a service, a brand, or a cause—you are on stage.
The problem is that the stage is very crowded.
More than one million new books were published last year. Amazon has more than 27 million in its online database.
There are more than 164 million blogs in the world.
There are thousands of radio and television shows.
More video was uploaded to YouTube in the last 60 days than was produced by all three major networks in the first 60 years of their existence.
This doesn't even include Facebook, Twitter, LinkedIn, Google+, Pinterest, apps, or games.
That's why you need a platform.
What is a platform? It's that thing you stand on to be heard. But it's no longer made of wood or steel. Today, a platform is made of people: contacts, connections, customers, followers, fans.
As you may know, I have spent my entire career in the book publishing business. About ten years ago, I started noticing a disturbing trend: We kept turning away authors with good content. The reason? They didn't have a platform.
Content was still king, but platform had become queen. Without both, it was difficult to get a publishing deal.
Then in 2004, I started blogging. I accidentally created a platform. You can see my traffic growth and the implications here. Here's a chart that summarizes the numbers I shared in this episode: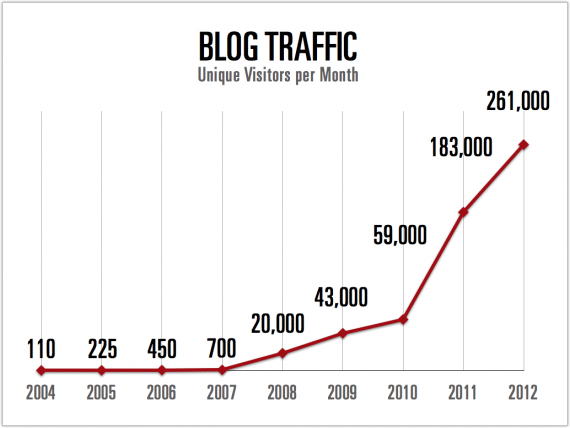 You can assemble a powerful, personal platform with just five planks:
Start with wow.
Prepare to launch.
Build your home base.
Expand your reach.
Engage your tribe.
These are the five parts of my book, which is divided into sixty short, practical chapters.
Listener Questions
Next week, I we will continue our discussion of platform-building. If you have a question about this topic, please leave me a voice mail. I'd love to hear from you.
Special Announcements
My new book, Platform: Get Noticed in a Noisy World, is now shipping. It has been endorsed by twenty-seven people, including Seth Godin, Chris Brogan, Dave Ramsey, John Maxwell, Tim Sanders—and a whole bunch more.

I have put together a special offer that includes SEVEN FREE BONUSES worth $375.98. To get this special bonus offer, all you will need to do is buy the book between now and May 25th. You can get the details here.

I will be speaking at the BlogWorld & New Media Expo in New York City on June 5–7. I will be leading one of the "Super Sessions" on Thursday, June 7th, at 9:00 a.m. You can register here.
Episode Resources
I did not mention any additional resources in this episode.
Show Transcript
You can download a transcript of this episode here.
Subscription Links
If you have enjoyed this podcast, please subscribe:

| | |
| --- | --- |
| iTunes | RSS |
Your Feedback
I want to hear from you! Please leave me a voicemail with your question. I may use it on the next episode of my show. If you have an idea for a podcast you would like to see or a question about an upcoming episode, e-mail me.
Also, if you enjoyed the show, please rate it on iTunes and write a brief review. That would help tremendously in getting the word out! Thanks.
Question: What would a platform make possible for you? You can leave a comment by
clicking here
.