In this episode, I discuss discovering and using your strengths, based on the StrengthsFinder assessment developed by the Gallup organization. I first took this test back in 2003. It was a major turning point in my leadership philosophy.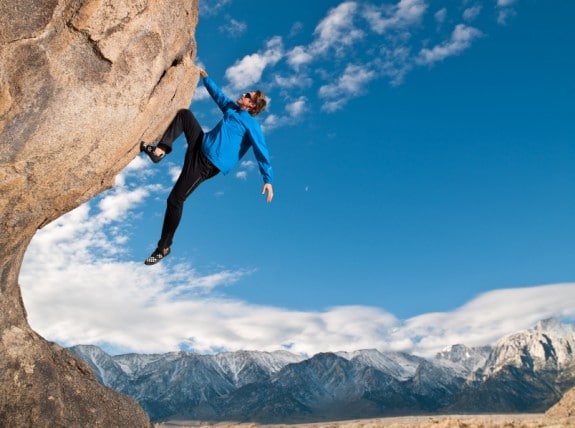 Photo courtesy of ©iStockphoto.com/MichaelSvoboda
One of the most important questions you can ever ask yourself is this: "What are my strengths?" Knowing the answer is the key to job satisfaction and effectiveness.
Click to Listen
Subscribe to Podcast in iTunes
Unfortunately, most of us have been trained to think first about our weaknesses. For example:
Teachers pointed out our errors and marked them with a red pen.
Parents scanned our report cards and focused on those subjects where we needed to improve.
Employers have noted our weaknesses and discussed them at our annual performance review, often under the heading, "Opportunities for Improvement."
I used to do the same thing with my direct reports. I thought I was being helpful. As a leader, I thought that this was my role.
Everything changed when I read, Marcus Buckingham and Donald Clifton's bestseller, Now, Discover Your Strengths. At the time, both men worked for Gallup. The book was based on their research there.
They had a simple but powerful thesis. The best way to get ahead in your career and be satisfied in your job is to focus on developing your strengths. No matter how hard you try, you really can't improve your weaknesses. You are wasting time and energy trying to do so. The best thing you can do is discover your strengths and then find a role that allows you to use them.
In their extensive research, Buckingham and Clifton identified thirty-four different strength themes. They also developed an online strengths assessment that identified your five top strengths. Since the book originally came out, Buckingham left Gallup and went on to write several more bestsellers. Sadly, Donald Clifton passed away.
However, Tom Rath, another Gallup employee, picked up the torch and refined the research. He used the results from the four million people who took the first test to develop an even more accurate, reliable, and faster assessment tool.
In 2007, he wrote a follow-up book called StrengthsFinder 2.0, documenting his research. Gallup then made the new assessment available online, renaming it "Clifton StrengthsFinder 2.0" in honor of Donald Clifton.
We have a misguided maxim in our culture that says, "You can be anything you want to be, if you just try hard enough." Rath tells the story of Rudy Ruettiger as an example of this. He became a cultural icon for this philosophy.
After much research, Rath suggests a better principle: "You cannot be anything you want to be—but you can be a lot more of who you already are." This is a major key to success.
Here are seven steps you can take to discover your strengths and start operating according to your unique design:
Step #1: Buy the StrengthsFinder 2.0 book and take the test. Inside the book, you will find an "access key" that enables you to take the online assessment. (If you buy the Kindle edition of the book, Amazon e-mails you the key after you complete the purchase.)
Step #2: Review your customized report and reflect on your strengths. Ask, "How well do these strengths describe me?" In other words, do they resonate with you?
Step #3: Share your strengths with those who know you best. Ask, "How well do you think these strengths describe me?" What do they say in response?
Step #4: Evaluate your current job in light of your strengths. What strengths does your job require? Do you have these strengths? On a scale of 1–10, how satisfied are you in your role?
Step #5: Develop a strategy to align your strengths and your job. This will likely require you to start focusing on those aspects of your job where you can express your strengths. What do you do with the other aspects of your job?
Negotiate with your supervisor.
Delegate them to someone else on your team.
Partner with someone who has the strengths you are missing.
You might have to look for a new opportunity.
Step #6: Share your strengths with your colleagues. Tell them you want to focus on your strengths, so that you can make your greatest contribution to them and the team. If they know your strengths, they can help you find opportunities to express them.
Step #7: Have your entire team take the test. If you want to build a strengths-based culture, this is essential. You can map your team's strengths on a grid. Then ask:
How can we use our collection of strengths? Like a symphony conductor, you can call up the various instruments as you need them.
What is missing from our collection of strengths? What strengths do we need to recruit, given the nature of our business or the function of our operating unit.
Update: I just discovered that you don't have to buy the book to take the test. You can buy the test only at the Gallup Strengths Center for $9.99. You can also get your full panel of 34 strengths for $89.00.
Listener Questions
Travis Dommert asked, "What is the biggest breakthrough you had in discovering someone's strengths? How did that change your view of that person? How did the discovery change that person's role or their impact on the organization?"
Frank Dickinson asked, "I believe your strengths are already built in and all you need to do is develop them. How do you feel about this?"
Gail Hyatt (that's right, my wife) asked, "I see how this applies to people in business, but how does it apply to stay-at-home moms?"
Special Announcements
If you are ready to get serious about building your platform and taking your blogging to the next level, you can't do better than launching a self-hosted WordPress blog. That's what nearly all professional bloggers use. That's what I use at MichaelHyatt.com. However, if you are a little technically-challenged and have been afraid to try and install WordPress, I have great news.
A few weeks ago, I produced a free screencast called "How to Setup a Self-Hosted WordPress Blog in 20 Minutes or Less." This short video will take you through the process step-by-step. Trust me, anyone can do this. In the last ten days, I've had almost 200 people use this video to launch their blog.
Episode Resources
In this episode I mentioned several resources, including:
Show Transcript
You can download a transcript of this episode here.
Subscription Links
If you have enjoyed this podcast, please subscribe:

| | |
| --- | --- |
| iTunes | RSS |
Your Feedback
If you have an idea for a podcast you would like to see or a question about an upcoming episode, e-mail me.
Also, if you enjoyed the show, please rate it on iTunes and write a brief review. That would help tremendously in getting the word out! Thanks.
Question: What additional questions do you have about getting published? You can leave a comment by
clicking here
.