In this episode, I talk about early morning rituals and how they can set you up to be more productive, more successful, and more healthy. They might even enable you to make more money!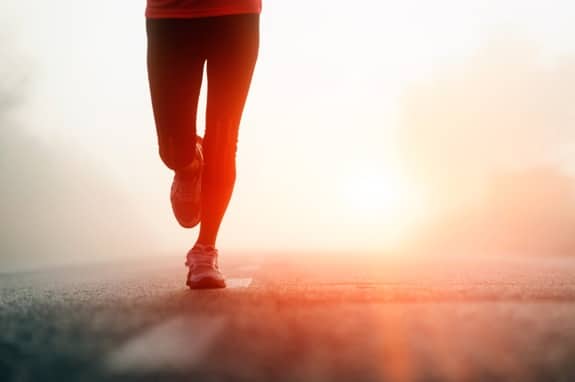 Photo courtesy of ©iStockphoto.com/warrengoldswain
According to a 2007 poll conducted by Gallup:
55 percent of U.S. adults consider themselves "morning people."
15 percent consider themselves "afternoon people."
20 percent consider themselves "evening people."
6 percent consider themselves "late night people."
Click to Listen
Subscribe to Podcast in iTunes
Interestingly, "Morning people" tend to:
The good news is that if you aren't a morning person, you can become one. (See, for example, "10 Benefits of Rising Early and How to Do It.")
But what about the "ritual" part of the equation? If you are like some people, the word ritual may have a negative connotation.
If you look it up on Dictionary.com, the first definition is this: "an established or prescribed procedure for a religious or other rite."
The problem is that we typically think of it in a religious sense. I am not using it in this sense, though for me, even there, it has a positive connotation.
I define ritual as "a prescribed procedure for achieving a specific result." In other words, it's kind of like a recipe.
For example, as a golfer, I have a ritual for hitting drives that are long and straight (most of the time). Does my ritual always produce the intended result? No. But it increases the probability of achieving the intended result.
An early morning ritual can do the same thing for your productivity and the effectiveness. It won't guarantee your results, but it will set you up for the possibility of success.
By the way, the truth is that you ALREADY have a ritual. Rituals are inescapable. The only question is whether or not you are intentional about your early morning ritual and whether or not your ritual is producing the results you want in your life.
Anyone can design a more effective early morning ritual by following these seven steps.
Acknowledge that you already have a ritual.
Document your existing ritual.
Evaluate whether or not it is producing the results you want.
Determine the results you want (and don't want).
Reengineer your current ritual.
Implement your ritual.
Tweak your ritual as necessary.
Reengineering your morning ritual can be a simple way to become more productive and set yourself up for success.
Listener Questions
Special Announcements
I am excited to announce the publication of my brand new audio course entitled, "Everything You Need to Know to Get Published." If you have ever thought about writing a book (or even if you have written a book) this course is for you.

In 21 audio sessions, I cover everything I have learned about publishing in my thirty-plus years in the industry as a publisher, former literary agent, and two-time New York Times bestselling author.

I am offering a special $100 discount to my blog readers and podcast listeners. If you order now, I'll also throw in four FREE bonus products worth more than $150.00.

Click here to find out more.

I will be in Vail, Colorado next week, speaking at the Launch and SCORRE Conferences:

October 14–17: The Launch Conference is a conference that my partner Ken Davis and I put on about the BUSINESS of public speaking. This year we will also be joined by New York Times bestselling authors, Lysa TerKeurst and Dan Miller. It's too late to get tickets, but we are recording it on video and hope to be offering an online course soon.
October 17–20: We will roll from Launch right into the SCORRE Conference. This is about the ART of public speaking. This is one of the most powerful—and useful—conferences I have ever attended. Ken Davis, Curtis Fletcher, Michele Cushatt, and I (along with a team of certified coaches) teach you how to have greater impact with your speaking.

This conference is sold out, but make plans NOW to attend the next conference April 7–11, 2013 in Rome, George at the beautiful WinShape Retreat Center. We will be opening that conference for registration in a few weeks, so stay tuned.

If you want to explore the possibility of having me speak at your event, visit my speaking page.
Episode Resources
In this episode I mentioned several resources, including:
Show Transcript
You can download a complete, word-for-word transcript of this episode here, courtesy of Ginger Schell, a professional transcriptionist, who handles all my transcription needs.
Subscription Links
If you have enjoyed this podcast, please subscribe:

| | |
| --- | --- |
| iTunes | RSS |
Your Feedback
If you have an idea for a podcast you would like to see or a question about an upcoming episode, e-mail me.
Also, if you enjoyed the show, please rate it on iTunes and write a brief review. That would help tremendously in getting the word out! Thanks.
Questions: What is your new, reengineered morning ritual? You can leave a comment by
clicking here
.