Whether you are a professional speaker or someone who only makes the occasional presentation, you could be more effective with better slides. In this podcast, I share my seven rules for better presentations.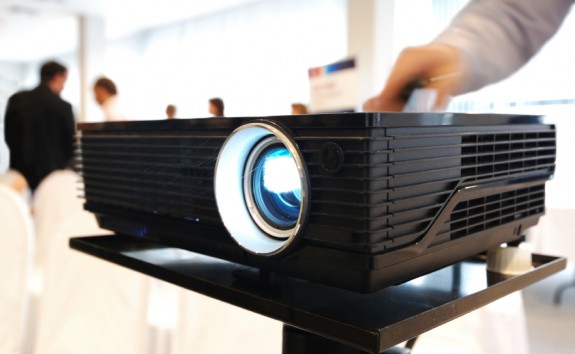 Photo courtesy of ©iStockphoto.com/Arand
I have sat through hundreds of slide presentations, maybe thousands. Some of them were stunning; most of them mind-numbing. I will also share with you from my experience as a professional speaker, who doesn't have it all figured out but who is committed to never-ending improvement.
Click to Listen
Subscribe to Podcast in iTunes
I originally created slideshows the old-fashioned way—with cardboard-framed, 35mm slides inserted into a slide carousel. In May 1990, Microsoft revolutionized the business world by releasing PowerPoint. It totally changed the way presentations were made.
In 2004, my friend, Joel Smith of Comprehensive Media, first introduced me to Apple's Keynote program, a competitor to PowerPoint. I was blown away.
But unfortunately, slide presentation software has not improved the quality of speeches. In fact, often it gets in the way.
In this episode I share my seven rules for making your slide presentations more effective.
Make sure you start with a solid presentation.
Don't give your presentation center stage.
Use big, compelling images.
Stick to one point per slide.
Make your slides readable.
Eliminate clutter.

Antoine de Saint-Exupéry said. "A designer knows he has achieved perfection not when there is nothing left to add, but when there is nothing left to take away."

Have a backup plan.
Listener Questions
DJ Wade-O asked, "Do you believe there should be a correlation between the length of your presentation and the length of your slide deck?" He also asked, "Do you think you should use the same background and design for every slide deck?"
Dwayne Morris, "Do you agree with Guy Kawasaki that decks should be five slides or less?"
Matt McMoore, "How do you handle main points and sub points?"
Mike Hansen, "What does a bad slide look like?"
Ryan Parker, "What do you use for Skype interviews?"
Scott Kantner, "What kind of pre-flight checklist do you use to address the technical details?"
Special Announcements
I am excited to announce the publication of my new audio course entitled, "Everything You Need to Know to Get Published." If you have ever thought about writing a book (or even if you have written a book) this course is for you.

In 21 audio sessions, I cover everything I have learned about publishing in my thirty-plus years in the industry as a publisher, former literary agent, and two-time New York Times bestselling author.

I am offering a special $100 discount to my blog readers and podcast listeners. If you order now, I'll also throw in four FREE bonus products worth more than $150.00.

Click here to find out more.

My next podcast will be on the topic of "How Get the Most Out of the Meetings You Attend." If you have a question about this topic—and want a chance to get on the show—leave me a voicemail message. This is a terrific way to cross-promote YOUR blog or website, because I will link to it, just like I did with the callers in this episode.
Episode Resources
In this episode I mentioned several resources, including:
Show Transcript
You can download a complete, word-for-word transcript of this episode here, courtesy of Ginger Schell, a professional transcriptionist, who handles all my transcription needs.
Subscription Links
If you have enjoyed this podcast, please subscribe:

| | |
| --- | --- |
| iTunes | RSS |
Your Feedback
If you have an idea for a podcast you would like to see or a question about an upcoming episode, e-mail me.
Also, if you enjoyed the show, please rate it on iTunes and write a brief review. That would help tremendously in getting the word out! Thanks.
Question: What presentation tips do you have to offer that I haven't covered? You can leave a comment by
clicking here
.