I have attended hundreds of meetings—maybe a few thousand—and led a few hundred, too. Often, meetings seem like a waste of time.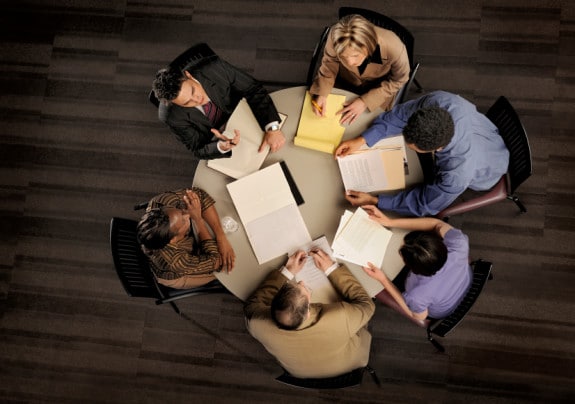 Photo courtesy of ©iStockphoto.com/francisblack
There have been some notable exceptions, and in this episode I talk about what made these meetings different.
Click to Listen
Subscribe to Podcast in iTunes
The good news is that most meetings can be improved. Here is my list of nine rules for leading more productive meetings.
Rule 1: Be fully engaged.
Rule 2: Establish hard edges.
Rule 3: Create a written agenda.
Rule 4: State the desired outcome.
Rule 5: Lead the conversation.
Rule 6: Review the minutes and action items.
Rule 7: Take written minutes.
Rule 8: Clarify action items.
Start each action item with a verb.
Specify the deliverable.
Assign a single owner to each action.
Agree on a due date.
Rule 9: Determine the next meeting date.
Look, improving the quality of meetings takes work. Meetings don't get better or more productive on their own. Every once in a while we need to step back from the meeting itself and ask, "How can we make our time together more productive?"
We need to be honest. Meetings consume a lot of resources. The more efficient they are, the better the return on our investment.
Listener Questions
Chris Pilon asked, "How can I make conference calls with my team more productive?"
Eric Rheam, "How do I get out of meetings I should not attend?"
Jayson Feltner, "What kind of system do you use for note-taking in meetings?"
John Wilkerson, "What do you do when you are scheduled at the end of a meeting and nothing before really applies?"
Ryan Parker, "How do I hear people but keep the meeting from turning into one long gripe session?"
Scott Reynolds, "How do you take good meetings notes? and How do you process those notes when you get back to your desk?"
Chris Jeub asked, "Is there any progress on your WordPress theme?"
Special Announcements
I created My Tools page in response to the numerous questions I get every week about what hardware, software, and other tools I use to do specific tasks. It is a comprehensive resource page with links to all my tools. If nothing else, it might just stimulate your thinking process.
My next podcast will be on the topic of "My Advice to Beginning Bloggers." If you have a question about this topic—and want a chance to get on the show—leave me a voicemail message. This is a terrific way to cross-promote YOUR blog or website, because I will link to it, just like I did with the callers in this episode.
Episode Resources
In this episode I mentioned several resources, including:
Show Transcript
You can download a complete, word-for-word transcript of this episode here, courtesy of Ginger Schell, a professional transcriptionist, who handles all my transcription needs.
Subscription Links
If you have enjoyed this podcast, please subscribe:

| | |
| --- | --- |
| iTunes | RSS |
Your Feedback
If you have an idea for a podcast you would like to see or a question about an upcoming episode, e-mail me.
Also, if you enjoyed the show, please rate it on iTunes and write a brief review. That would help tremendously in getting the word out! Thanks.
Question: What meeting tips do you have to offer that I haven't covered? You can leave a comment by
clicking here
.