I am always on the lookout for unique gifts that would resonate with people's secret aspirations. If you know someone who aspires to be a professional speaker—or perhaps someone who is already doing some speaking—then these gifts might provide you with an idea or two. (I also have a list for writers here.)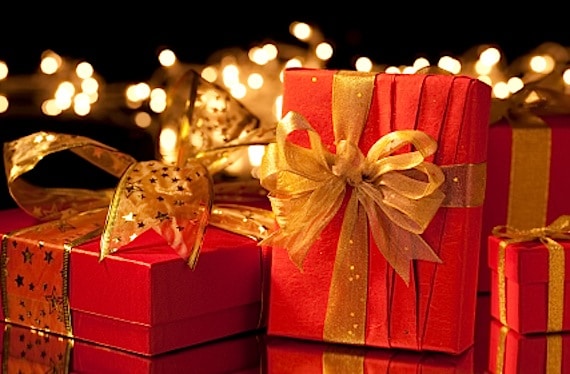 Photo courtesy of ©iStockphoto.com/cclickclick
I personally use all these items, and they are the "tools of choice" in my own speaking. I have tried to include gift ideas at a variety of price levels. I have arranged the list from least expensive to most expensive. Hopefully, you can find just the perfect gift for a friend or maybe even yourself!
Gift Suggestion
Amount
Admittedly, I am a big fan of Steve Jobs. Without question, he is my favorite business presenter. He is passionate, articulate, and polished. In The Presentation Secrets of Steve Jobs, author Carmine Gallo talks about "How to Be Insanely Great in Front of Any Audience" (the book's subtitle). He deconstructs the ingredients that make Steve great and shows you how to use them in your own presentations.
$14.93
Made to Stick is my favorite general communications book. The authors, Chip and Dan Heath talk about why some ideas and survive and some die. Drawing extensively on their study of memory, emotion, and motivation, they analyze the concept of "stickiness." Using the mnemonic, SUCCES (sic), the authors outline six key principles—Simplicity, Unexpectedness, Concreteness, Credibility, Emotions and Stories—for making your ideas more sticky.
$17.16
Beyond Bullet Points is the first book that really got me to thinking about the limitations of bulleted slides. You know the type, where the presenter simply reads his slides to you one after another until you fall into a hypnotic trance. Cliff Atkinson, the author, teaches you the fine art of classical story-telling and you can apply it to almost any presentation.
$19.79
In terms of actually preparing your slide deck, slide:ology is the best book available. Nancy's agency creates some of the most beautiful slideshows you have ever seen, including the slides for Al Gore's now-famous speech, "An Inconvenient Truth." I have personally worked with her agency and can vouch for her design savvy. The book is down-to-earth and practical with dozens and dozens of real world examples.
$23.09
Presentation Zen is a great companion to slide:ology This book extols the virtue of simplicity, instilling in me the conviction that every slide should make a singular point—and only one point. His book is a wonderful departure from the brain-numbing types of slideshow presentations we take for granted in corporate America. If you want to stand out from the crowd, this is a good place to begin.
$23.09
I have tried half a dozen different slideshow remotes. I've used the native one that comes with Apple laptops, along with the iPhone version. However, I keep coming back to the Keyspan Easy Presenter remote. The main thing I like about it is that it is simple and really small. It fits in the palm of my hand, so the audience can't even really see it. It makes advancing slides look like magic.
$37.96
Yes, you can create beautiful 3D books, software boxes, and brochures with Photoshop—if you are a professional designer. But for the rest of us BoxShot 3D is the easy alternative. As the CEO of a publishing company and a big believer in the value of reading, I refer to a lot of books in my presentations. This program makes it simple to create stunning book 3D covers, boxes, and more.
$60.00
I am an outliner by nature. I literally think in outlines. I always start preparing a speech by starting with an extensive outline. OmniOutliner Professional is the best outlining tool I have found. It is intuitive and easy to use. It also has enormous flexibility. It simply works the way my mind works, making it easy to get the thoughts out of my head and into a form I can organize and begin to package.
$66.99
I used to use PowerPoint for my slide presentations. Once I saw Apple Keynote (part of the iWork suite), I chunked PowerPoint for good. In my opinion, Keynote offers a professional edge that is unparalleled. It is easier to use, deals with type beautifully, and offers jaw-dropping transitions and effects. If you want to present like Steve Jobs, you can start by using the software he uses.
$72.99
I try to record all my speeches. This was always a hassle until I discovered the Zoom H2 Digital Recorder. It is super easy to use and the audio quality is superb. When I am done recording, I connect the device to my laptop via a USB cable and copy the mp3 files to my hard drive. They are then immediately available for editing or uploading to my server. It runs on either batteries or a power cord.
$141.29
The SCORRE Conference is a one-of-a-kind educational opportunity for speakers. It teaches you exactly how to craft your presentations so they hit the target. I use this method in my own speech preparation and even in my blog writing. This is the best investment an aspiring speaker can make in his or her career. It's not cheap, but it's worth every penny.
$999.00
I used to be a die-hard Windows user. Then I saw a friend of mine make a presentation using a Mac and was blown away. At first, I bought a Mac with the intention of only using it for presentations. But it eventually stole my heart, and I have never looked back. In my humble opinion, nothing tops a Mac when it comes to producing compelling slideshows. This is the model I currently use: the 13.3″ MacBook Air. It is the best computer I have ever owned.
$1,499.00
Question: What other gift ideas do you have for aspiring speakers? You can leave a comment by
clicking here
.