This is a guest post by my dear friend and business partner,
Ken Davis
. He's also one of the best public speakers you will ever hear. You can also read
his blog
and follow him on
Twitter
. If you want to guest post on this blog, check out the guidelines here.
Listen to most presentations and you will hear a litany of stories half submerged in what might be major points—or maybe just another story.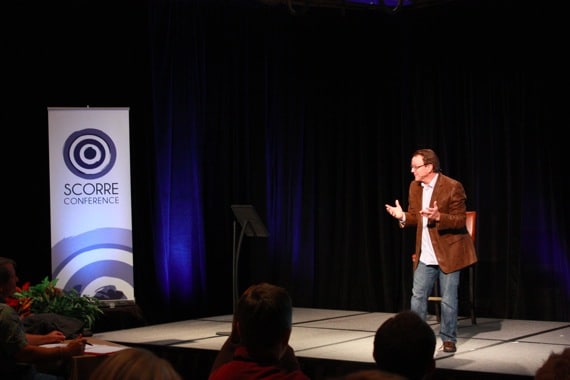 Regardless, 75 percent of the people leave a presentation with no idea what the point of the message was. Even worse, 50 percent of speakers can't identify the objective of their own talk.
During my thirty-five years as a professional speaker, I have been constantly asked the secret to being a powerful communicator. My experience with audiences of all sizes and from all walks of life have taught me that, whether speaking to twelve people in a board room or fifty-five thousand in a stadium, effective communicators share four characteristics:
Effective communicators know how to prepare a message with a singular and crystal clear focus.

If you know where you are going, you can take anyone with you.
If you aim at nothing, you will hit it every time.

Effective communicators know how to read an audience and are able to customize their presentation to make that audience want to listen.

Until the audience is engaged, communication has not taken place.
An engaging presentation puts people on the edge of their seats.

Effective communicators are passionate about their subject.
They pour every part of their being into the presentation.
If the subject is not worthy of your passion, it should be distributed in a memo.
Effective communicators leave the audience no doubt about how to benefit from the objective of the talk.
They call people to action.
They make it easy to respond.
No secrets there! Most people want to do all the above but don't know how.
That's the secret!
I developed the SCORRE System™ to teach people how to develop all the skills above.
I may be biased, but the response of people who have attended indicates that if you want to be a dynamic communicator, The SCORRE Conference is the best investment you can make.
Thousands of men and women including writers, professional speakers, CEOs, ministry professionals and sales and marketing executives have learned to prepare with focus, deliver with clarity, and speak with power. I hope you will become one of them.
Michael here again. The next SCORRE Conference will be held in Vail, Colorado, October 17–20, 2012. We will begin the official promotion next week. However, I talked Ken and my team into making a special, pre-promotion offer to my readers.
Here's the deal: The registration fee for the conference is $1,497. The "early bird price" is $1,397. However, if you register any time before Monday, May 14th at 5:00 p.m. CDT, we will give you another $100 off, making the total price just $1,297.
Note: This conference will sell out. If you want in, you need to take action NOW.
We are already getting calls and e-mails from people wanting to reserve a spot. Our last conference sold out in less than a week!
Don't miss this opportunity. This is your chance to take your speaking and communication skills to the next level. To take advantage of this special offer, register with the coupon code HYATT.
By the way, you take ZERO RISK. If you attend the conference and don't feel the investment was worth every penny you paid, we will happily refund your full registration fee, no questions asked.
Also, Ken and I will both be there. In addition to teaching one of the sessions, I will be present for the whole conference, interacting with the students. So will Ken.
I hope to see you there!
Update: here are some video testimonials from students.
Question: What would better communications skills make possible for your career? You can leave a comment by
clicking here
.