Last week, I spoke at the Catalyst Conference in Irvine, California on the topic of my new book, Platform: Get Noticed in a Noisy World (Thomas Nelson, May 22). As part of my introduction, I shared how my audience has grown since I started blogging in April of 2004.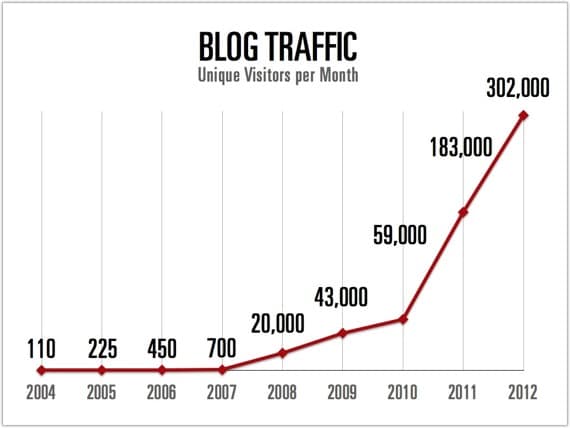 Note that these numbers reflect my average monthly unique visitors. I simply took the total number of unique visitors for the year and divided by twelve months (or in the case of 2004, eight months). With the exception of the first few years, this data came from my Google Analytics account.
I don't share these numbers to impress you but to encourage you if you are working to build your own platform. Here are four insights I gleaned from taking a look at the big picture:
Again, I am sharing this detail about my traffic to encourage you. Everything significant starts small. I didn't achieve success overnight and you probably won't either. But the great news is that it is possible. In fact, it's never been easier—especially if you get started now and learn from the mistakes of others.
Question: Where are you in the process of building you own platform? You can leave a comment by
clicking here
.