A "landing page" is a page on your website that highlights one specific product offering. It is called a landing page, because it is the page you want people to land on when you direct them to it from email newsletters, social media, affiliate links, etc.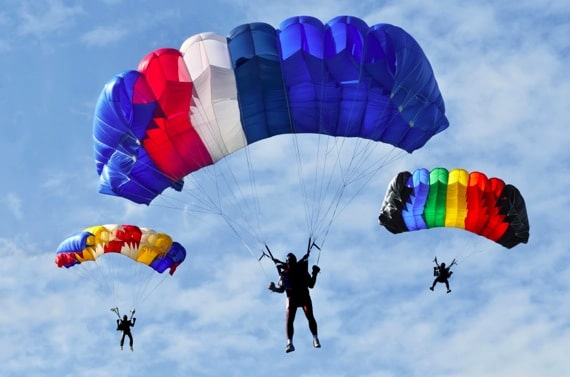 Photo courtesy of ©iStockphoto.com/ishoot63
The goal of the landing page is to convert interest into leads or–better yet–sales. In a sense, it is a salesperson who works for you non-stop, 24 hours a day, seven days a week.
For example:
The problem is that many landing pages are confusing. Visitors don't know what action to take once they get there. As a result, they don't produce the intended outcome.
Just for fun, here are two landing pages that are truly the worst I have ever seen. These were sent to me when I made a request for examples to my Twitter followers. Click on these links to get a sense for what NOT to do. Brace yourself:
Example 1: John Hutchins, candidate for U.S. congressman in the state of North Carolina
Example 2: Alien Ears, a supplier of in-ear monitors
This is a case where no landing page would be better than what these proprietors have developed. This only serves to damage–if not destroy–their brand.
But rather than focus on the negative, let's focus on the positive.
If you are launching a new product, service, or cause, you need a landing page. It may be your home page. It may be a separate page altogether (as in my personal examples). But it needs to be a destination.
I have learned the hard way how to create pages that get results. I created a landing page in 2002 that generated over $100,000 in the first year. (I can't share a link, because the page is no longer active.) I created a landing page in 2004 that completely failed, generating less than $5,000 after a $12,000 investment. (Obviously, I took this link down.) I thought this one was a sure-fire winner.
More recently, I created a landing page for my two ebooks, Writing a Winning Non-Fiction Book Proposal and Writing a Winning Fiction Book Proposal. I sell each ebook separately and together as a bundle.
In the 12 months ending August 31, 2011, I sold 1,097 copies of these ebooks for total revenue of $23,730.64. Since the ebooks went on sale in October of 2009 (two years ago), I have sold a total of 2,239 units for total revenue of $44,681.45. My only cost has been the payment processing fees.
This is completely passive income. I set up the page, connected it with e-junkie and PayPal, and have done nothing else. The sales, download links, and credit card processing are all handled automatically. The money is automatically deposited to my PayPal account.
Amazingly, these ebooks generate the same amount every month—about $2,000. Several weeks ago, I decided to analyze the landing page and see if I could improve the conversion. I thought, If this can generate $2,000 a month from a fairly lame landing page, what could it do if I optimized it. As a result, I completely retooled it.
I am happy to say that the results have been dramatic. I have gone from generating an average of 3.8 sales a day to 10.6—a 279% increase. This is after throwing out the launch day result of 43 sales, which I felt was an anomaly. If this average holds, it will result in annual sales of $85,264—not too shabby for two self-published ebooks.
Based on my experience—both positive and negative—I have identified seven characteristics of landing pages that get results:
Headline. You need a strong, compelling headline. Nothing else on your page is more important than this. If they aren't drawn in by the headline, they won't see everything else. I highly recommend David Garfinkle's book, Advertising Headlines That Make You Rich: Create Winning Ads, Web Pages, Sales Letters and More. Priceless.
Sales Copy. You need to write compelling sales copy that starts with your prospects problems and concerns, explains why your product is the solution, and makes a compelling offer. Again, I strongly recommend David Garfinkle. You can't do better than his course, Fast, Effective Copy. I refer to it weekly. It is worth every penny.
Product Photos. I mentioned this in my post about "How to Create the Ultimate Online Media Kit." I use BoxShot 3D. It gives you the tools to make the product the hero. For an example, check out the product photos on my Writing a Winning Book Proposal product page.
Testimonials. Nothing convinces prospect like testimonials. In fact, I have written an entire post on their importance and how to get them. I try to get both celebrity endorsements and user or reader endorsements.
Guarantee. People may be nervous about buying a product online. They may not know you. There are a thousand and one reasons why they can't pull the trigger. Make it easy. Take the risk out of the transaction. Promise to refund their money promptly if they are not satisfied. I have only had five refund requests after thousands of sales. If your product us good, it is not a risk.
An Offer. This is where the rubber meets the road. You have to establish a price and make an offer. Don't sell yourself short. I price-tested my ebooks at $9.99, $19.99 and $29.99. I actually sold more at $19.99 than $9.99. I think this is partly due to the fact people impute value based on price. If you charge more (within reason), they assume the product is worth more.
Call-to-Action. You must have a clear call-to-action. It must also be positioned in a prominent place. I suggest the upper-right-hand corner of the page. Ask yourself, What is the single action I want visitors to this page to take as a result of reading my copy? I indicate my call-to-action with a big red button.
If you are launching a new product, service, or cause, you need a landing page that delivers results. This is essential if you are going to convert readers to customers, and hopefully, tribe members.
Question: What action do you need to take as a result of this post? You can leave a comment by
clicking here
.