This is a guest post by Todd Stocker. He is the Executive Pastor at Trinity Lutheran Church in Hudson, Wisconsin. You can read his
blog
or follow him on
Twitter
.
My backside aches this morning. Forty miles of riding a bike with a well worn seat will do that to you. But this pain is nothing compared to what almost happened yesterday.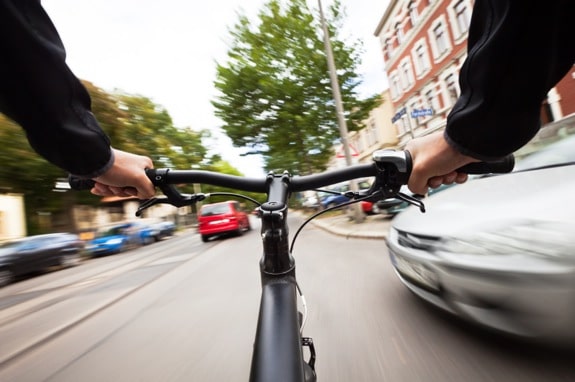 Photo courtesy of ©iStockphoto.com/TommL
As Kellie and I ventured through the countryside on our twenty-one speeds, we experienced a pain that many people experience in their own personal lives and don't even know it. Here's what happened and how it relates to you.
When I'm riding, I have a habit of looking over my shoulder to see if anyone else is coming and also to take a second look at something I just passed. At one point yesterday, traveling twenty mph, I executed my habitual over-the-shoulder look to re-see a beautiful lilac bush.
Turning my gaze forward, I realized I was off balance, heading from the paved path and into the forest where certain death awaited! (Cue dramatic music). A quick correction and I was back on track and not in the hospital. Thank you, Jesus!
The application? Many of you are constantly looking over your shoulder at your past and not keeping your eye on the present and future. Past fears, failures and even success keeps your life off balance and off focus. As a result, moving forward is difficult if even possible.
So how should we keep our balance between our past, present and future? Try this: "Glance at the past. Work in the present. Focus on the future."
Glance at the past. When I was biking, it occurred to me that my problem wasn't the look into what I passed but rather the length of the look. Glancing is better than looking. Your past is helpful but don't get stuck. Remember past events with the attitude of a learner but only briefly. Let yesterday's success and failure be guides for today's activities. Five percent of your time should be spent here.
Work in the present. In other words, be in the moment. Establish your priorities and goals and be diligent on what needs to be done today. Seventy percent of your activity should be engaged here.
Focus on the future. Look forward to where you want or need to go. Where your eyes are fixed is where the rest of your "biking" will take you. Twenty-five percent of your focus should be set here.
Finally, remember that God says not to worry about yesterday or tomorrow and not to waste the day that He gave you. He also encourages you and me to enjoy the journey with all of its bumps and success!
Question: What do you tend to spend most of your time—past, present, or future? You can leave a comment by
clicking here
.