So you've spent more time than you should designing and tweaking your blog. (Don't ask me how I know this.) You've got it just like you want it. For now. But what about your Twitter, Facebook, and YouTube pages? Are you content to upload your photo and be done with it? Or do you want a more consistent brand image, one that ties it all together?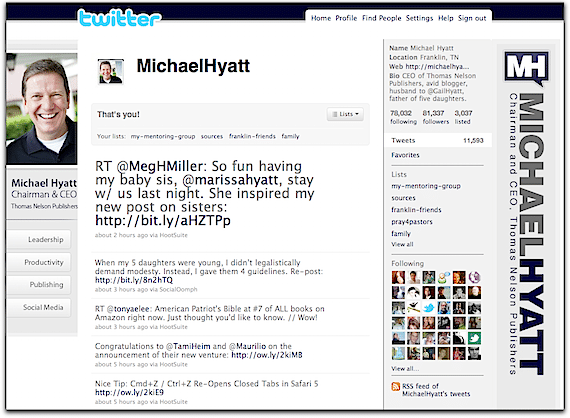 A few weeks ago, I uploaded a new profile photo to Twitter. However, that didn't change my profile background. It still included my old headshot and a design done a few years ago by Matt Clark at TweetPages.com. I decided to visit his page again, and see what his company had to offer. Boy, was I surprised.
Matt is a graphic designer, who specializes in templates and custom designs for Twitter, Facebook, and YouTube. He provides you with the opportunity to create a consistent brand look across the three major social media platforms—and, at an affordable price.
I elected to have him design all three profile pages. The cost? $277.00. And this even included installation. I have hired a lot of designers through the years, and I thought that this was very reasonable. What I didn't expect was the level of service that Matt provided for that price.
Warning: This is going to sound like a "Sponsored Post," but it's not. I am just a very satisfied customer, hoping to bring you a resource you will find helpful.
When I placed my order, I described what I wanted and uploaded my photo to the TweetPages.com website. That was on Tuesday, July 27th. I also provided my social media credentials, so Matt could upload the final images. (Frankly, this did give me pause, but since I had used Matt before, I trusted him with them.)
I soon received a reply from Matt, thanking me for my order. He also promised that he had scheduled me for a "TweetPage Video Proof on Friday, July 30th."
True to his promise, at about 5:00 pm on Friday, I received an email from Matt, notifying me that my video proof was ready, along with a link to the page.
For some reason, the word "video" never registered with me. I guess I expected a PDF download of the comps. Instead, when I clicked on the link, I discovered a seven-minute personalized video from Matt, walking me through the four comps he had prepared. I was blown away.
I showed a friend who said, "That's really cool, but I'll bet he doesn't do that for everyone. He's probably hoping you tweet or blog about it."
I sighed and then admitted, You're probably right.
Nevertheless, I sent an email to Matt telling him I wanted to digest his comps overnight and then asked him point blank, "Is this process something you do for everyone?"
He replied,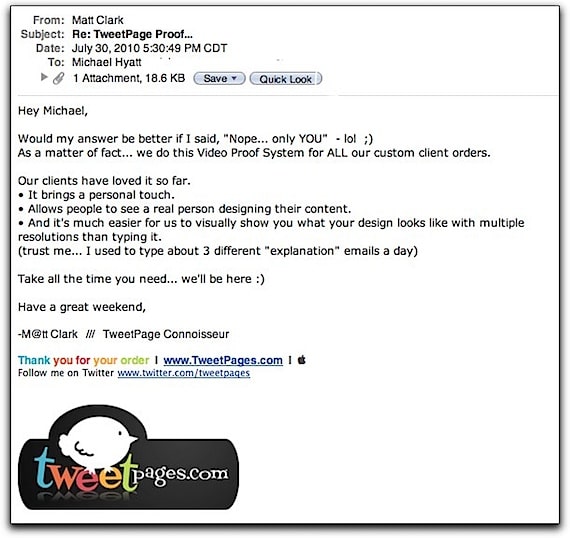 I shot him my comments over the weekend and then we went back and forth a few times Monday to get it just right. Each time, he responded to me within a few hours.
As you can probably tell, I am very happy with the final result. You can see my Twitter profile, Facebook fan page, and YouTube channel by clicking on the appropriate link.
If you want to create a consistent brand image, I suggest you check out TweetPages.com. Matt graciously offered to give my readers a 10% discount. Just enter the discount code, "MICHAELHYATT" when you place your order.
You could hire another designer to do this, I'm sure. But I doubt you can find one that offers this kind of cutting-edge, personalized service—especially at this price. I'm a raving fan.
Question: Would consistent, social media branding help you?