It's football season! From high school to college to the NFL, men are on the gridiron seeking to win and ultimately become champions. They're digging, clawing, and giving it all they've got to come out on top.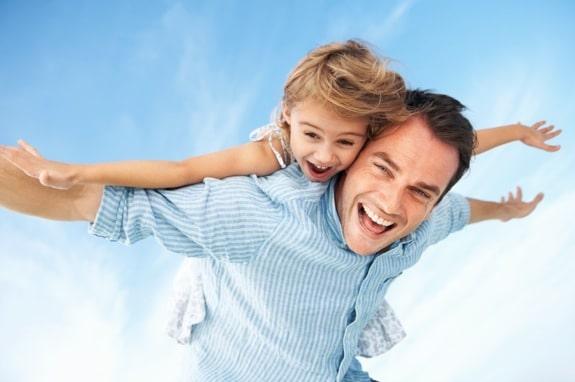 Photo courtesy of ©iStockphoto.com/kupicoo
It should be no different with fatherhood. We need men out there who are in the game—the most important game of their life—working hard and striving toward the goal to be the best they can be, to be All Pro Dads.Former head coach of the Pittsburgh Steelers and four-time Super Bowl winner Chuck Noll said, "Champions are champions not because they do anything extraordinary but because they do the ordinary things better than anyone else."
In other words, you don't have to do spectacular highlight-reel type of things to be a Super Bowl winner. There are fundamentals that it takes to play the game. Executing those fundamentals day in and day out, that's how you become great. That's how you win. That's how you become a champion.
Just as knowing and executing the fundamentals of football are key to a player becoming an All-Pro, knowing and executing the fundamentals of fatherhood are key to a father becoming an All Pro Dad. And the two most important fundamentals for a father are love and leadership.
Simply put, love is all about giving—giving selflessly and sacrificially to our wives, our kids and others no matter what it costs us personally. And your capacity to love will determine your capacity to lead.
In other words, when your spouse and children know you want what's best for them, they'll follow you. They'll say to themselves: "You've loved me. You've earned the right to lead me. I'll follow you."
Here are three essentials you need to know to love and, in turn, lead your kids well.
Love your wife. For those who are married, actively loving your wife will radically strengthen your marriage and will also be incredibly beneficial to your children. The number one source of security for kids is when they know that their dad loves their mother and is steadfastly committed to her for life.

When times get tough, remember that your spouse is not the enemy. You are on the same team.

When my wife, Susan, and I have disagreements over things like disciplining our children or finances, she'll often say to me, "Remember, I'm on your team."

Marriage is the ultimate team sport. You were designed to complete each other, not compete with each other.

Spend quantity time with your kids. How you spend your time is a reflection of what's important to you. If you value your kids, you'll want to be with them.

As my five kids were growing up, I tried to be intentional about spending one-on-one time with each of them doing things that they wanted to do. I often put those times on my calendar as a very important appointments.

Remember, it's not just about quality time; it's about quantity time.

Be a good role model. One of the best things you can do as a dad is to strive to live a model life that is worthy for your children to follow. Consistency, humility, and courage are all trademarks of the model dad.

Integrity should also be at the top of the list. Integrity is what you do when no one else is looking. Dark secrets and addictions can cause a breach in that integrity and keep you from growing as a leader in your home.

So, if you really want to love and lead your kids well, be a worthy model of integrity for them to follow.
These three essentials are easier said than done. My wife has thrown the flag on me when I've been harsh with my kids. My kids have pointed out my impatience on more than one occasion.
So what do I do? I admit my mistake, humbly ask them to forgive me and then I get back in the game and strive toward the goal of being the best dad I can be.
Tony Dungy, former NFL coach and now NBC sports commentator, recently shared with me that, "being an All-Pro takes hard work, dedication, and executing the fundamentals on the field with sheer determination." Tony says those same principles apply to being an All Pro Dad.
An All Pro Dad not only knows the fundamentals—love and leadership—but also does whatever it takes to execute them with fierce resolve. It's my hope that you will strive, by God's amazing grace, toward the all-important goal of being an All Pro Dad.
Question: What are some other essentials every man needs to know to be an All Pro Dad? You can leave a comment by
clicking here
.