I'm a husband to one woman, father of five more, and grandfather to three more (little) women. We also have a number of women in strategic positions at Thomas Nelson, with whom I work on a regular basis. Suffice it to say, I spend a lot of time in the company of women.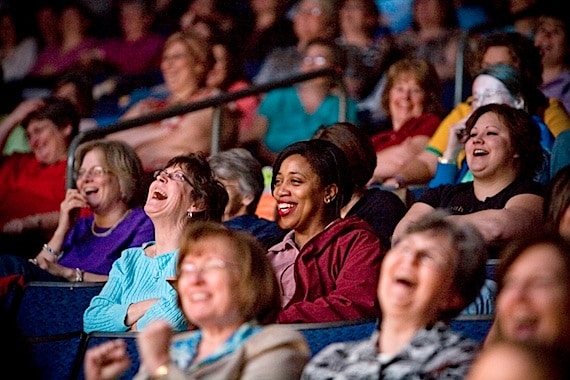 Here's something I've learned from all that experience: women are different. Earth-shattering, I know. But when it comes to motivating the women in your organization, it's important to be mindful of that difference. What works for a man doesn't always work for a woman.
So I thought I'd interview someone who is an expert on encouraging women, who also happens to be one of my favorite people on the planet. Mary Graham leads Thomas Nelson's Live Events group, which includes Women of Faith and The Revolve Tour (for teen girls).
More than four million women have attended a Women of Faith event. I've been to numerous Women of Faith events and have seen for myself the impact they can have. Here's how Mary responded to my questions about why these events are so important. (My questions and comments are in bold.)
For more than fifteen years, you have traveled across the country and met women of all ages and stages in life. What have you learned?
Women are a lot alike and at the same time very different. It's no surprise that women are busy; most women have that in common. You have a wife who is devoted to her family, the neighborhood and almost everyone else she knows. The women I know tend to take on a lot of responsibility and―regardless of how much they do―it's not unusual for a woman to feel "I should probably be doing more … for my family, at work, at church, in the neighborhood."
That's a lot of pressure.
It is. And most of the time, I think women handle it pretty well. But every now and then, we all need a break. We need to sit in a circle of friends and hear how others manage the stress and pain of life. We need to be reminded we're not alone. And for some reason, there's something very encouraging for women to be in an environment where they can laugh heartily, cry, and feel understood. God has something to say about how much we need one another, but I think sometimes we forget.
What can a weekend away do to accomplish that?
Sometimes I think the best thing in the world is for a woman to have a little get-away with her friends. I love it when we sit in arenas in that large circle and find grace that's contagious. Women tell us that's what they love about Women of Faith. It's a "getaway" not just physically and emotionally, but spiritually.
Women find it refreshing. In fact, we often hear they find it life-changing. Every year my dentist sends his entire office staff to the Women of Faith event in Dallas. They talk about it all year—not just what it did for them personally, but what it does for their relationships with one another. The women have a wonderful time; it's a big bonding experience for them, and very refreshing.
I always say about the women on our platform, our speakers and other artists, "They will tell you the truth." We don't always want to hear about what they got right in life. We want to know "What did you do when everything went wrong?"
When someone has the courage to talk about that, it gives us all courage to be the imperfect people we are. There are a lot of stories, grace, humor, freedom and love in our circle of friends.
But how do the events like these help women?
As you know, women love being together. Whether we're going through tough times or we just want to visit, we love talking to our friends. Most women come to Women of Faith with their friends; not only do they feel a deep kinship with the women on the platform, but within their own groups. It always helps to connect with others who are experiencing the same life situations—it helps to know, "I'm not the only one."
I can't tell you how many times I've had women say to me: "I thought I was the only one going through this or that." They feel so alone in their struggles, then they come to Women of Faith and find out others are in the same boat.
And trust me, if there's an issue out there, someone on our team has probably been through it and is willing to talk about it. Our speakers are very honest and up-front about their struggles. It gives the women in the audience permission to be real about their problems, too. And, maybe more importantly, it helps them know they're not alone.
What is the role of laughter in these events?
As you know first-hand, Women of Faith is fun. Laughter has great healing power. Laughter is good medicine. There is a lot of laughter at our events and that can be very healing for a woman. Our events are all about encouragement.
One thing we are very intentional about at Women of Faith is we do not tell women what to do. The last thing in the world women need is one more item on their to-do list. We encourage them by letting them know they're not alone and that God loves them, no matter who they are or what they've done. We talk a lot about God's love and grace. Grace is something we can all use more of; grace toward ourselves and grace toward others.
Women of Faith events are so much bigger than most people imagine: We're talking about 10,000–15,000 women in an arena setting, and there are thirty or so events every year. That's a lot of encouraged women!
It is! But when you think about how many women there are in the U.S., it's really just a drop in the bucket. We're always hoping to find one more woman, to help change one more life. Because that woman affects the people around her, who affect the people around them . . . as Andy Andrews explains so beautifully at our "Over the Top" events, it's "the butterfly effect."
It's such a privilege to bring this kind of experience to thousands of women year after year. I love seeing the sheer joy on their faces, or having them come for the first time and hearing them say, "I had NO idea!" I love the changes they begin to see in their relationships and the hope some of them feel for the first time ever.
Now through October 31, 2010, I'm offering you, my readers, $10 off the full
Women of Faith event registration price
(which matches the per-person rate for a group of 10 or more.)
If you'd like to invite the women in your company or organization to be a part of an upcoming Women of Faith weekend event this fall, visit our registration page or call 888-49-FAITH and use code HYATT when you place your order. This offer can't be combined with any other offer.
Questions: Have you ever been to Women of Faith? What was your experience like? (Scroll down to leave a comment.)