Last fall amid a struggling economy and political turmoil Max Lucado released a very timely book called Fearless: Imagine Your Life Without Fear. Now a year later, he is releasing his newest book, Outlive Your Life: You Were Made to Make a Difference (Thomas Nelson).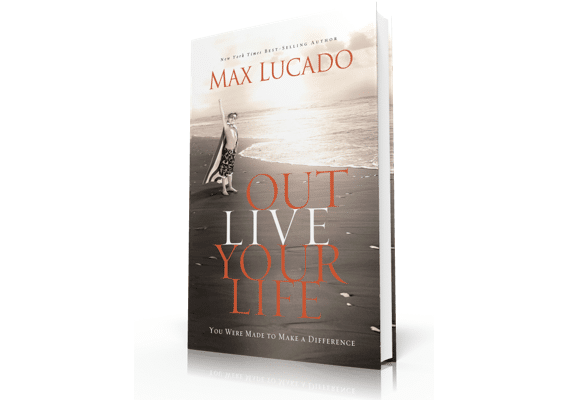 I love all of Max's books, but I believe this to be his most important one yet. Recently, I had the opportunity to interview him about why he wrote this book and what he hopes to accomplish.

Q: How did you choose the message for this book? Why do you think this message is important today?
A few years back, three questions rocked my world. They came from different people in the span of a month. The first question: Had you been a German Christian during World War II, would you have taken a stand against Hitler? Question 2: Had you lived in the South during the civil rights conflict, would you have taken a stand against racism? The third question: When your grandchildren discover you lived during a day in which 1.75 billion people were poor and 1 billion were hungry, how will they judge your response?
I didn't mind the first two questions. They were hypothetical. I'd like to think I would have taken a stand against Hitler and fought against racism. But those days are gone, and those choices were not mine. But the third question has kept me awake at night.
I do live today; so do you. And we are given a choice . . . an opportunity to make a big difference during a difficult time. What if we did? What if we rocked the world with hope?
All of us have an opportunity now to do something to set a great example for our children and our grandchildren. That's why I wrote Outlive Your Life. We are created by a great God to do great works. He invites us to outlive our lives, not just in heaven but here on earth.
Q: Last year you and I, along with our wives, traveled to Ethiopia with Rich Stearns, President of World Vision. How did that trip surprise you? What impact did it have on Outlive Your Life?
It impacted me and my wife Denalyn in countless ways. I don't think I expected to see such unending poverty in Ethiopia. But I was surprised to see the joy—the smiles—of the Ethiopian people. They are gentle, thankful people.
It was also an impressive trip because I was able to see that sponsoring a child through World Vision not only enables the child to have a better life, but helps the entire village where that child lives. It can really be life-changing for an entire community. I knew World Vision helped individual children, but I didn't realize how World Vision could impact an entire community.
Q: In Outlive Your Life, you talk a lot about God using "common" people to change the world. And it's true, peppered throughout the Bible are stories of ordinary people doing game-changing things. Why do you think as Christians we are so reluctant to believe that God can use us?
It all boils down to this—God uses common folk to do uncommon things. The disciples were common. I mean they were regular guys. Peter knew more about bass and boat docks then he did the Roman culture. Most of the disciples, if not all of them, had never traveled more than a week from their hometown. They weren't the most predictable of guys either. Peter told Jesus to forget the cross. John wanted Jesus to torch the city. When Jesus needed people to pray with him, they slept. When he needed friends, they ran.
But after the death, burial, and resurrection of Jesus—only six weeks later—we see these guys literally on fire. They changed the world. We're common folk like that too. Most of us sit in the bleachers. Most of us aren't the straight-A students. Most of us aren't selected to lead the organization. We're just common folk.
The big message of the book of Acts is that God can use regular folk like you and like me to literally change the world. There is no indication that Jesus chose his disciples for any other reason except this, that when he said, "follow me," they said, "I will."
What would happen if when Jesus says, "follow me," we say the same?
People really do want to make a difference in the world. I think there's something built within each one of us that resonates with the idea of making a difference, changing the world. And I think that's just a gift from God inside of us that every person has.
Q: You write about the disparity between the "haves" and "have nots." What, if anything, can be done to bridge the gap?
A few of us have a lot while many of us don't have much. About 75% of the world's resources go to about 20% of the people. The "haves" and the "have nots" are not very close together. This is a very complex issue but why does it exist? Why does this disparity exist on the earth?
As the singer and humanitarian, Bono, says: People are born in the wrong latitude. People are simply born and raised in areas of the world that don't have the basic resources that many of us have taken for granted.
I'm thinking of a friend of mine who lives in Ethiopia named Dahdi. He's every bit of hard working as I am, likely more so. He's well-respected in his village. He has a delightful family. The truth of the matter is he was born in a place that doesn't have some of the basic things that I've benefited from, things like paved roads, access to education, vaccinations, and government subsidies. Things I take for granted are things that he's never seen.
What can we do about this disparity? The book of Acts teaches us the whole church should get involved. When the apostles realized that some of the people were not being fed in the city of Jerusalem they called for a church-wide meeting. The problem of poverty needs to engage every single person in the church.
Second, the Acts church decided to get the brightest among us to direct us. The apostles said the problem is so big we need our best thinkers thinking about it. That's why we need to partner with organizations like World Vision, Compassion, Living Water, and International Justice Mission. These people who are giving their best thoughts, their best energies, and their best hours to disentangling these difficult knots.
Third, we can just get ticked off. We need to be upset. We need to be troubled by the fact that 850 million people are going to bed hungry every night. It needs to bother us that 30,000 children are dying every day from preventable diseases. The church should get mad and let's see what we can do about it.
Q: In its review of your book Publisher's Weekly calls you "…a powerful voice in the call to authentic Christianity." What does authentic Christianity mean to you?
We indwell a generation that has an allergy to phony saints and an attraction to honest ones. Authentic Christianity takes Sunday's worship into Monday's service. It bridges the beliefs with the behavior.
Q: I love that 100% of the royalties from Outlive Your Life will benefit children and families through World Vision and other ministries. What will that money go to specifically?
Under the capable stewardship of World Vision, Outlive Your Life royalties will be creating healthy, sustainable communities in the Amuru District of Northern Uganda. We are also partnering with other faith-based ministries to help single mothers and children.
Q: This is a big year for you, Max. It is your 25th anniversary in book publishing. Congratulations on a long and fruitful career! What goals do you have for this year and for the next 25 years?
2010 has been big for me. One of the goals of this year is finding sponsors for 25,000 children through World Vision. I guess it could have thrown a party or given out plaques, but I wanted to have a party for some of the "have nots" in the world.
Q: Who are some voices that you are learning from these days?
As my wife Denalyn and I near 30 years of marriage, I rely on her counsel and wisdom more and more. I run everything past her. What a gift she is to my life.
Thank you, Max. I know we have only scratched the surface, but I hope it is enough to get people to buy this book and read it. I know it will prove life-changing for them.
Note: I gave away 100 autographed copies of the book, selecting the winners from the comments below. However, that opportunity is now over, and the comments have been closed.