I'm sorry but the application period for this group has now expired. If everything goes according to plan, I will launch a new group for 2012. Stay tuned.
Almost every week, I get a request from someone looking for a mentor. Frankly, I always find it difficult to say "no." I think this is probably because I have profited so much from the various mentors I have had throughout my life and career. I also know how difficult it can be to find a good mentor.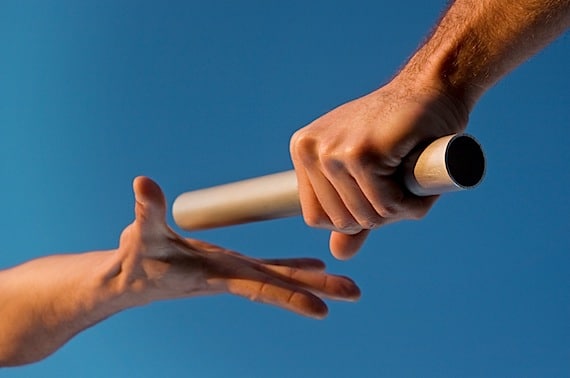 Photo courtesy of ©iStockphoto.com/kycstudio
As a result, I have been considering starting a mentoring group for several months now. My goal is to impact the lives of younger men in a way that points them toward an integrated Christian life.
I believe you can be a devoted Christ-follower, loving husband and father, successful businessman, dedicated church member, caring friend, and serious disciple-maker, while taking care of yourself physically—all at the same time. From my perspective, helping people do this is what mentoring is all about.
I should quickly point out that this is NOT because I have life all figured out. I don't. I continue to struggle and fall. But I have learned a few things along the way and want to share those with a few good men.
As I mentioned in my blog on Monday, after months of thought and prayer, I had developed a really detailed mentoring plan. I was just about to announce it when—thankfully!—someone told me about Mentor Like Jesus by Regi Campbell. As a result, I changed some of my thinking and decided to adopt his program, Next Generation Mentoring (NGM), as my own.
I plan to start my group this coming January. If you are interested—and live in the greater Nashville area—please continue reading. I will outline the details for you. If you are a leader, thinking about starting your own group, this will give you an idea of what is involved in starting an NGM group.
Purpose of the Group
We will spend significant time on understanding who we are from God's perspective and how we can excel in our work and in our communities. We will work on establishing priorities, work/life balance, dealing with sexual temptation, making good decisions, leadership, and godly character. We will spend time on relating to our wives and raising our children. We will especially focus on what it means to have a vibrant, living relationship with Jesus Christ.
Criteria for Participating
Who is this mentoring group for? I am looking for eight men who meet the following criteria:
Residents of the greater Nashville, Tennessee area, as I will be hosting the meetings in my home.
Devoted followers of Jesus Christ.
Broken men, who are hungry for growth.
Married career men who are in their late 20s or 30s.
If already parents, children under 12.
Humble men, willing to look at themselves in the mirror and make changes to improve, and, at the same time willing to accept direct, personal, and comprehensive feedback without being defensive.
Willingness to replicate the mentoring process at least once with eight other men sometime in the future.
Format of the Program
The program involves a monthly meeting (from 7:00–10:00 p.m.) at my home, one extended session (approximately six hours), one weekend retreat, ten significant reading assignments and memorizing about twenty scriptures (two per month). We will begin with a launch event on Tuesday, January 12, and end with a weekend retreat of celebration at the end of the year. (This is a one-year program.)
The meetings aren't optional. The group will settle on a schedule and stick to it. A premium is placed on timeliness, preparation and respect for everyone else in the group. You will likely have to make some tough business and family decisions in order to honor your commitment to me and to the group.
The Cost to You
If you are involved in graduate studies, or already overextended in other commitments, then you should probably pass on this opportunity. Although not onerous, the requirements are consistent and they will take focused time, both to attend the sessions and to do the reading and memory work.
The cost of the materials and books is $200. The cost for the retreat will be divided by the members of the group. (I have yet to finalize the plans for this.) The $200 will be due to Next Generation Mentoring at the kickoff, which, as I mentioned previously, is planned for January 12. You MUST attend this launch event in person in order to participate in the program—no exceptions.
Really, really think about this. Pray about it. Talk to your wife. She will be asked to sign the covenant with you, committing her support as you attend the sessions and retreat, read the books, and do the homework assignments. If you are lukewarm, don't pursue it; you will be taking a slot that someone else might really want and need.
The Application Process
If you conclude that you are interested, click on this link to apply. The application process will take approximately 30 minutes to complete. Once you've begun the application, you cannot leave it and return. You'll need to finish it at one sitting.
You will be asked to indicate your acceptance of the NGM Covenant as part of the on-line application, as will your wife. So it's important that you talk through the commitment with her before you begin the application. You can download a PDF copy of the covenant by clicking here. (Please read both pages.)
The deadline for applications is Friday, December 18, 2009 at 5:00 p.m. CST. This is a firm date so apply as soon as you and your spouse are together on the commitment.
Acceptance
Once I get all the applications in, I will prayerfully review them. I will then select eight men to be part of the group. I will notify you via email by December 31, 2009 at 5:00 p.m. CST whether have been selected or not.
Note: Much of the content for this post came directly from the
Next Generation Mentoring
recruitment material, which is copyrighted and used by permission.
Question: What questions do you have about this program that I did not answer above?