I am excited to announce the publication of my new e-book, Creating Your Personal Life Plan. This has been several months in the making. I am pleased to unveil it today. In a minute, I'll tell you how to get a copy FREE—for a limited time.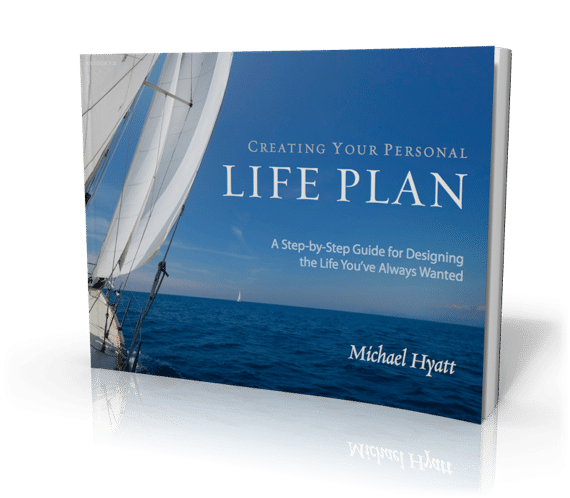 As you may know, I wrote a blog post on this topic about three years ago. It is still the single most popular post on my blog. In fact, if you Google the words "life plan," that original post is the top result.
The e-book is small—only 94 pages—so you can get through it quickly. But it is greatly expanded from my original post. I wanted to create something that would provide you with a step-by-step guide for designing the life you've always wanted. It is the exact same process I use in my own life.
Several of my family members and friends suggested that I publish this as a traditional book and sell it. I may eventually do that. But for right now, I am giving it away as A FREE DOWNLOAD to anyone who signs up to receive my blog updates by e-mail. For right now that is the only way to get it.
So far, twenty-two authors and speakers have endorsed it, including John C. Maxwell, Andy Andrews, Max Lucado, Dave Ramsey, Donald Miller, Andy Stanley, and Craig Groeschel. I am extremely grateful for their enthusiasm and support.
If you are interested in snagging a copy, you can visit the special page I have created for this e-book. The page includes:
A short video in which I introduce the e-book
The three reasons why you need a life plan
The four major features and benefits of the book
The twenty-two endorsements I have received so far
I can't guarantee how long this will be available for free. Therefore, I would encourage you to get it while you can.
If you are ready to re-boot your life, become an active participant in creating your future, and start living your life on-purpose, then this e-book is for you.
P.S. What if you already subscribe via RSS? I would subscribe via email any way. I do this with a handful of blogs, because I know that I will get additional content and offers that I can't get via RSS. I consider my email subscribers my premium subscribers and will treat them accordingly. You might also want to "Like" the My Life Plan Facebook page.
Question: Does this subject matter of this e-book resonate with you? You can leave a comment by
clicking here
.