Once a quarter, we pull all our Nashville-based employes together (about 400) for an all-company team meeting. Our goal is three-fold: to report on the previous quarter's results, recognize outstanding performance, and preview our "coming attractions."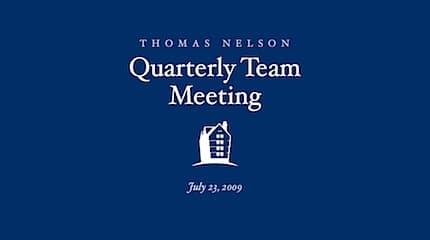 We held this quarter's meeting yesterday at The Donelson Fellowship, a church near our corporate headquarters. Rob Morgan, the pastor, and his gracious staff, have served as our hosts now for more than five years. Their facility is perfect for our size, with state-of-the-art audio-visual equipment.
We began the meeting at 10:30 a.m. I began by welcoming everyone, providing an overview of the meeting and then showing a video montage from the movie, Office Space. We have moved a lot of people around this year, so Gabe Wicks, the VP of our MultiMedia and Design Group, put together a few clips about "Milton" an employee who keeps getting moved, until finally, in frustration, he sets the building on fire. After the clip, I encouraged people to consult with someone in HR resorting to Milton's solution!
Fiscal Q1 Results
Next, Stuart Bitting, our CFO, came up and reviewed our financial results for the quarter ending June 30, 2009.
Our overall business was up 6% compared to the same quarter last year.
Our publishing business (about 83% of the total) was up 13.5%.
Expenses were well under last year and, as a result, our profit was up significantly. (We report the actual numbers to the employees, but, since we are a private company, I won't report them here.)
Our actual returns were down 25%.
Our Women of Faith ticket sales per event were up 7%.
Our overall market share has grown by 150 basis points (1.5%).
I then reported that our top-selling books for the quarter were:
In addition, we had five books on the New York Times bestseller list for the quarter:
All in all, it was a very good quarter. We actually had hoped for a little more on the top line, but, given the recession, I was very pleased with the results.
Awards and Recognition
Next we recognized outstanding performance for the quarter. Stuart presented the "Impact Award" to the service department that had the biggest impact on our results for the previous quarter. (All of these departments report to him.)
This quarter, we gave the award to the Inventory Team, led by George Gower. Amazingly, they were able to decrease our inventory levels by 17% over a year ago, and 30% since January. This saved us millions of dollars in working capital without negatively impacting our fill-rates.
Mark Schoenwald, our President and COO, presented the first "Momentum Award" to the publishing division that attained the biggest percentage of their annual profit plan in the June quarter. This quarter, Matt Baugher and his "Spiritual Growth and Practical Living" team won the award. The runner-ups were the Fiction division and the Gift division.
Mark then presented the second "Momentum Award" to the sales channel that attained the biggest percentage of their annual profit plan. Daisy Hutton and the International Licensing team won the award. The runner-ups were the Specialty and Live Event sales channels. Mark also noted that the ABA sales team had an outstanding quarter as well.
Finally, Mark presented Service Awards to employees who had been with the company for five, ten, and twenty years.
Coming Attractions
This is always my favorite part of the program. As I often say, "It's the product, Stupid." If you have great product coming, you're in for a great quarter. If not, you have a problem. Fortunately, our fall line-up is the best we have ever had. We can't highlight every product that is coming—like we do at sales conference—but we previewed the top five.
Wayne Hastings, the Group Publisher for our Bible, Reference, & Curriculum Group, introduced the Word of Promise Complete Audio Bible. It ships in September for an October release. We then showed this video:
Allen Arnold, the Publisher of our Fiction group, was out of the office, so Jennifer Deshler, his marketing director, introduced Green, the newest novel from Ted Dekker. It is also the final installment in the Circle Series. It ships in August for a September release. We then showed this video:
Brian Hampton, the Publisher of our Brands, Business, and Culture Group, introduced A Million Miles in a Thousand Years by Donald Miller, author of Blue Like Jazz. It also ships in August for a September release. We then showed this video:
Brian then introduced Find Your Strongest Life by Marcus Buckingham, author of Now, Discover Your Strengths and numerous other bestselling books. We then showed this video:
David Moberg, the Group Publisher for our Non-Fiction Trade Group, then introduced Fearless by Max Lucado, author of numerous best-selling books, including Facing Your Giants. We then showed this video:
After this last video, I again emphasized the overall strength of our fall titles. I also talked about how important our mission is, and why I feel so privileged to work on such amazing projects with such an amazing group of people at Thomas Nelson.
I then introduced Siloam Family Health Center, one of the ministries we have chosen to partner with as a company. Nancy West, Thresa Lawson, and Kate Tanis explained their work to us and invited us as a company to participate in a welcome bag program for newly arriving refugees. It's a perfect fit for us—something concrete that all of us can do.
We concluded the meeting with our annual barbeque lunch. It was excellent! A big thanks to Whitney Connell for orchestrating the logistics and to Lindsey Nobles for preparing the slides.
Question: If you work at Thomas Nelson, what did you think about the meeting? If you don't work at Thomas Nelson, do you have a similar meeting? What do you do that you think might be helpful for us?