I don't know what it is about snow, but it always gets me excited. It probably stems from my childhood, when snow meant the possibility that school would be cancelled. Or maybe it was just the shear joy of playing outside in the snow.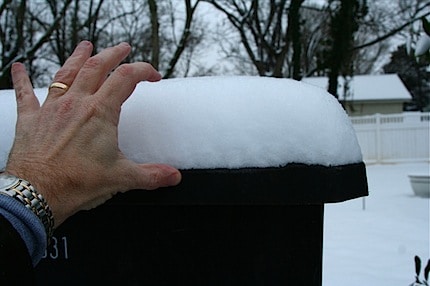 Regardless, on the way home from San Jose yesterday, I checked the weather widget on my iPhone. It had the little snow icon next to Friday and Saturday. I next checked Weather.com. The meteorologists there were predicting 3–5 inches for Nashville. My heart lept!My plane touched down in Nashville at about 6:00 p.m. after a bumpy approach. About 15 minutes into my drive home, it began to sleet. By the time I arrived at my house in Franklin, it was snowing hard. I couldn't have been happier. I'd been praying all winter for a good snow.
It snowed steadily all evening. When Gail and I went to bed it was still snowing—big beautiful flakes. I woke up at 6:30, scurried outside, and snapped a few photos before anyone spoiled the thick white blanket with foot prints.
I realize that these modest snowfalls make northerners laugh. But when you live in the south, you take what you can get. This is the latest snowfall we have had since 1996. It is also the biggest snowfall we have had since 2003. My guess is that we had about three inches in Franklin.