I am always surprised at how well books on making presentations do. Presentation Zen, Slide:ology, and Beyond Bullet Points have all done exceedingly well. I have read them all and loved every word.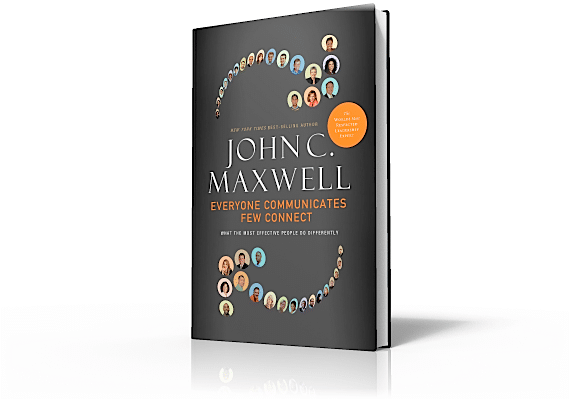 When John Maxwell told us he wanted to write a book on communication, I assumed he meant a book on making more compelling presentations. And make no mistake about it: John is a master presenter. I thought, Perfect! John is known as a communicator, and his audience will love his take on how to make better presentations.
But this book is about far more than presentations. The title is Everyone Communicates, Few Connect: What the Most Effective People Do Differently. John's premise is that to be effective as a leader, you must do more than communicate. You must connect. Whether it is in the context of a one-on-one encounter, a small group discussion, or making a speech before an audience of thousands, the best leaders connect with people—in a way that touches their heart and leaves them transformed in some way.
In the book, John shares five principles and five practices that will empower you to connect with people:
Part 1: Connecting Principles
Connecting Increases Your Influence in Every Situation
Connecting Is All About Others
Connecting Goes Beyond Words
Connecting Always Requires Energy
Connecting Is More Skill Than Natural Talent
Part 2: Connecting Practices
Connectors Connect on Common Ground
Connectors Do the Difficult Work of Keeping It Simple
Connectors Create an Experience Everyone Enjoys
Connectors Inspire People
Connectors Live What They Communicate
I found this book to be extremely practical. It was full of ideas I could put to use immediately. In fact, each chapter ends with specific ideas for connecting in various contexts.
I read the book in its initial draft and found it very insightful. However, at our recommendation, John posted it on his blog and solicited his readers' comments. The chapters received more than 100,000 page views during the eleven weeks they were posted. Eventually, more than seventy quotes, stories, and anecdotes from his readers made it into the book.
In addition, John made more than one hundred changes to the manuscript based on his readers' comments. As I read the book through for the second time, I found it even more useful. I am not surprised that it has been in Amazon's top one thousand since it was published, and is currently in the top five hundred.
Whether you are a public speaker, a sales person, a customer service rep, or a receptionist, you will find tremendous value in this book. If you work with people in any capacity and want to connect with them in a powerful way, it is must-reading.
Please note: This give-away is now over. I have already selected the winners and distributed the copies of this book. Everything below this note is left here for historical purposes, so that the comments make sense. However, I have also removed the links.
In order to "seed the market for this book," I am going to give away 100 copies free. Even more exciting, John has autographed all 100 copies! To get a chance at snagging one, you must take the following three actions:
Leave a comment below. Tell me why you want this book. Be creative. I really do read these comments and base my decisions on them.
Fill out the special form. I have set up a separate contact form to make it convenient for you to provide your mailing address. Please do not put your shipping address in your comment, however. This will automatically disqualify you.
Twitter a link to this post. You can do so automatically by clicking here. If you don't have a Twitter account, you can use Facebook.
On Friday, April 16, I will select 100 people, based solely on my arbitrary and subjective evaluation of their comments. If you are one of those selected, Lindsey Nobles on my team will notify you via email. If you don't hear from her, you can assume you didn't make the cut.
By the way, Jeff Loper, who heads up our Maxwell marketing team, has set up a special web page for this book. It contains several fun resources, including a video of John (which is hilarious), a slideshow, and a sample of the book.
Question: Why do you want a copy of this book? If I give you a copy, do you promise to read it?