In How the Mighty Fall, author Jim Collins answers the question, "How can large successful companies fail after decades of growth and stability?" Tim Irwin asks a similar question about leaders in his new book, Derailed: Five Lessons Learned from Catastrophic Failures of Leadership (Thomas Nelson, 2009). In a moment, I will tell you how to get a free copy.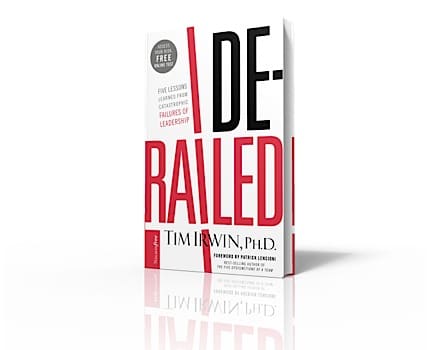 In his Preface (p. xiii), Patrick Lencioni, author or The Five Dysfunctions of a Team, writes,
In my work as a consultant, I can honestly say I have never discovered a company I thought was just too dumb to succeed. Nor have I yet found a CEO whom I felt would have been great if only he or she were smarter."
Irwin goes on to develop the case that the real issue is character, the lack of which is why otherwise talented leaders ultimately fail.
As I mentioned in my post, "Five Characteristics of Weak Leaders," you often learn more from negative examples that positive ones. This is certainly true here.
This is a sobering, often disturbing, book. I found it thoroughly compelling—so much so that I read it through in two sittings. It led me to ask some very tough questions about my own leadership.
Irwin begins by profiling six leaders of well-known, public companies. These leaders were all smart, tough, and accomplished. Nevertheless, they all succumbed to serious character flaws, which ultimately resulted in them either stepping down or being ousted by their boards. These leaders include:
Bob Nardelli, former CEO of Home Depot
Carly Fiorina, former CEO of Hewlett-Packard
Durk Jager, former CEO of Proctor & Gamble
Steven Heyer, former CEO of Starwood Hotels & Resorts Worldwide
Frank Raines, former CEO of Fannie Mae
Dick Fuld, former CEO of Lehman Brothers
"Though expressed in a variety of behaviors," Irwin writes, "they are all tied to a lack of failure of one of these four critical qualities" (p. 17):
Authenticity
Self-management
Humility
Courage
Irwin's goal in profiling these leaders is to show how derailment occurs. If that were all that he did, this book would be incredibly instructive and helpful. However, he doesn't stop there. The second half of the book is designed to help leaders avoid a cataclysmic train wreck in their our own lives.
In this section of the book, Irwin explains that derailment doesn't happen overnight. It is a long process. He argues that "derailed leaders progress through five stages as they head toward their demise." Each of these become the subject of a single chapter:
Stage One: A Failure of Self/Other-Awareness
Stage Two: Hubris: Pride Before the Fall
Stage Three: Missed Early Warning Signals
Stage Four: Rationalizing
Stage Five: Derailment
The good news is that if you can detect these attitudes and behaviors in your own life, you have a fighting chance of staying on track and leaving a positive leadership legacy. If you want to know how vulnerable you are to the behaviors that lead to derailment, take the free Derailed Online Assessment.
This is not just a book for CEOs. It is for anyone who serves in a leadership capacity—pastors, teachers, government officials, and even mid-level managers in corporations. Not only is this a book you should read; in my opinion, it's a book you can't afford not to read. There is simply too much at stake.
Although I loved the whole book, my favorite chapter is the next to the last, where Irwin summarizes the "lessons learned." These hit me the hardest. The chapter summarizes the succinct yet gritty realities that make us fail or thrive as leaders. I know I will refer to these often.
In order to "seed the market for this book," I am going to give away 100 copies free. To get a chance at snagging one, you must take the following three actions:
Leave a comment below. Tell me why you want this book. Be creative. I really do read these comments and base my decisions on them.
Fill out the special form. I have set up a separate contact form to make it convenient for you to provide your mailing address. Please do not put your shipping address in your comment. This will automatically disqualify you.
On Friday, November 13, I will select 100 people, based solely on my arbitrary and subjective evaluation of their comments. If you are one of those selected, Lindsey Nobles on my team will notify you via email. If you don't hear from her, you can assume you didn't make the cut.
Also, we are making this book available as a NelsonFree title. This means that if you buy the book—or even get one free—you can also download all three electronic versions of the book: a PDF of the book, the Amazon Kindle version, and the audio version. There is no additional charge for these.
Update: I have closed the comments and selected the people who will receive the free books. I originally said I would give away 100 copies. However, I am sending a copy to every single person who made a comment, filled out the special request form—more than 200!—and Twittered or Facebooked a link to the post. Thanks for your participation.