Craig Groeschel is the founding pastor of LifeChurch.tv, a multi-campus church with dozens of weekly services in thirteen locations, including an Internet campus. In his book, It: How Churches and Leaders Can Get It and Keep It [affiliate link], he describes that illusive something that some leaders and organizations have and others don't. In a moment, I will tell you how to get a copy FREE.
Yes, this is a book written by a pastor. It assumes that you are reading it in a ministry context. Nearly all of the illustrations and organizational profiles are from the church world. But don't let that fool you. The principles Craig sets forth in this powerful little volume apply equally to leaders and organizations of all types, including for-profit businesses.
The book is an attempt to explain the phenomenon Craig calls "it." In the first part of the book, he attempts to define it. He admits this is impossible. You can't put it in a box. But we all know it when we see it. He also asks,
Why do some leaders and organizations have it and some don't?
Why do some leaders and organizations have it and then lose it?
How do you get it if you don't have it? How do you keep from losing it once you've got it?
Craig doesn't provide a formula for developing it or for keeping it. This is not a how-to or self-help book.
In the second part of the book, Craig describes seven consistent qualities that are almost always present when it is present in a leader or organization:
In the third part of the book, Craig explains how to determine whether or not you have it and what to do if you don't. This is where he makes it very clear that there is no simple formula. Ultimately, God gives it and you can only have it if you pursue Him—not it. In the final chapter he explains how to keep it once you have it.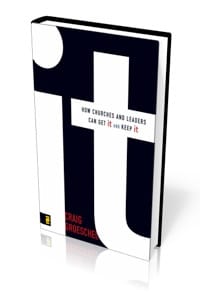 I really found this book stimulating. In fact, I am going to ask my executive leadership team to read it before our strategic planning retreat next month. I think this is exactly the conversation we need to be having at this point in the life of our company.
Just to prove how valuable I think this book is, I am recommending it to you despite the fact that it was published by Zondervan, my company's biggest competitor! However, they are practicing what Craig preaches by making 100 copies of It [affiliate link] available to my readers. To get a chance at snagging one, you must take the following three actions:
Leave a comment below. Tell me why you want this book. Be creative. I really do read these comments and base my decisions on them.
Fill out the special form. I have set up a separate contact form to make it convenient for you to provide your mailing address. Please do not put your shipping address in your comment. This will automatically disqualify you.
Twitter a link to this post. You can do so automatically by clicking here. If you don't have a Twitter account, you can use Facebook. Yes, I know if more people read this, it will hurt your chances of getting a copy yourself. But the only incentive the publisher has to provide these books to giveaway is the free publicity that you and I collectively provide.
On Thursday, October 8, I will select 100 people, based solely on my arbitrary and subjective evaluation of their comments. If you are one of those selected, Lindsey Nobles on my team will notify you via email. If you don't hear from her, you can assume you didn't make the cut.
Question: Why do you want a copy of this book?