For the past several months, I have been thinking about starting a mentoring group. As a result, I have bought several books on the topic. However, the best one I have read so far is Mentor Like Jesus by Regi Campbell. In a moment, I will tell you how to get a free copy.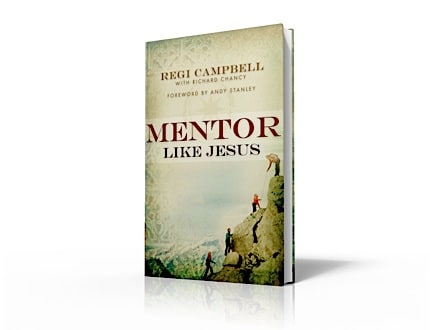 As I was thinking about starting my group, I looked at numerous models, including Seth Godin's special (and very innovative) internship program. Based on that and some other input, I developed a a fairly detailed plan that I was very excited about.
I was all set to issue an invitation to my program when a friend suggested I read Regi's book. Boy, am I glad I did. It made me re-think everything. As a result, I have now taken an entirely different tack. I plan to blog more about this later this week.
Here's the problem: We traditionally think of mentoring as having the following characteristics:
The mentoree initiates the relationship by approaching a prospective mentor.
The mentor and the mentoree agree to meet one-on-one, usually in an informal setting.
The mentoree drives the agenda by virtue of his questions.
The mentor does his best to offer advice on personal and professional matters.
The relationship really has no official ending point.
In Mentor Like Jesus, Regi turns all of this on its head by simply looking at the example of Jesus. He says,
We have visualized Jesus as CEO, Jesus as an environmentalist, and even thought about what Jesus' politics might have been. But in reality … in history … regardless of your religious beliefs, Jesus was a mentor.
He then goes on to describe the eleven characteristics of what he calls Next Generation Mentoring. Each of these are the subject of a separate chapter.
It is on purpose. Mentoring is an intentional relationship that is unlike any other. Regi says it is not about knowing something. That is education. It is not about learning to do something. That is training. Mentoring is about showing someone how to be something.
It is a selfless endeavor. Mentoring is about giving back to others. It is hard work for the mentor. The benefits are not always immediately apparent. It is about the mentorees and investing in their future. It is about them, not about the mentor.
It starts in a group context. Jesus did meet with people one-on-one. He also spoke to large crowds. But He primarily worked with a group of twelve men. He mentored in the context of a small group. This was His priority.
It involves hand-picked mentorees. The twelve disciples did not chose Jesus; He chose them. He did so after praying all night (the longest prayer mentioned in the Bible). As the mentor, He took the initiative, not the mentorees. He chose them—and they responded.
It is for a defined period of time. He gave His disciples just three years of His life. He could have started earlier. He could have started later. But He began definitively, and He also ended definitively. His discipleship program lasted three years.
It is centered on truth. Jesus taught His mentorees about truth. He focused on the Scriptures and living life in a way that pleased God. He told parables and stories. He asked tough questions. But it was all for the purpose of having His mentorees confront the truth about God, themselves, and the world.
It involves the practice of prayer. One of the disciples' first requests was, "Lord, teach us to pray" (see Luke 11:1). Jesus not only taught them to pray, He prayed with them.
It requires transparent modeling. Jesus' mentorees saw Him in the good times (e.g., the triumphal entry into Jerusalem) and the bad (e.g., the Garden of Gethsemane). They saw how He reacted to daily life. What He did spoke as loudly as what He said. He was completely and utterly transparent.
It incorporates a contextual component. Jesus appointed twelve "that they might be with Him" (see Mark 3:14). They saw how Jesus responded to daily life. They saw him confront injustice, face temptation, and weep publicly. He did not offer theoretical instruction. He "did life" with them.
It demands mutual commitment. Jesus' discipleship program was demanding. He asked his mentorees to make a radical commitment. This was not a lowest-common-denominator program. Their relationship with one another took priority over everything else—for Him and for them.
It requires a multiplication element. Ultimately, the disciples' relationship with Jesus wasn't about them individually or even their own group. It was about the people they would ultimately reach. He required them to "pay it forward" and invest in others (see Matthew 28:18–20 and 1 Thessalonians 2:8).
If you are thinking about mentoring, you must read this book. It is relatively short—only 152 pages—but revolutionary. It is my prayer that it launches a movement. I hope I can play a small role here by giving you a sense of its potential.
Just to prove how valuable I think this book is, I am recommending it to you despite the fact that it was published by B&H Publishing Group, one of my company's competitors! However, they have graciously made 100 copies of Mentor Like Jesus available to my readers. To get a chance at snagging one, you must take the following three actions:
Leave a comment below. Tell me why you want this book. Be creative. I really do read these comments and base my decisions on them.
Fill out the special form. I have set up a separate contact form to make it convenient for you to provide your mailing address. Please do not put your shipping address in your comment. This will automatically disqualify you.
Twitter a link to this post. You can do so automatically by clicking here. If you don't have a Twitter account, you can use Facebook. Yes, I know if more people read this, it will hurt your chances of getting a copy yourself. But the only incentive the publisher has to provide these books to giveaway is the free publicity that you and I collectively provide.
On Monday, November 30, I will select 100 people, based solely on my arbitrary and subjective evaluation of their comments. If you are one of those selected, Lindsey Nobles on my team will notify you via email. If you don't hear from her, you can assume you didn't make the cut.
Update: If you are interested in joining a mentoring group, read this.
Question: Why do you want a copy of this book?