Andy Andrews is a master story-teller, a modern blend of Will Rogers, Paul Harvey, and Garrison Keillor. He is one of the few people I have ever met who is both a compelling writer and an incredible speaker.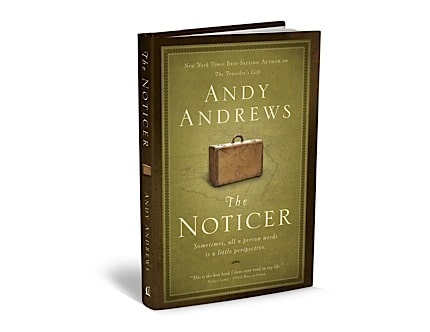 Andy is also a "noticer." He sees things that others miss and extracts from those observations simple but profound wisdom. This was the secret behind his first book, The Traveler's Gift, which is the only book I have published in my career that hit all four major New York Times bestseller lists: fiction, non-fiction, advice, and business. The editors at the Times just couldn't seem to figure out how to categorize Andy's work.He went on to write several other wonderful books, including The Lost Choice, Island of Saints, and Mastering the Seven Decisions. All of them were excellent, but none of them attained the success of the first book. I am not sure why—I guess this is just part of the mystery of publishing.
His newest book is called The Noticer. The official publication date is tomorrow, April 28. After finishing it, I had the same feeling I had when I read The Traveler's Gift—this one is going to be a bestseller! Judging by the comments we have already received from our book review bloggers, I am not alone in my assessment. In fact, as of yesterday, all of the readers on Amazon have given the book a five-star rating.
The Noticer is part auto-biographical, part fiction, and all inspiring. It is the story of "Jones," a mysterious old man who has a knack for showing up at just the right time in people's lives. He notices stuff—stuff that they miss. And he gives them the one thing we all so often need: perspective.
Among Jones' observations:
"Remember, what you focus on increases." (p. 13)
"It's time to stop letting your history control your destiny." (p. 13)
"People are either in a crisis, coming out of one, or headed for one." (p. 31)
"Worry is just imagination used in an unproductive way." (p. 51)
"Wisdom is the ability to see the future consequences of our choices." (p. 65)
"It takes wisdom to discern that oh-so-thin line between good and best." (p. 65)
"Many of life's treasures remain hidden because we never search for them." (p. 83)
"If you are still here, then you have not completed your life's purpose." (p. 83)
"Big stuff is made up of small stuff, so you better sweat the small stuff!" (p. 103)
"We often judge ourselves by our intentions but others by their actions." (p. 111)
"If you want folks to believe in you, then it really helps if they like you." (p. 136)
"Life is a little like dessert. Keep your fork; the best is yet to come!" (p. 149)
"In desperate times, much more than anything else, folks need perspective." (p. 154)
This is just a sample of the distilled wisdom from some fascinating stories. Honestly, I couldn't put the book down.
Moreover, this is the perfect book for our times. Given the current economic challenges, we could all use a big dose of perspective. The Noticer provides it. I highly recommend it.
Update: Here are all the book reviews we have compiled for The Noticer from bloggers who participate in our Book Review Blogger program.