A little over a year ago, we announced the Thomas Nelson Book Review Bloggers program. The purpose of the program was to provide free books to bloggers in exchange for a 200-word review of the book. We don't require positive reviews. We want bloggers to be honest in their assessment of the books they read.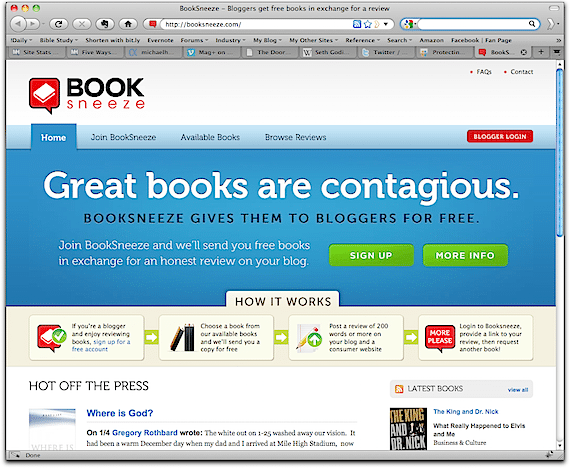 This program has been a huge hit. To-date, we have over 7,500 bloggers signed up. We have received hundreds and hundreds of reviews. In fact, we now deem these as a critical part of our marketing strategy. The reason is that people tend to believe the bloggers they follow more than advertising or professional reviews.
The problem has been the name. "Thomas Nelson Book Review Bloggers" doesn't exactly roll off the tongue. However, in the spirit of "permanent beta," I wanted to get something launched rather than wait for the perfect name.
One day, while re-reading Unleashing the Idea Virus by Seth Godin, I was intrigued by his description of "sneezers." This is the term he uses to refer to those individuals who get so infected with an idea that they become contagious. They spread it to everyone they know.
Almost immediately, the name "BookSneeze.com" popped into my mind. I did a quick search on GoDaddy.com to see if the domain name was available. Surprisingly, it was.
However, we had an internal debate about the title. For starters, Gail, my wife, thought it was gross. A few others questioned it as well. But in the end, we decided to go with it. (There are some advantages to being the CEO!) I felt that it was memorable—especially with the tagline, "Great books are contagious."
So, today we are officially launching BookSneeze.com. If you are already registered with our Book Review Bloggers program, you will be automatically registered with BookSneeze. If you are a blogger and haven't registered with our program, let me encourage you to do so. Here are three benefits (repeated from my original post on the program):
Free copies of our best books. We will send you a free copy of the book you are interested in reviewing. In addition, after you have requested a review copy, we will email you a PDF of the first two chapters so you can immediately get started. Meanwhile, we will drop a physical copy of the book in the mail.
Content resources for your blog. We will provide you with free resources to use in your review. These include things like cover art, video or audio clips (when available), external links to other related items, etc.
External links to your blog. We will provide a link back to the your actual review of the book. As you may know, external links are what drive up your blog's ranking on Google. In general, the more links the better.
What do we require? Bloggers must agree to write a 200-word review—good, bad, or ugly—and post it on their blog and on any consumer detail page for that book (e.g., Amazon.com, BarnesAndNoble.com, BooksAMillion.com, Borders.com, ChristianBook.com, etc.). Obviously, the review can be longer, but we wanted to set the bar low in order to encourage participation. I think this is a case where if the products are WOW, they will generate enthusiasm and buzz. If not, then that will also help us create better products in the future.
We do not require you to write a positive review. If you take a quick look of the reviews on BookSneeze.com, you'll see that there are both positive and negative reviews. We have never once censored a review or dropped a reviewer for a negative review.
To get started, click here. You must apply to join, but we review all applications promptly.
I would be remiss if I didn't thank the people involved in this project:
Lindsey Nobles, my communications director, supervised the whole project from beginning to end.
Nick Francis and Jared McDaniel at Project 83 did the design and HTML/CSS coding.
Joshua Paine of LetterBlock built the underlying Web application and applied Project 83's work to create the new site.
My original goal was to recruit 10,000 active bloggers. We are now three-quarters of the way there. If you know of a blogger who would like to receive free books, please help us spread the word.
Question: What do you think of our re-branding effort? Be honest. I can handle it!