Sometimes we think our world is set in concrete, that to alter it means wielding sledge hammers and heavy equipment. Particularly on the web, we feel stuck in the persona we've shared with our cyber-friends.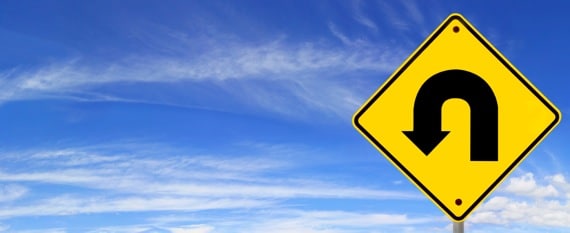 Photo courtesy of ©iStockphoto.com/robynmac
Here's a joyful, scary, invitational truth, though: God is always at work.
I've experienced the sledgehammer of God this past year, though His blows felt more like a rainstorm of grace. It started with several unrelated people (some strangers) who shared a word with me: "Abundance," they said. "God is steering you toward abundance."
After so many people from so many backgrounds whispered the same word, I realized God wanted to reshape me. For several years my tagline has been "turning trials to triumph." I lived there, sometimes too much. In my introspection and looking back, I did heal (thankfully), but I tended to look backward. Living with the pain from the past was my comfort zone, my way of living.
But God said abundance. Which connotes anticipation. Expectation. Forward thinking.
And the word "trials" didn't seem to define me as much anymore. Nor did I like the word triumph, as it connoted a personal triumphalism, as if I bootstrapped myself.
In my last post for Michael on passion I shared how I found my passion. I used similar methods to discern my new direction, look and tagline. You can follow these steps too, if you sense it's time to change your online presence:
Investigate the past twelve months. Scavenge your journal, the words of others that took you aback, the persistent message of your spouse or kids, the thoughts that keep you awake at night. What are the patterns? What keeps jumping out at you? What do you try to ignore, but God keeps pestering you about?
Ask your friends. I sent an email to my prayer team, and I also tweeted and Facebooked my new adventure, asking people to give me feedback on my new direction.
Find dominant Scriptures. One thing that really helped me was looking back over the year and seeing the verses that God spotlighted for me. The similarities were shocking, actually. God really did want me to change directions!
Pray about it. Ultimately, after all the investigation, inquiries, and Scriptures, it was God's voice that whispered my new tagline into my heart. It came unexpectedly, but perfectly.
If you'd like to read more about my journey and find out about my new tagline, click here.
You're not off the hook, though. It's one thing to delve and discover your new direction, it's quite another to implement it. Don't be so caught up in what is easy that you fail to risk for the next task God has for you. Don't be caged by your current brand, look, and presence on the web. It cost me relatively little to change my tagline and look. But I had to decide to.
I'll end this sledgehammer-of-grace post with my favorite Oswald Chambers quote. It embodies my new direction, and it speaks to our fear of letting go of the past and moving forward. He writes, "Let the past sleep, but let it sleep on the bosom of Christ, and go out into the irresistible future with Him."
Questions: How has God changed you over the past year? What holds you back from changing your brand/tagline/online presence? What convicted you about this post? You can leave a comment by
clicking here
.