The last two years have been challenging times to lead. We have experienced a tsunami of economic change. It has rippled through every aspect of our culture. Most of us have probably spent more time reacting that we would like.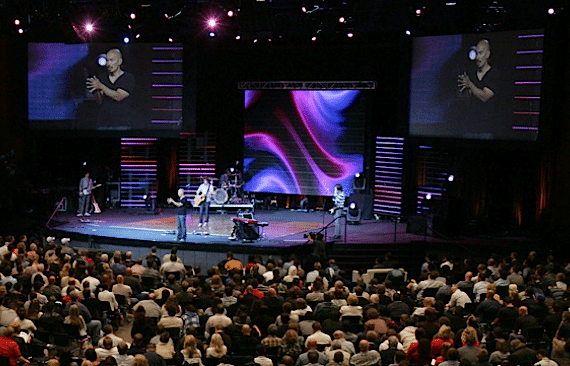 Now it's time to turn the corner and look to the future.
The Catalyst West conference on April 21–23 in Irvine, California is designed to do just that. The theme is "Unusual Tomorrow."
Thirty-five hundred next generation leaders will gather to listen to high-octane speakers, participate in powerful worship, and experience innovative programming. If it is anything like Catalyst Atlanta, which I attended last October, it will be killer.
If you aren't registered, you need to do so quickly. Catalyst Atlanta was a complete sell-out, and this one will be, too. You don't want to miss it. Here are three reasons why:
You will get to hear from some of the best speakers on the planet. These include leadership experts Andy Stanley, Erwin McManus, Kay Warren, and Reggie Joiner. But it also includes innovative thinkers and practitioners like best-selling author Donald Miller, Dallas Willard, Charlene Li, Scott Belsky, Eugene Cho, and Wess Stafford, President of Compassion International.
You will experience a fully immersive, learning and creative experience. Catalyst Labs, begins on Wednesday April 21st. (This was my favorite part of Catalyst Atlanta). I will be leading a lab, along with John Ortberg, Dino Rizzo, Jeanne Stevens, Jon Acuff, Anne Jackson, Mike Foster, Jud Wilhite, Susan Isaacs, Dan Kimball, Scot McKnight, David Kinnaman, Margaret Feinberg, and others. If you are going to the expense of coming, make sure you register for this as well.
You will engage personally with 3,500 next generation leaders. Catalyst attracts the best and the brightest. You will meet new friends and interact with people, like you, who are leading this generation into the future. The venue only holds 3,500 people, so it will be a smaller and more intimate environment than Catalyst Atlanta.
In addition, you will want to be there for a special evening session on Thursday with Louie Giglio and worship led by Chris Tomlin. I know it will be awesome.
Here's the best part: Catalyst has agreed to extend a special price to my blog readers. You can save $20 of the normal registration price of $249.00. To take advantage of this special offer, call (888) 334-6569 to speak with the Catalyst Concierge team. Or, you can register online and use rate code: MHB.
I plan to be there for the entire conference, so make sure you come up and introduce yourself. I look forward to meeting you.
Questions: Have you ever attended The Catalyst Conference? How was your experience?