This is part of the
Thomas Nelson Way Series
, an in-house curriculum for new employees. It is intended to be a "quick reference" for the things that are important to us. You can
click here
to see the introduction to the series and our thinking behind it.
The values by which we are to survive are not rules for just and unjust conduct, but are those deeper illuminations in whose light justice and injustice, good and evil, means and ends are seen in fearful sharpness of outline.
Values are the ideals that we esteem as a company. They are the philosophical foundation of our corporate ideology. They are the things that we hold dear and make us unique as a company.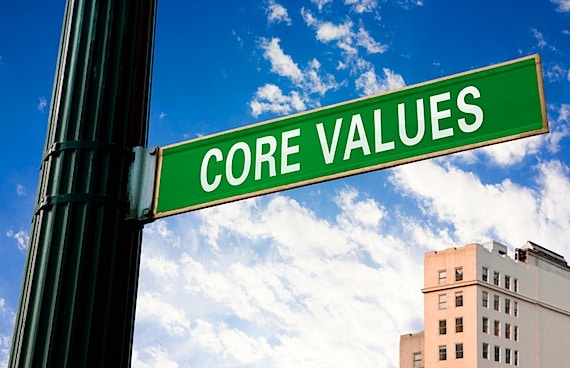 Photo courtesy of ©iStockphoto.com/cosmonaut
At Thomas Nelson, we have five core values. They are:
Honoring God
Serving Others
Focus and Discipline
World-Class Talent
Collaboration
These are the principles that define who we are and direct everything we do. However, we are not content to let our values remain mere platitudes. Instead, we insist that they be translated into specific behaviors. This helps insure that we "live our values" and "walk our talk."
As a result, for each value, we have offered a value statement, Biblical support, and the specific behaviors that flow from it.
Honoring God
Value Statement:
We honor God in everything we do.
Biblical Support:
"You are worthy, O Lord, to receive glory and honor and power; for You created all things, and by Your will they exist and were created." (Revelation 4:11)
For you were bought at a price; therefore glorify God in your body and in your spirit, which are God's. (1 Corinthians 6:20)
Specific Behaviors:
1.
We seek God's direction in all that we do.
2.
We give God the glory for our successes.
3.
We take responsibility for our weakness and failures.
4.
We honor our commitments, even when it is difficult, expensive, or inconvenient.
5.
We tell the truth even when it is uncomfortable.
6.
We treat our employees, authors, vendors, customers, and competitors with respect.
7.
We offer God our best, most creative work and leave the results to Him.
8.
We thank God in all things, regardless of our circumstances.
Serving Others
Value Statement:
We serve others with humility.
Biblical Support:
"If I then, your Lord and Teacher, have washed your feet, you also ought to wash one another's feet. For I have given you an example, that you should do as I have done to you. Most assuredly, I say to you, a servant is not greater than his master; nor is he who is sent greater than he who sent him. If you know these things, blessed are you if you do them." (John 13:14–17)
"And whoever desires to be first among you, let him be your slave—just as the Son of Man did not come to be served, but to serve, and to give His life a ransom for many." (Matthew 20:27, 28)
Specific Behaviors:
1.
We are alert to the needs of others and look for opportunities to help them with their assignments and responsibilities.
2.
We take the initiative to serve without waiting to be asked.
3.
We give to others of our time and other resources without expecting anything from them in return.
4.
We serve others, even when it is not convenient.
5.
We consistently do more than is required of us.
6.
We give back to the communities in which we operate.
World-Class Talent
Value Statement:
We do what is necessary to attract, develop, and retain world-class talent.
Biblical Support:
And He went up on the mountain and called to Him those He Himself wanted. And they came to Him. Then He appointed twelve, that they might be with Him and that He might send them out to preach, and to have power to heal sicknesses and to cast out demons. (Mark 3:13–15)
But when they did not find them, they dragged Jason and some brethren to the rulers of the city, crying out, "These who have turned the world upside down have come here too." (Acts 17:6)
Specific Behaviors:
1.
We recruit the very best people we can find.
2.
We develop our people's strengths and provide continuing opportunities for personal and professional growth.
3.
We clearly communicate and reinforce roles, responsibilities, and job expectations.
4.
We communicate to our employees how we as a Company are doing.
5.
We communicate to our employees how they as employees are doing.
6.
We monitor employee satisfaction, acknowledge issues we discover, and respond as appropriate.
7.
We recognize, reward, and publicly honor outstanding performance.
8.
We pay our people fairly and competitively.
Focus and Discipline
Value Statement:
We are focused and disciplined in our business activities.
Biblical Support:
Whatever your hand finds to do, do it with your might; for there is no work or device or knowledge or wisdom in the grave where you are going. (Ecclesiastes 9:10)
Be diligent to know the state of your flocks, and attend to your herds; for riches are not forever, nor does a crown endure to all generations. (Proverbs 27:23)
Specific Behaviors:
1.
We organize and focus our people and resources for maximum efficiency and effectiveness.
2.
We routinely evaluate our fiscal performance.
3.
We seek the counsel of others, both inside and outside of our company, on important issues and decisions.
4.
We respect each other's time.
5.
We adhere to company policy.
6.
We practice good stewardship of our resources.
7.
We deliver what we promise.
8.
We seek continuous improvement in all that we do.
Collaboration
Value Statement:
We seek to maximize mutually beneficial partnerships, both internal and external.
Biblical Support:
Two are better than one, because they have a good reward for their labor. For if they fall, one will lift up his companion. But woe to him who is alone when he falls, for he has no one to help him up. Again, if two lie down together, they will keep warm; but how can one be warm alone? Though one may be overpowered by another, two can withstand him. And a threefold cord is not quickly broken. (Ecclesiastes 4:9–12)
Specific Behaviors:
1.
We share ideas and information with those inside the company.
2.
We share ideas and information with our external partners.
3.
We seek to understand the needs and objectives of other divisions.
4.
We foster an environment that encourages open but candid dialog and vigorous but respectful debate.
5.
We resolve conflicts in a healthy and timely way.
6.
We encourage collaboration, publicly acknowledge it, and reward it in practical ways.
7.
We use a team-based approach to problem-solving.
In our annual plan, we create specific action plans designed to help us better manifest these behaviors. We are constantly elevating these values and affirming those who best exemplify their implementation.