Yesterday, the Christian Book Expo floor opened. We had 66 publishers, scores of authors, and dozens of book signings and author events. The attendance was lighter than I had hoped. However, given the fact that this is a consumer show and most consumers are working during the day, it wasn't a complete surprise. Hopefully, attendance will pick up on Saturday.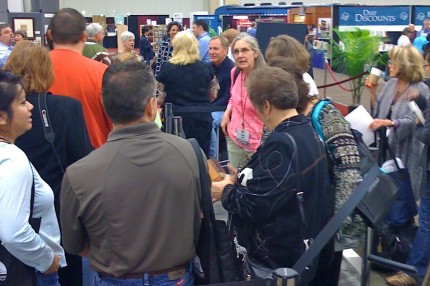 Regardless, I thought it was a very productive day. We sold books steadily out of our booth all day long. Our friends from Family Christian Stores staffed the cash registers, which was a huge help. Meanwhile, Gail and I met with literally dozens of authors throughout the day.
We also had several author book signings in our booth and sponsored several discussion panels. We had:
Gail and I had dinner with Colleen and Dave Coble. She is the model of how every author should relate to his or her publisher. She is always grateful, teachable, and positive. Honestly, it makes us all want to work our tails off for her.
After dinner, the four of us headed over to the evening event at the Dallas Convention Center. Again, the attendance was low, but the event was exquisitely produced. We were treated to short talks by Max Lucado, Liz Curtis Higgs, Henry Blackaby, Lysa TerKeurstm and Michelle Hammond. In addition, we listened to Cindy Morgan (one of my all-time favorite artists), Travis Cottrell, and Heather Headley.
Gail and I got back to our room about 9:30, but were too wound up to sleep. So we headed down to the hotel lobby and bumped into David Moberg and Dave Schroeder, two Thomas Nelson colleagues. We ended up visiting for another hour. It was good to catch up and debrief on the day's events.