In many of his books, Andy Andrews talks about the butterfly effect, a theory put forward in a doctoral thesis by Edward Lorenz, a mathematician and meteorologist.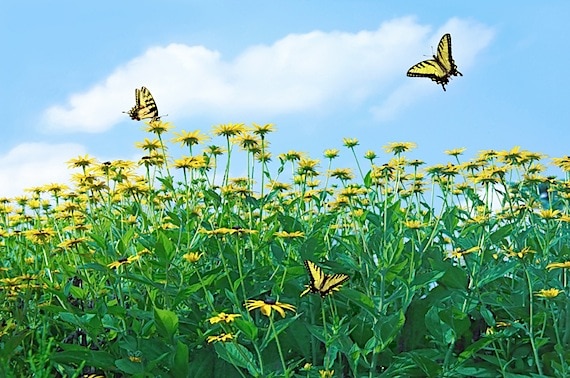 Photo courtesy of ©iStockphoto.com/diane39
In short the butterfly effect states that a butterfly can flap its wings on one side of the world and set in motion molecules of air that in turn set in motion other molecules of air and eventually create a hurricane on the other side of the world.
Ridiculed for a generation, the butterfly effect was eventually proved by scientists and given the status of a law: "The law of sensitive dependence on initial conditions." It basically means that everything you do—and don't do—matters. It has a bigger impact on the world than you can possibly imagine.
I got to thinking about the application of this law to customer service this weekend. Sometimes, we underestimate the impact our actions have on our customers and ultimately the health of our organizations.
This past weekend, Gail and I attended the Women of Faith Conference in Dallas, Texas. This is a conference owned by Thomas Nelson, and we always look forward to going. We arrived on Friday afternoon and checked into the Hyatt Regency hotel in downtown Dallas.
Because my last name is Hyatt, I always feel a sense pride in the Hyatt hotel brand. I usually have fun with the front desk clerks when I check in. And until this past weekend, I always enjoyed staying at Hyatt hotels. But this time was not so pleasant. The trouble started when we got to our room.
Usually, the first thing I do when I get to my room is setup my computer. I had worked through my email inbox on the flight from Nashville and had a couple of dozen messages to upload. However, I could only get a weak wireless signal. Gail couldn't get any signal at all.
I thought to myself, No problem. I will just hook my portable router up to the ethernet connection, and we'll be fine. Except there wasn't an ethernet connection.
So, I called the front desk. The clerk acted liked this happened all the time. "No problem, Mr. Hyatt, we will send someone right up with a wireless booster." I told him we would need two, because my wife was with me.
Ten minutes later, a bellman delivered the boosters to our room. I plugged them in and the signal was as weak as ever. We still could not get on the Internet. I rebooted. Still no joy.
Next I called the tech support number on the booster box. A very helpful technician worked with me for about 30 minutes. He couldn't get either box to work and pronounced them both defective. He told me I'd have to go to the front desk and get two more. By this time, I had to push the pause button and get ready for the evening's event.
Meanwhile, Gail noticed that the bathroom sink wouldn't drain, and the toilet wouldn't stop running without manual intervention. These weren't a big deal but were annoying, given the Hyatt's reputation.
When we arrived at the event, we notified Erika Greene, our Vice President of Operations for Women of Faith. She is responsible for booking our conference hotels. At this one hotel alone, we had booked 400 rooms. As a result, she was confident she could get our problem fixed right away. I was, too.
As we left the conference to return to the hotel, Mary Graham, who runs our Women of Faith conferences, told me that we should have a cheese plate waiting for us in our room. Nice, I thought. I am ready for a little evening snack. I also assumed that the other problems would be resolved as well. Not so much. The problems were not fixed and there was no cheese plate. So, I sent an email to Erika. I knew she would want to know.
The next morning, Erika spoke with the hotel. They apologized, promised to fix the problems, and call me with a personal apology. They also promised to have a cheese plate in our room Saturday when we got back from the conference.
I'm sad to report, that when we got back to our room late Saturday evening, nothing—not a single thing—had been fixed. I am not a complainer by nature, but, again, I thought Erika should know. Our organization had spent a lot of money with the Hyatt. If I was getting this kind of treatment as the CEO, it made me wonder how our other guests were being treated.
Erika got the message and evidently made a call or two. At 9:30 p.m., we had a technician show up at the door. The front desk also called and offered to bring up a cheese plate. Since by this time it was late and we were already in bed, we declined both offers. Too little, too late.
So what does this have to do with the Butterfly Effect? Everything. The people at the Hyatt made lots of little decisions along the way:
Someone made a decision not to install a enough wireless routers to make sure that every room had wireless coverage. I'm sure this saved a few thousand dollars.
When people complained, the hotel made the decision to invest in wireless boosters. These probably cost a few thousand dollars, but, from my experience, didn't solve the problem.
Someone chose not to report the sink that wouldn't drain or, if they did, someone decided not to fix it. My guess is that eventually the housekeeping staff gave up. Maybe all the sinks are like this. You have to wonder.
Someone chose not to report the toilet that wouldn't stop running or, again, if they did, someone chose not to fix it. It's a small thing, but pretty annoying if you are paying what the Hyatt charges.
Someone chose not to order the cheese plate or got busy and didn't send it up. Who knows. (I could understand missing it the first night, but the second?)
I could go on, but you get the idea. Lots and lots of small decisions. Seemingly insignificant decisions. Unfortunately, for them, these decisions added up.
I don't illustrate this to toot my own horn, but to demonstrate that your customers or constituents are probably more connected than you think. For example:
I will think twice before ever staying at another Hyatt. (That's probably 10–12 room nights a year.)
I will tell my Travel Department to avoid booking the Hyatt for traveling employees. (Admittedly, our people are usually staying in cheaper hotels, but this could be another 50–100 room nights a year.)
I have already suggested that Erika find another hotel for our 2009 Women of Faith event. (That's another 400–600 room nights a year.)
I was on a conference call today with the the board of our trade association. We are planning a conference in Dallas next spring for 20,000 attendees. He began discussing hotels. I said, "I don't care which hotels we book, but I would urge us to avoid the Hyatt Regency downtown." (That's probably another 1,000 room nights.)
And, of course, I am blogging about it now. I have about 15,000 readers (give or take).
The point is that all of these decisions made by Hyatt employees seemed small. But, unfortunately, they have led to some big consequences. And the ripple will continue for some time to come. These decisions set things in motion.
It made me wonder about my own company. Are our employees truly empowered to solve customer problems? Are we responsive? Do we fix problems immediately? How much business have we lost because of seemingly small decisions?
This example should be a sobering reminder to every leader that everything matters.
Update: Steve Vissotzky, the General Manager for the Hyatt Regency Dallas, emailed me Tuesday evening at about 6:00 p.m. That was about 24 hours after I posted my blog. We connected by phone Wednesday morning. He apologized. He also explained that they were re-wiring the rooms. That project should be complete shortly. Every room will then have both wireless and ethernet capabilities.
He also said that his internal "logs" indicated that a repairman spent 45 minutes in my room on Saturday, fixing the sink and the toilet. I assured him that they were not fixed, nor did I get a call from anyone at the hotel confirming that the work had been done. Mr. Vissotzky did tell me that they had removed my room charges.