If you want to write a book—or if you've already written a book and want to become a bestselling author—this post is for you!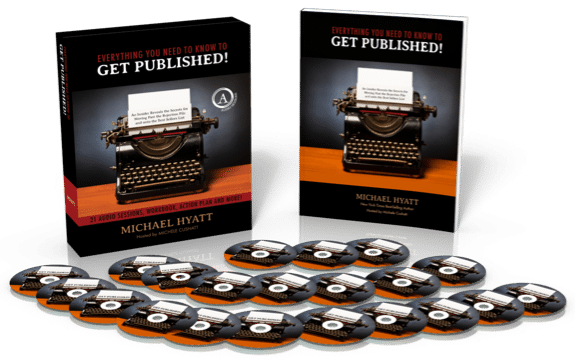 It's Cyber Monday in the United States and many online retailers are making available special discounts on their products. I also want to extend a very special offer to you for my new Get Published course.
I released this audio program just a few months ago. I crammed my 30-plus years of industry experience into this practical 21-session course. I designed it to teach you everything that you need to know to get published and become a bestselling author.
For today only (November 26, 2012 until 11:59 p.m., CST) I'm offering Get Published for only $197.
That's $200 off the regular price of $397. It's a one-day-only special for Cyber Monday. You can ORDER NOW and get instant access online. You can get all the details by clicking here. At 11:59 p.m. today (November 26th), I will raise the price back to the usual level.
By the way, I'm so confident that Get Published is the best publishing program available any where, that I offer a no-questions-asked, 90-day money back guarantee.
If you don't find this program helpful and worth every penny you pay, I will promptly refund your money. No problem. No questions asked. You have my word on it.
If you want to explore this course further, you can find a list of the benefits, along with a comprehensive outline here. See why more than 700 people have already purchased this program and are well on their way to publishing success.
Here's what some of my customers are saying about Get Published:
This is the most comprehensive guide to publishing and launching a book I've ever seen. The quality is beyond that of anything else out there. Even as a published author, I'm taking notes and finding LOTS of nuggets to apply to my own platform and writing career. Thanks, Michael, for a resource! I'll be referencing it for years to come!"
Michael Hyatt's Get Published is the most comprehensive, clear, and current material available to us 'wanna-be authors.' The workbook alone is invaluable. The step-by-step approach with room to write down our thoughts and action plans will certainly help us procrastinators. Thank you Michael for sharing with us and not holding anything back. Hope to join you on the bestsellers list in the near future!"
As a new author, navigating the publishing world was overwhelming … until I discovered Get Published, the step-by-step guide to getting published and creating a bestseller. I have a story to tell and Michael Hyatt has equipped me to do it."
These are just a few of the MANY endorsements I have received. (You can read numerous others here. Just look in the right-hand sidebar on that page.)
If you are serious about getting published, this is the program for you. This Cyber Monday special provides you with the opportunity to get it at an unbeatable price. Click here to learn more.