I've been using Evernote almost a decade now. The program was still in private beta when I started. Since 2008, it's become my digital brain.
In the past, I used binders or file cabinets to store project papers, research, contracts, even paper-napkin brainstorms. Now all that goes in Evernote. Organization, retrieval, and sharing are easy. And the more I use it, the more useful it becomes.
Whether for personal or professional use, I've been almost entirely paperless for years now. But Evernote is imperfect. And for me every application is on a permanent job interview.
Anyone who knows me knows I love experimenting. I'm always tinkering. And even though Evernote is key part of my business workflow, I don't want to rule out other solutions.
I've tried several competitors. I even organized my notes and papers in Google Docs for a while. Based on everything I've seen and tried so far, I'd say right now there are three primary alternatives to Evernote: Apple Notes, Microsoft OneNote, and the newcomer: Bear. Here's how they stack up.
Apple Notes
Apple Notes is the default note-taking app included on all Apple devices. Those who love it, love it for its simplicity. Equipped with very few bells and whistles, it's simply a space to create, store, and organize notes.
It's totally free, syncs well among Apple devices, and was upgraded last year to include a few extra perks. These include easy share features and a built-in camera, as well as the ability to include images, link out to maps/webpages, and doodle. It offers a simple folder structure for organization.
But overall capability is slim. Apple Notes is the bare bones of note-taking apps, and it's only available for Apple devices. There's no web-clipper, no tagging, no fancy formatting, no security—all of which Evernote offers. And there's also no real way to interact with the developers to communicate problems or improvements.
Still, for Mac loyalists who want nothing but the basics, this might be your go-to.
Microsoft OneNote
Microsoft OneNote relies on skeuomorphic design. For the majority of its features, it tries to replicate the attributes of a physical notebook. It almost feels like a digital whiteboard. Apple has moved away from skeuomorphic design with their products.
OneNote works across all platforms but works best on a Windows desktop (not a plus for Apple fans like me). Features such as password protection, attachment capabilities, notebook organization, and a basic web-clipper are all free. Users can insert audio and video files, search with Spotlight, and access notebooks without a data connection—a rarity among free apps.
Its downfall—besides the skeumorphic limitations and higher PC performance—is that it's really more of a digital notebook than a digital-filing system. Evernote beats it out in terms of expansive web-clipping capability and general depth of organizational hierarchy.
It's also rough sailing if you're trying to shift to OneNote from Evernote. When I imported my Evernote notes into OneNote, they were a complete and utter mess. Who's got time for that?
Bear
Bear is one of the newest note-taking apps on the market, and I've played with it for the last several weeks. It strikes a strong balance between design simplicity and its many features. There's a web-clipper, expansive formatting options, beautiful built-in themes and typography, and multimarkdown capabilities. That's a plus for me—and something Evernote still doesn't support.
It has great organizational and tagging features that allow for a straightforward filing hierarchy system to be constructed pretty organically. With sync options across multiple devices, easy search and attachment capabilities, and a very reasonable upgrade package, Bear is definitely promising. I'd probably migrate there if Evernote stopped developing tomorrow.
Bear has two big red flags for me:
You can't create a note-specific URL, so sharing a single document with my team is almost impossible. In Evernote, you can grab a public link, share the URL, and anybody with that link can read the note.
You can only have one window open at a time within the app. That's a serious hindrance to my productivity. I often work back and forth between multiple notes.
For those two reasons alone, I'll stick with Evernote for now.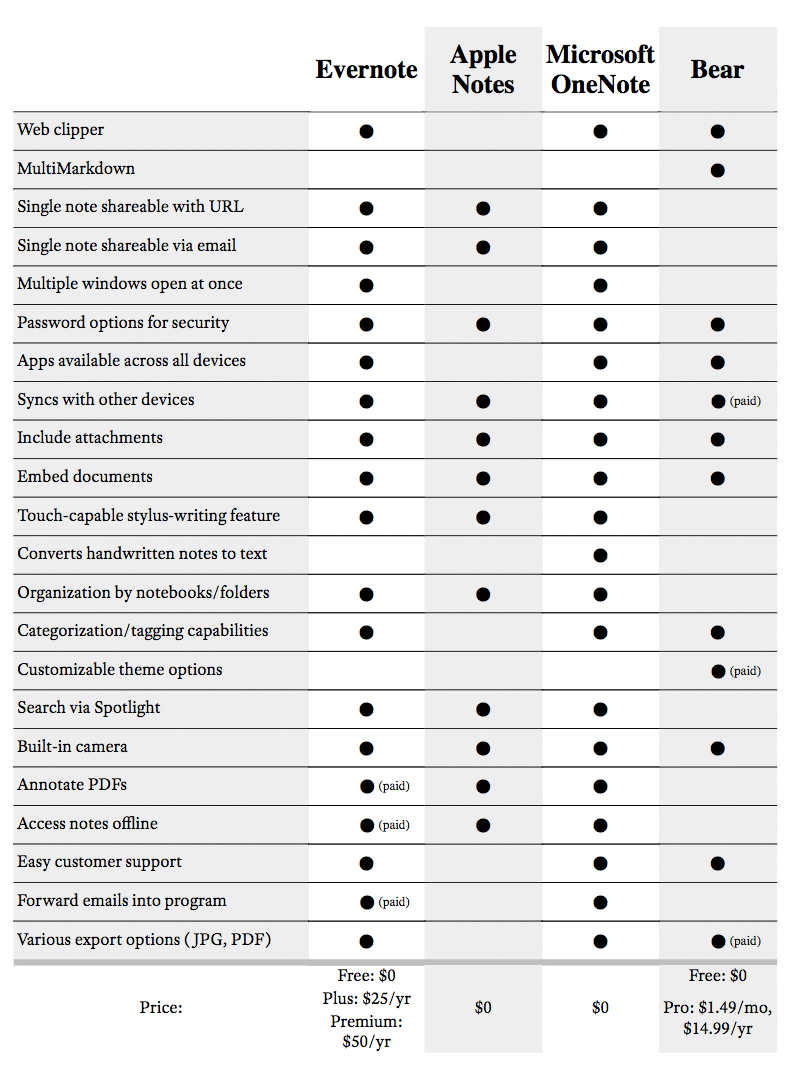 The Future of Evernote
Evernote is one of those rare apps I can't quite seem to outgrow. I am always finding new uses for it. I continue to look at competitors because I want to stay current on what's available. But so far I've not found anything that can replace Evernote.
Evernote does have drawbacks. I mentioned its lack of support for multimarkdown already. I was very excited to see Evernote updated their mobile app. But the desktop app is overdue for an overhaul, especially a redesign that captures the elegance of the new mobile experience.
I've heard that's in the works—and I'm eagerly awaiting to see what's next.
Question: What's your experience with Evernote or one of the alternative solutions on the market? Share your answer on Facebook, Twitter, or LinkedIn.