If you've followed my blog for more than a few months, you know I love Evernote. It is an application I use every day. It's not only my digital brain, it's the main tool I use to implement my personal productivity system.
But I've found myself using the mobile version of Evernote less and less over the last several years. Why? It was cumbersome. It required multiple steps to get even the most basic tasks done.
For a while, I used Clever, a third-party Evernote client. It promised a simpler, more useful Evernote interface. It was different but not really any better than the native app. Eventually, I abandoned it.
Soon after, I stopped using Evernote Mobile for anything other than referencing existing notes. As we say in the South, "the juice just wasn't worth the squeeze."
Until now …
Evernote has just released version 8 of its iPhone and iPad apps. It is a complete redesign, emphasizing speed and simplicity. Here are my five favorite features—and why I'm excited about using Evernote Mobile again.
1. Speedy Load Times
The previous version of Evernote loaded slowly. On my iPhone, it was typically a two-to-three second delay. That might not sound like much, but it was noticeably slower than my other apps.
Just the noticeability was irritating. But worse, when you are trying to capture a thought, every second counts—especially when it is so easy to get distracted by something else.
The new version loads quickly. It's nearly instantaneous. Syncing is also done in the background. There's no spinning sync icon to remind you the app isn't quite ready for your use.
2. An Elegant Interface
In the previous version of Evernote Mobile, the interface tried to do too much. It mimicked the desktop version rather than creating an experience optimized for mobile use. Now it's similar to the browser-based interface of Evernote web—clean, uncluttered, and simple.
The navigation is straightforward, too. The previous one tried to shoehorn every possible option into each screen. The result was complexity, and it felt overwhelming, especially when I simply needed to capture a thought or access a previously created note.
In the new version, the engineers have selected the most used features and made them available on a tab bar at the bottom of the screen. They are accessible with a single touch. These include Notes, Search, Note Creation (+), Shortcuts, and Account.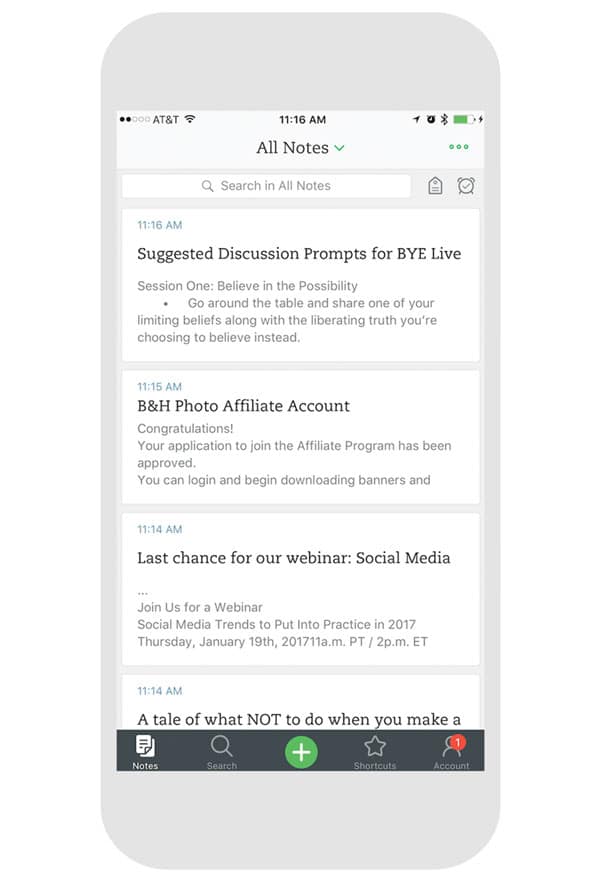 3. Easy Note Creation
In the previous version, I always had to stop and think which option to use to add a note: Text, Photos, Reminder, List, Audio. Ninety-five percent of the time, I just wanted to enter a text note.
It should have been obvious to me since it was the very first option. But I always had to pause and think about it because the other options were displayed at the same level and in the same size.
In the new version, this is drop-dead simple. You just click the big green plus sign at the bottom of the screen. Bam. You get a shiny new note, ready for you to capture your most brilliant thoughts. If you want to add an audio note, a photo, or a reminder, you just give the plus button a long press, and these options pop up.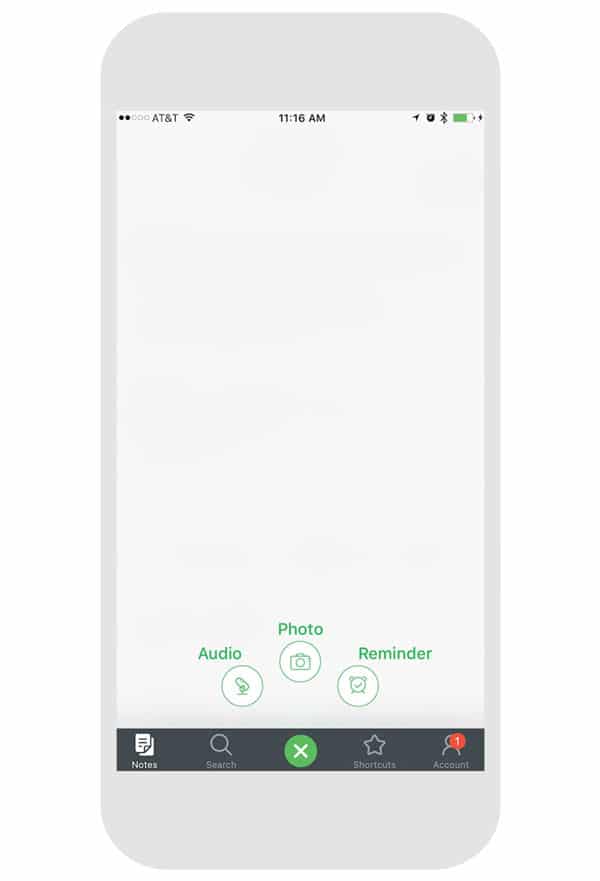 4. Quick Access to Shortcuts
I use shortcuts a lot, especially for quick access to notes I reference on a regular basis. These include things like my current travel itinerary, my life plan, my annual goals, my quarterly objectives, my medical records, my supplement protocol, my auto maintenance records, my affirmations before giving a speech, my writing style guide, etc.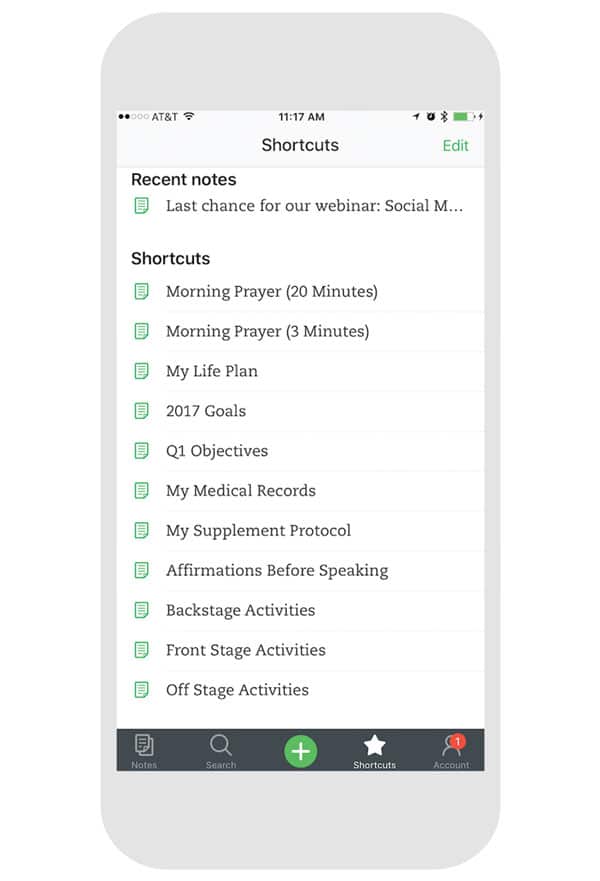 While Shortcuts were only a touch away in the previous version, they were kind of lost in all the clutter. Now, they are one of the main navigation items along the bottom of the screen, making them faster to access. The same is true of Search.
5. Elegant Note Browsing
The new note list makes it easy to browse your notes and find what you are looking for. You can switch between small, medium, and large note previews by tapping Note List Options in the overflow menu—which is intuitively and simply marked as "…".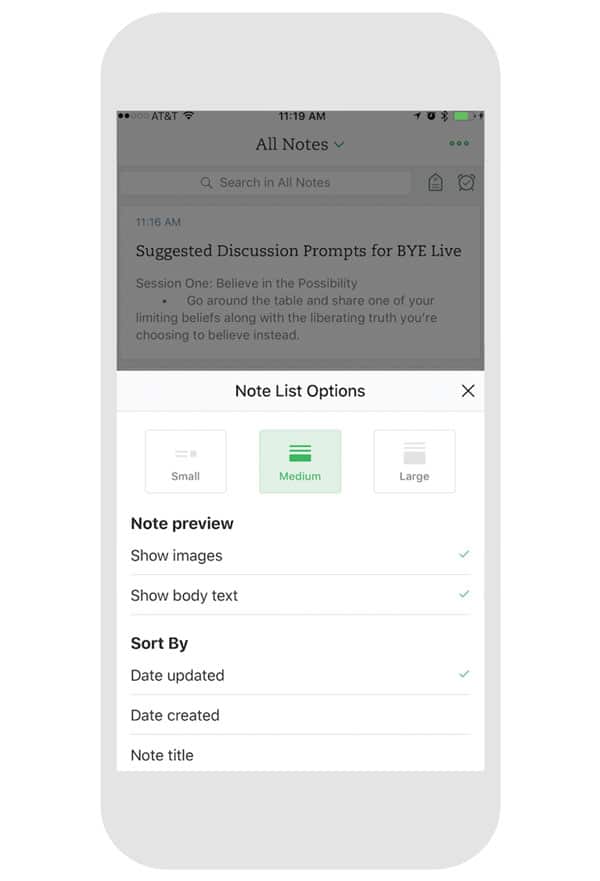 You can filter notes by tags by simply tapping on the tag icon to select and apply filters. You can also sort by date updated, date created, or note title.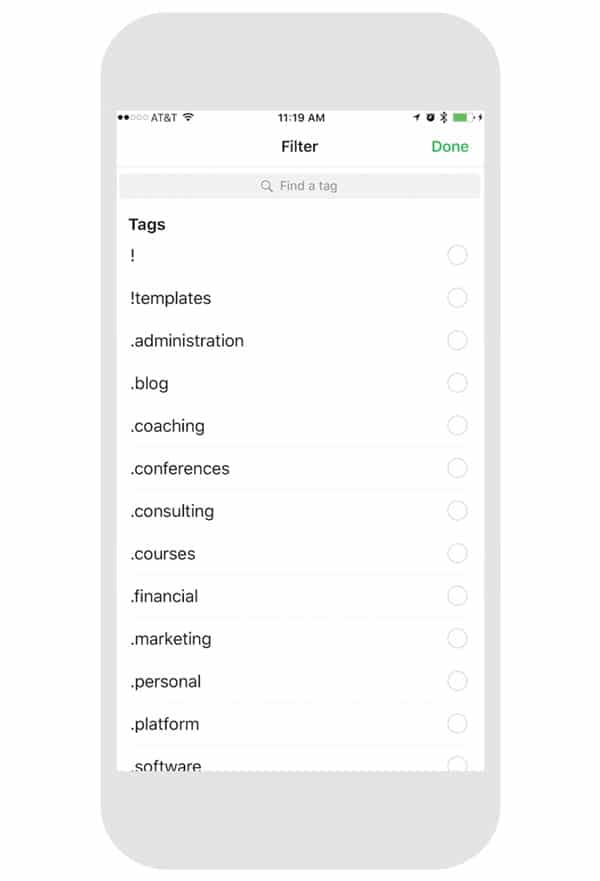 You also can manually sync to Evernote by pulling down on the note list.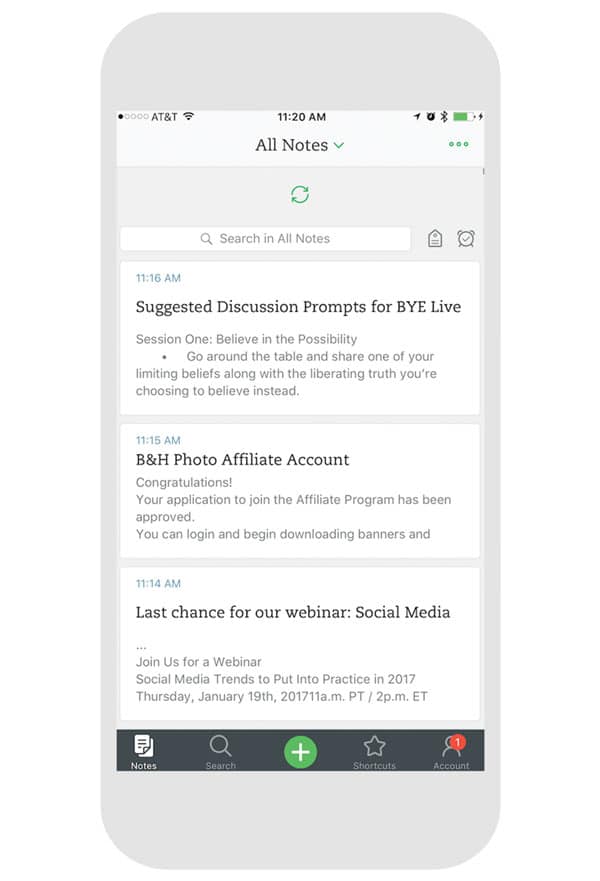 Evernote 8.0 for iOS doesn't add any new functions, but it makes the existing features more accessible and easier to use.
I have already integrated Evernote mobile back into my daily workflow. I may actually end up using this more than the desktop version.
Question: Are you an Evernote user? What's your favorite productivity tip or hack for the desktop or mobile version? Share your answer on Facebook, Twitter, or LinkedIn.