The value of a mentor cannot be overestimated. A mentor is someone who is a few laps ahead of you in an area of life where you wish to find success. More than formal training, more than a book or a seminar, a good mentor brings his or her personal experience to bear on your life in a way that may shape it forever.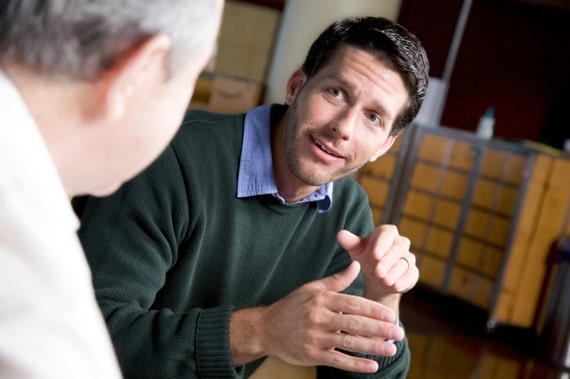 Photo courtesy of ©iStockphoto.com/asiseeit
But how to find one? It's actually easier than you think. Here are five ways to find a mentor:
Don't Start with Seth Godin or Max Lucado. Yes, we'd all love to have someone at the top of our profession mentor us. But not only is this unrealistic, it's also unhelpful. Chances are that the advice of someone at the very top would be intimidating or unhelpful to you at your current pace of life. Instead, look for someone a few levels ahead of you in your chosen field. Someone accessible to you. There is a pastor in my community whose church is medium-sized, but not mega. Since I pastor a small church, he's perfect for me and has the time.
Attend trade functions or gatherings in your community. As a pastor, I regularly attend pastor's gatherings in our area. I've also done this in the Christian publishing field. Simply attending and meeting new people has led to many rich mentoring relationships. If you stay inside your office your entire life, you'll never experience the opportunity to be enriched by the wisdom of others.
Make friendships through simple conversation. You don't find a mentor by asking someone, "Can you be my mentor?" That's a bit awkward and may seem to put a heavy burden on someone who doesn't know you very well. Instead, meet people, develop relationships through conversation and let natural human interaction be your guide.
Follow up with a request to meet again, one-on-one. If you've gotten to know someone you think you can learn from, get his contact information and ask him something like, "Hey, I'd love to sit for coffee and pick your brain on _______." This is the intentional part of finding a mentor. I've done this a number of times both with pastors and with writers and have found them eager to share what they know about their chosen field.
Ask questions. When you do meet for coffee, pepper the mentor with questions and then sit back and listen. Ask him questions like, "How did you get into this field?" "What have you learned over the years?" "What do you think of this idea?" Don't try to wow him with all you've done. You're there to learn from his success.
Mentoring relationships are valuable . . . and they aren't complicated. They are simply friendships which have the potential to help shape your future.
Oh, and a bonus tip: pick up the tab. The wisdom you gain is well worth the price of a latte.
Question: What have you done to find a mentor? You can leave a comment by
clicking here
.