We shipped 150 copies of our Limited Release Preview on July 15th. We will be making more copies available in the next few weeks. If you wanted to be notified, make sure you signup at the bottom of this post.
I am about to launch my own premium WordPress theme. It is called GetNoticed! and is based on the principles I share in my New York Times bestseller, Platform: Get Noticed in a Noisy World.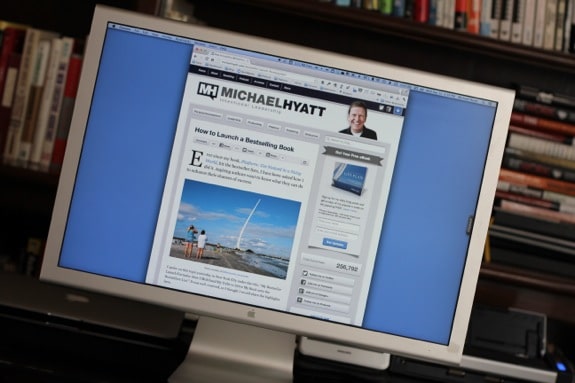 Andrew Buckman, my web developer, and I built this theme from the ground up. Our goal was to create a theme for anyone wanting to build a personal brand. This includes authors, comedians, speakers, pastors, and corporate executives.
Here are just a few of the features we've baked in:
Fourteen different custom Mini-Posts—announcements, books, events, links, photos, slides, videos, and more. This enables you to share resources without writing a full blog post.
A custom Social Sharebar that not only makes it super-easy for your readers to share your posts on their favorite social networks, but also prominently displays the share counts, providing powerful social authority.

A custom Recruitment Form that enables you to collect e-mail addresses and build your mailing list. This is essential if you are going to build your platform. (Check out the top of the sidebar to see this in action now.)
Several new Sidebar Widgets, so you don't have to install these as plugins. These include a Social Reach widget, Follow Me widget, Popular Posts, Upcoming Events, and Favorite quotes. (Check out the sidebar to see these in action now.)
A specially designed Landing Page Template, that gives you the option of eliminating the navigation that distracts your prospects from buying. It includes a spot for a Countdown widget (for time-limited offers), Buy Buttons for major retailers, Guarantees, and Testimonials. (Here's an example.)
A built-in Event Calendar, which is perfect for public speakers, entertainers, and artists. It automatically pulls in the Event mini-posts and lists them in date order. You can place a list in the sidebar or on your speaking page.
A Fat Footer that enables you to redeem this otherwise forgotten real estate to promote your top links, services, products, and resources—or anything else you want. Scroll to the bottom of this page for examples.
And lots more …
We've also made use of the latest web technologies, so that the theme is responsive and beautiful, whether your readers access your blog via the web, iPad, iPhone, Android, or any other mobile device.
Though we've launched the theme on my site, we still have some work to do, including a couple of features for the sharebar that aren't quite done and some improvements to the way the site renders on the iPad. As soon as we have the kinks worked out, we will move to a limited beta test and then a public rollout. We hope to launch in the next few months.
If you'd like to be notified when the theme is released, please sign-up below. If you are interested in participating in the GetNoticed! beta test, sign-up here as well. You will get the invitation to apply first. (Note: signing up here does not guarantee a slot in the beta program. We will be limiting the number of participants, so that we can adequately support them.) I won't use this mailing list for any other purpose.
Finally, I am also planning to recruit a GetNoticed! launch team, similar to what I did with my book.) This will enable us to collect additional feedback and help us get the word out.
Final Note: We have not yet announced a launch date. We are hoping to have it out by the end of first quarter of 2013, but it all depends on how the beta test goes.
[signup for="getnoticedtheme" fields="fname,email" submit="Sign Up Now for Updates &#8594″]
Questions: What do you think of theme? Any suggestions? You can leave a comment by
clicking here
.