I'd like to invite you to join me for a free, LIVE Get Published Teleseminar on Thursday, November 29th at 8:00 pm Eastern Time (7:00 pm Central, 6:00 pm Mountain, 5:00 pm Pacific).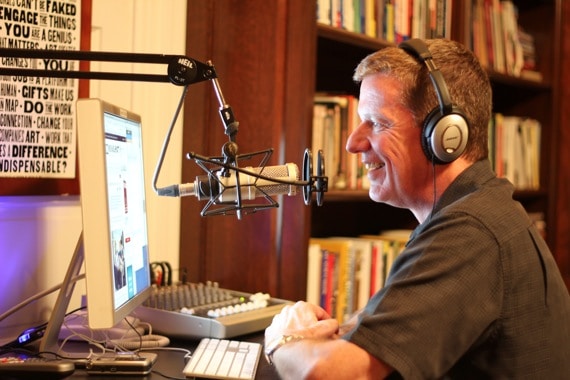 During the call, I'll share why you should consider writing a book, why now is the best time ever to do it, and how to get started. (Even if you are a published author, you will find this content useful and motivating.)
I'll also answer questions LIVE—a perfect opportunity for you to ask me anything about publishing or platform-building. But you must register to participate.
What You'll Learn
I will begin by sharing my publishing journey—how I went from 29 rejection letters on my first book to writing two New York Times bestselling books, including my most recent, Platform: Get Noticed in a Noisy World.
Specifically, you'll learn:
5 reasons why you should publish a book and how it will forever change your life.
The #1 obstacle that stands between you and launching a successful publishing career.
The top 5 reasons why now is the best time ever to be an author.
Traditional publishing vs. self-publishing: the pros and cons.
The 3 actions you need first—before you write your manuscript—if you are serious about getting published.
And, as I mentioned, I will also answer your questions. The call will last 45 minutes to one hour.
How to Register
This call is FREE. You can access it LIVE by phone or a streaming web audio player. And yes, I will make the recording of the call available sometime after the call—for a one-time fee of $19.97.
Please note: I only have room for 3,000 people on this teleseminar. (That's the limit imposed by our hosting company.) Therefore, you must register now to participate.
Register for the FREE Get Published Teleseminar
I am really excited about this online event. I want to give you a jumpstart in your publishing journey. I know personally what this can mean for your future.
If you still have questions, read the FAQs below.
FAQs
Q: What is a teleseminar?
A: Think of it as a giant conference call. You dial in (or listen via streaming web audio), along with others and listen while I share and answer questions.
Q: How much does this cost?
A: It's free. If you choose to access the LIVE call via phone, you may incur standard long-distance charges if you choose a dial-in number that is not local to you (there are multiple dial-in number options). Other than that, no fee at all.
Q: What is the date and time?
A: The LIVE call will take place on Thursday, November 29th, at 8:00 pm Eastern Time (7:00 pm Central, 6:00 pm Mountain, 5:00 pm Pacific).
Q: How can I access the LIVE call?
A: You'll have two options. Our call capacity is 3,000 total. Five hundred can access the call via phone, the rest via streaming web audio (listening via your computer). Access is on a first-come, first-served based on registration and which access option you chose. We will notify you prior to the call with the specific phone number and web address.
Q: I can't make the LIVE call. Will there be a recording?
A: Yes, I will make the recording available after the LIVE call for $19.97. You'll have the option to listen to the replay online or download an MP3 file.
Q: How do I ask a question for you to answer during the call?
A: When you register there will be an option for you to submit a question. I'll do my best to answer as many questions as possible during the LIVE call. However, I will likely not get to all of them. I'll try to make sure I address common themes.
Q: Do I need any special equipment?
A: No, nothing special needed. You won't need to download anything to access the call. If you use the dial-in access then you simply make a phone call. If you use the streaming web access then you simply open a web browser, click play, and listen. I will send the instructions to you via email.
Q: When do I get access information after I register?
A: I will send you access information via email a day or two before the call and a reminder email on the day of the call.
Question: What do you hope to get from the teleseminar? You can leave a comment by
clicking here
.