So much of modern technology makes us feel more isolated and less connected. That's why I get particularly excited when I see software that actually brings people together and facilitates community.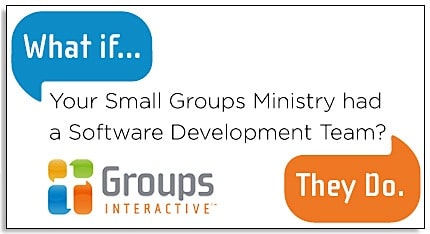 A few weeks ago, I learned about Groups Interactive, a web-based system that helps small group leaders and members stay connected. It was developed by a group of believers at Oak Hills Church in San Antonio where Max Lucado is the Teaching Minister.
They said to the church leaders, "We can be ushers, we can help park cars, or, if it's OK, we'll write software to build your small groups ministry." The software eventually became so sophisticated that other churches wanted to use it. As a result, UpperRoom Technologies was born.
Groups Interactive is very robust yet user-friendly small group management system. Here are just a few of its features:
Search by group type (men's, women's), specific neighborhoods, zip code, or keyword. Want to highlight a new group, or a group that's recruiting new members? You can do that too.
The reports module will enable you to reach, teach, and help people. You can see who is involved, check attendance, share best practices, and keep people from falling through the cracks.
Members can stay connected by creating events, posting prayer requests, chatting online with other members, post photos, download a group directory, etc. They can even feed their email and calendars to their preferred software (e.g., Outlook, iCal, Google Apps).
You can manage a large number of small groups by creating mid-level or lay leadership roles. You can authorize these leaders to lead one group or a number of groups. They can even oversee and lead the leaders under them. This is the "Jethro Principle" in action.
Future integration with many church management systems, including FellowshipOne and ACS. As members update their information, it can be easily imported.
Here's my favorite part: if your average weekend attendance is less than 150 people, the software is free (with the exception of a one-time setup fee of $50). As you grow, the pricing is based on the size of your attendance.
Whether your church is just starting to build an online presence or already has an established web site, Group Interactive is worth checking out. I would start by watching the introductory videos. You can also find out more about the company and the people behind it on their blog.