I've owned an iPhone since 2007. It's become one of the most important tools I possess. I use it for everything. Well, not everything. But close.
Like a lot of executives, when the iPhone debuted I used a BlackBerry. At the time, it was the perfect tool for email, contacts, my calendar, and limited Web browsing. If I wanted to sync my calendar and contacts with an iPhone, I had to manually connect it to my MacBook Pro. Why would I trade?
Seems like a silly question today.
Today I use my iPhone to keep track of most of the moving parts of my complicated personal and professional life. And I've optimized my home screen to put everything I need within one or two clicks.
Here's a list of the apps I currently have on my home screen:
Settings. I keep the default Settings app in a prominent position, so I can easily manage Airplane Mode, Notifications, Do Not Disturb mode, Wireless and Bluetooth connections, and so on.

1Password. I store all my passwords in this handy little app. With the newest version, I can even share passwords securely with my team.

App Store. I like to make sure that my apps are always up-to-date. I also like to experiment with new apps, so I keep this one where I can easily find it.

Wallet. Having this app on the top row makes it easy to access my credit cards and boarding passes. I really hope Apple gets more services on board because this has the potential to eliminate my actual wallet.

Authy. After Chalene Johnson got hacked last year, I changed my email accounts—and every other service I could—over to two-step authentication. This app generates the tokens required by the various systems.

Google Drive. I keep all my documents locally on my desktop and in the cloud on Google Drive. My team also uses it for our Digital Assets Repository (DAR) or shared files.

Dropbox. Some of our vendors use Dropbox to share files, so I keep this app handy in order to access them.

Fantastical. This is my calendar program. It's linked to my various Google calendars. It has far more bells and whistles than the standard iOS calendar app.

Evernote. This is my digital brain. I store practically everything here. I especially like the iOS app, because I can use 3D touch to quickly initiate a new note or search.

Workflowy. This is an outliner on steroids. I mostly use it on my desktop to create new content. It is where everything starts. I use it on my iPhone to reference those outlines.

Chrome. This is my browser of choice on all my devices. I especially like the way it syncs bookmarks and pages across platforms.

Way of Life. This is the habit tracker I'm currently using to track my habit goals. It is super easy to use. It allows me to skip days as well as track trends.

Stocks. This is the standard-issue stock app. I usually check in once a day or so to see how the market is doing.

Calculator. This is also the standard-issue calculator app. Nothing fancy here, just a simple tool to crunch numbers.

Perfect Weather. To be honest, I'm not sure why I downloaded this weather app, but I prefer it to Apple's default.

White Noise. If you have followed me for any length of time, you know I'm a napper. I use this app to mask background noise so I can sleep. I also use it for nighttime sleep when I'm traveling.

Waze. I adore this app. In my opinion, it's the best GPS program available, because it crowdsources traffic patterns and reroutes you around obstacles and congestion.

ADT Pulse. This program simply allows me to monitor my in-home security system, including security cameras. I can also activate and deactivate the alarm system remotely.

Photos. My photos are becoming more and more important to me with each passing year. I like to have them here for easy reference. I was using Lightroom, but I like the simplicity of this app on all my devices.

Camera. Even though I have a couple of big expensive DSLR cameras, I find that I take more and more pictures on my iPhone. The quality is great, and it's the one camera I always have with me.

Phone. I used to have this app on my home row, but I so rarely make or receive phone calls I moved it. Instead, I almost always make video calls using Zoom on my desktop.

Input. This is a folder for all the apps I use to gather input: Google News for catching up on what's happening, Reeder for reading blogs, Kindle for reading the occasional book, Audible for listening to audio books, and Overcast for podcasts.

Social. This is a folder for my main social media apps: Hootsuite for monitoring Twitter, Facebook, Facebook Messenger, and Instagram.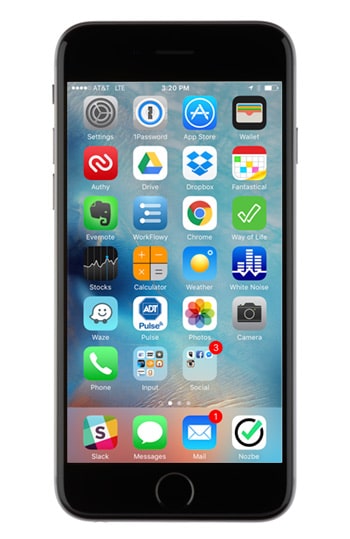 That covers everything above the home row. Here's what I keep there; these are the apps I use most of all.
Slack. We use this app with our team instead of email. There is no app I use more on my phone or on my desktop than this one. It's been a game-changer.

Messages. Though I am not a big fan of texting, it's the primary way I communicate with my family and close friends. We almost never use email.

Mail. I use email as little as possible these days. In fact, I only use it with people outside my company. It used to be the first item on the home row, because I used it so much. That's not currently the case.

Nozbe. I use Nozbe for task management. It's available on all my devices, and it's one of those apps that just keeps getting better with age.
"Our Age of Anxiety is . . . the result of trying to do today's job with yesterday's tools," said Marshall McLuhan. I don't know about you, but I don't have time for anxiety. One of the best ways I know to stay on top of our game is to stay on top of our tools.
The way I do that is to stay current with the apps that enable me to function optimally at work, home, and all places in between.
Question: What iPhone app do you need to function at your best? Share your answer on Facebook, Twitter, or LinkedIn.