Last weekend, I determined that my Twitter direct message inbox was unmanageable. I was inundated with spam and requests from people I didn't know. As a result, I decided to declare Twitter bankruptcy, unfollow everyone, and start over. I wrote about it earlier this week.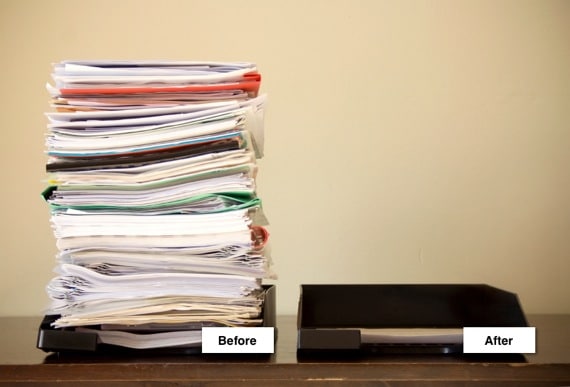 Photo courtesy of ©iStockphoto.com/swilmor
I had thought about doing this for months, but was nervous about the unintended consequences. However, after learning that Chris Brogan, Spence Smith, and Vicky Beeching had done the same thing and lived to tell about it, I decided to go for it.
I will outline the procedure I followed in a minute. But to cut to the chase, I am very happy with the outcome. I have finally reclaimed my Twitter inbox. I have not lost much in the process. I am still able to be "social." I just have 99% of conversations in public, using Twitter's reply feature.
In terms of the numbers, I have gone from following 108,698 to 157 (or so). I lost a total of 5,622 followers, going from 110,336 followers before I began to 104,714 now—about 5%. My Klout score has improved slightly, going from 75.9 to 76.2. (This isn't really a big deal, but I expect that number to improve as Klout recalculates my follower-to-following ratio.)
In case you are considering doing this for yourself, I thought I would document the procedure I used here. I took the following seven actions:
I evaluated my options. I should have not been following everyone to begin with. (Yes, I have already been scolded for this.) I explained my rationale in my last post.

Regardless, I didn't feel I had any options. I was getting dozens of spam messages like these every day (the last message is not spam):

These are only what was waiting for me when I woke up on Tuesday morning.

Only you can decide whether or not it's time to clean house. Regardless of what others might think or say, there is no right answer.

I put those I wanted to follow on a list. Most people who are following more than 50 people have a mechanism for segmenting their followers. (You may be disappointed to know that I didn't really pay attention to 108,698 people.) I use HootSuite. My wife, Gail, uses TweetDeck. Both are excellent.

In addition, I also made use of Twitter lists. Everyone who is on a list will survive a mass unfollow, since you can put people on a list without following them. Just to make sure, I took a screenshot of each of my lists, using SnagIt. Here's an example:

I warned my followers before I started. Though I realized I wouldn't eliminate being misunderstood, I wanted to minimize it. I also did this as a courtesy. I didn't want people to think it was personal. It wasn't.

I tweeted several times about what I was going to do. I also wrote an entire blog post on the topic. I also engaged in the comments and Twitter replies, attempting to answer questions people had.

I expected to be misunderstood. And, of course, I wasn't disappointed. Chris Brogan's post prepared me for this. People don't always understand how Twitter works, disagree with how I am using it, or attach more importance to me following them than is warranted.

Some thought I was stupid for auto-following everyone (which I was). Others thought I didn't really understand social media. For example:

Some thought I was just arrogant, like this one:

One even asked, "What would Jesus do?"

Regardless, the amount of negative responses was pretty minimal—about 10 out of 108,698.

I used an automated script. One person thought I should go through and do this manually. If you do the math, you quickly see that this is impossible. Assuming I could evaluate 20 per minute, that would take me 90 hours—two full work weeks.

Instead. I used an automated script. There are several available. I used SocialOomph Professional. I was already a member of this service, so it didn't cost anything additional. I just clicked on one button and SocialOomph did the rest:

I had to be patient—it took a while! I naively assumed that I would click the button, take my place in the queue, and, in a few hours, the whole thing would be done. Wrong.

Twitter itself limits the number of API calls that third-party apps can make per hour. This is programmer-speak for the fact that third-party apps can only unfollow about 1,200–1,500 people per hour. It took SocialOomph a approximately 75 hours to unfollow everyone on my list.

I re-followed those on my lists. This was the easy part. Once I had unfollowed everyone, I simply went to my Twitter list, displayed them, and followed everyone on the list, one-at-a-time. This took a total of less than ten minutes. I didn't have to change anything in HootSuite, since these lists already corresponded to my HootSuite columns:

By the way, you can still engage me in a conversation on Twitter. Simply, address your post to @MichaelHyatt." It will appear in my "Mentions" stream and I will reply publicly. This is even more social—like a dinner party—because others can listen in and join the conversation.
Again, I don't think a mass unfollowing is for everyone. But it has served me well. I am glad I did it. I have experienced very little negative impact. Moreover, it has allowed me to reclaim my Twitter inbox. It is now, once again, useful for private messages between my family and friends.
Question: Is this something you need to consider? You can leave a comment by
clicking here
.