Financial advisor and author, Dave Ramsey, says that one of the keys to financial success is to spend less than you earn and do it over a long period of time. The key to weight loss is similar. Burn more calories than you consume and keep doing it until you reach your target weight.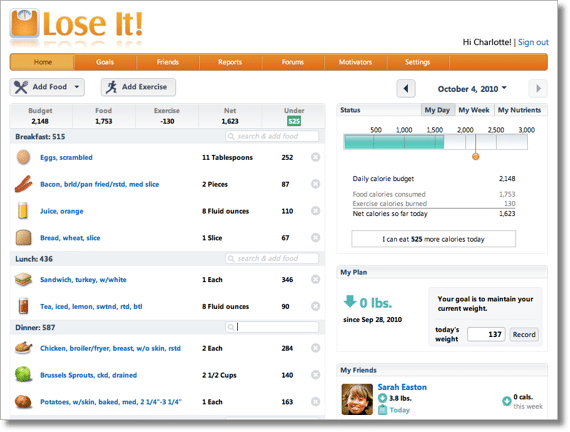 A Typical LoseIt Home Page
This is also the premise behind LoseIt.com, a Web site and app that Gail and I have been using since the first of the year.
Actually, Gail started using it first. She joined a fitness class at a local gym. One of the requirements was that each of the class members had to use LoseIt to track their calorie intake and exercise. Each day, LoseIt sends her fitness coach a summary of the previous day. Talk about accountability!
After seeing Gail's progress, I decided to give it a whirl for myself. Here's how it works:
Set up your account and goal. It's easy, and it's free. In addition to the web-based program, you can download the iPhone app (also free). This comes in handy when you are on the road or away from your desk.

When you sign in for the first time, LoseIt walks you through a simple wizard. You record your beginning weight, height, birthdate, etc. You then chose a plan. You can chose to:

Maintain current weight
Lose 1/2 lb per week
Lose 1 lb per week
Lose 1 1/2 lbs per week
Lose 2 lbs per week

Based on your current situation and goal, LoseIt tells you how many calories you can assume per day and then calculates exactly when you will real your goal—assuming you follow the plan.

Begin recording your food consumption. LoseIt has an extensive food database, including most major food brands and even restaurants. You simply pick the meal (breakfast, lunch, dinner, or snack) and then select what you ate.

If you can't find the food in the database, you can create a custom food or entire recipes. (You can also share these with others.) Each time you add a food, LoseIt subtracts the calorie count from your total daily budget. As a result, you always know exactly how many calories you have left for the day.

Begin recording your exercise. This is my favorite part. LoseIt also has an extensive database of exercise routines. Just like the food module, you can also create custom exercises and routines. When you exercise, LostIt adds back calories to your daily total.

For example, my daily budget is 1,427 calories. If I walk at 4.0mph—which I have been doing during these cold winter days—I get a credit for 665 calories. This means I can consume 2,092 calories on that day and still hit my goal. This motivates me to exercise, because I am immediately rewarded with extra calories I can consume.

Regularly record your weight. You probably shouldn't do this every day—your weight will fluctuate too much. What you're looking for is a longer-term trend. Once a week is probably sufficient, though you can choose any frequency you want.

You can even connect the Withings WiFi Body Scale to LoseIt and it will automatically transmit your weight and your BMI data. If you are in the market for a new scale, this is a good option, though it's expensive.

Use the "Motivators" module. This could also be called the "Accountability" module. You can tell LoseIt to send you a text message, reminding you to record each meal or just one message at the end of the day. You can define when you want to receive each message. You only receive a message if you have forgotten to record a meal.

In addition, you can email your daily summary to an accountability partner. If you are brave, you can even send your summary results to (gulp) Twitter or Facebook. It only posts when you log an exercise, your weight gain or loss (not your actual weight) and when you have achieved your goal.
LoseIt.com also provides extensive reporting. Since all the foods in the database provide full nutritional information, you can monitor, for example, your weekly intake of cholesterol, sodium, carbs, fat, or protein. You can also see charts of your weight trend over time and many more.
For achievers like me, who want to see their daily progress, LoseIt.com is great tool. The app even awards you "badges" along the way. So far, I have collected eight different ones. No one other than Gail sees these, and they have zero monetary value. But for some reason, they really motivate me. It's kind of like when my piano teacher gave me a gold star for playing a musical piece well.
Question: How have you employed technology to help you achieve your fitness goals? You can leave a comment by
clicking here
.