If you regularly read my blog, you know I am a leadership development junkie. I can't get enough input. Whether I am attending conferences, reading books, or listening to podcasts, I devour anything I believe will help me be a better leader.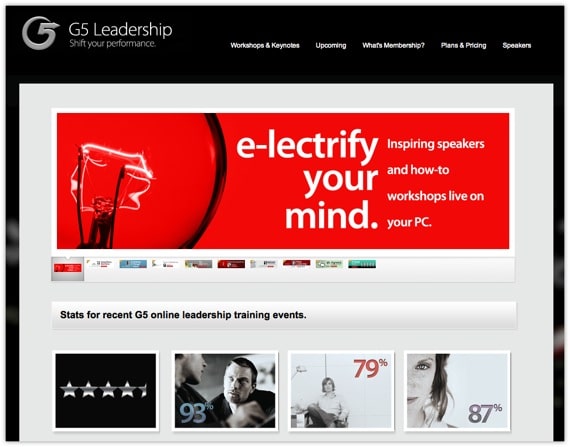 Chances are, this describes you as well. When I did my 2011 Reader Survey, I discovered that my readers have an enormous appetite for growing their leadership:
73% read two or more books a month; 43% read three or more.
75% attend one or more conferences a year; 50% attend two or more.
72% of participated in a webinar in the last year.
If this describes you, you need to know about G5 Leadership.
G5 Leadership is one of the premier live, web training companies in the world. Earlier this year. TrainingIndustry.com referred to them as one of the top leadership training companies to watch in 2011.
They partner with New York Times bestselling authors such as Stanford Professor Bob Sutton, Fast Company founder Bill Taylor, CEO coach Marshall Goldsmith, and people-centric business expert Tim Sanders to name a few.
Think of G5 Leadership as a movie theater. The speakers and their topics are the movies. G5 is a venue where you can go and select which "movies" you want to watch based on which topics are most important to you. But unlike a movie theater, you never have to leave home.
G5 did some research on the economics of the leadership training industry. Get this: On a price-per-minute basis, you can get a degree from Harvard cheaper than you can attend most generic leadership training courses! That's a bad return on investment if not an outright ripoff. G5 believes that the price of leadership training should look more like the price of a book and less like college tuition.
As a result, a membership to G5 costs just $129 per year. (I'll tell you how to get it free in a moment.)
This gives you all-access to brilliant people, cool talks, great research, and real-world how-tos. It's a great resource for anyone who wants to improve their overall leadership or zero in on specific skills like emotional intelligence, communication, performance and much more. You can attend the live seminars (via your computer) or watch them on-demand at a time that is convenient for you.
Now this is the exciting part: as a reader of my blog, you can get a year-long membership to G5 Leadership for free. That's right: FREE. All you have to do is enter the promotion code g5 when you sign-up. Again, this is a $129 value.
G5's next live keynote is with Bob Sutton, Stanford University Professor and bestselling author. It will be held on July 14th at 11am EST. His talk is entitled, "Good Boss, Bad Boss." If you have read the book, you know what a terrific and relevant topic this.
With examples from such diverse workplaces as Pixar and Anchor Steam brewery, Sutton will reveal how the best bosses take diverse and specific steps to create effective and humane workplaces. He offers tips on taking control, getting and giving credit appropriately, taking responsibility, staying in tune with employees, and squelching your potential inner jerk.
I hope you will consider joining G5 Leadership. What have you got to lose?
Question: Do you feel the need for additional leadership training? You can leave a comment by
clicking here
.