When I read anything, I mark it up. Margin notes, circles, and, most of all, highlights. In fact, I buy highlighters by the box. Or at least I did, until I started reading so much on my Kindle.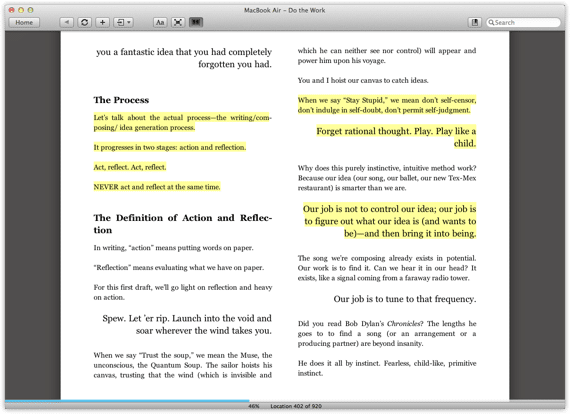 Amazon Kindle for Mac, Displaying
Do the Work
by Steven Pressfield
Now I use the Highlighter feature of the Kindle to mark passages. I also occasionally use the Notes feature to record my thoughts about a passage. (This is actually pretty cumbersome on the Kindle itself. I usually only do this if I am reading on my Mac. Then I can use my keyboard.)
I only wish that I could store all these notes and highlights in Evernote, which has become my digital brain. Well, now you can! It's easier than you think. Just follow these nine steps:
Create your highlights as usual. This feature is different on each device. I find it easiest on Kindle for Mac or my iPad Mini.
Log into your unique Amazon Kindle page. Who knew you even had a unique Kindle page? It contains a list of all your books, with links to the notes and highlights. You can even record your progress then rate the book. Your main page will look similar to this:

Click on Your Books. This is at the top of your Kindle page. Choose this option instead of Your Highlights.

It will narrow the display to notes and highlights for a specific book, once you select one. You should now see a page similar to this:

Select the appropriate book. You can either search for it in the search bar at the top of the page or scroll down your list of books. Once you select a book, you will get a page that looks similar to this:

View your notes and highlights. You will now need to click on the link that says, "You have XX highlighted passages …" in the top right-hand side of the page.

Once you click it, you will see a page with all your highlights and notes. It will look similar to this:

Click on the Evernote Web Clipper icon on your browser's toolbar. Note: if you haven't done this previously—and you really should—you can find the appropriate one for your browser here. On Safari, the web clipper looks like this:

Select the appropriate notebook and tags. This is optional, of course. However, I store my Kindle notes and highlights in my @Cabinet notebook. I use the book notes tag. Keep in mind that Evernote automatically indexes every word in the note, so you don't have to repeat key words as tags. Now select Clip article.

Go to Evernote and make sure the new note is there. You might need to sync first. You can now add additional notes or delete unwanted material.

Copy and paste your highlights to other applications as needed. I often use highlighted passages in blog posts, Keynote slides, speaking notes, or manuscripts. Anything is possible.
If you are disciplined about this, you can have near-instant access to all your book notes and highlights in Evernote. It really takes very little effort once you get the hang of it.
I have written several posts about Evernote. Here is a handy reference:
Question: What will you do with your Kindle notes and highlights once you get them into Evernote? You can leave a comment by
clicking here
.