This is a technical post for power users who want to setup a vanity URL shortener for HootSuite. Admittedly, it is off-topic for most of my readers. This is something I wanted to do, and it turned into a bigger project than I anticipated. So I thought I would document my experience and post it for posterity.Hopefully, it will save others some grief.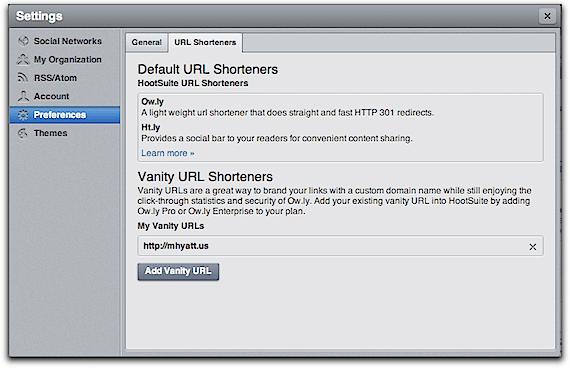 As you may know, a URL shortener is a way to take long Web site addresses and shorten it to a fraction of its size. This makes it much easier to share links via Twitter and other social media services where you have a limited number of characters to work with.
Bit.ly is perhaps the most popular of these services. You can take a long URL like this:
And shorten it to this:
HootSuite—the Twitter software program I use to manage my Twitter account—has it's own built-in URL shortener: ow.ly. The same link above becomes this:
The cool thing is that the HootSuite Pro now offers the ability to create your own "vanity" URL shortener. This makes it possible to use your name, your company's name, or a brand name as your URL.
For example, I bought the domain mhyatt.us. This gives me the ability to transform the long link above to this:
I really had hoped to secure the domain hya.tt, which was only six characters long (counting the period). However, it would cost at least $1,000. (The region of Trinidad and Tobago sets the price.) I may be vain, but I am also cheap!
Here are the steps you need to take to setup your own vanity URL with HootSuite:
Secure a short, custom domain. The shorter the better. I use GoDaddy.com for all my domain registrations. Frankly, I am not that crazy about it, but, as the largest domain registration service available, I want a service that won't suddenly disappear—along with my domains.
Sign-up for a HootSuite Pro account. This will cost you a minimum of $5.99 a month. It has a number of features not available with a free account.
Buy the optional Vanity URL support. This will cost you $49.99 a month, Frankly, I think this is way too high for such a simple service, but I was willing to sign-up in order to see if a vanity URL would drive more traffic to my blog.
Map HootSuite to your custom domain. This was the most difficult part. When I signed up for HootSuite's vanity URL, I got a really obscure email that said:


Please ask your network administrator to point your vanity domain's DNS record to the following address: lb1.ow.ly

Maybe it's because I am technologically challenged, but I could not figure out what to do with this. I appealed to @HootSuite_Help via Twitter, asking for help. Sadly, it took them several hours to respond. They sent me two links, neither of which were helpful. However, I eventually figured it out on my own.

With the help of Brooks Bayne (via Twitter), I converted the lb1.ow.ly address to a numeric IP address. This gave me an IP address of 75.101.155.42. I then went into GoDaddy and created a new "A record" that pointed to this address:

Set up your vanity URL in HootSuite. Click on the Owl graphic (in the upper-left hand corner), then select Settings | Preferences | URL shorteners. Then click on "Add Vanity URL." Add your vanity domain name.
Wait for the DNS change to resolve itself. When you make a change to your DNS service, it takes 24–48 hours to propagate across the Web. Be patient. If it doesn't work immediately, this is normal.
Once you have done this, you should be able to select your new custom domain in the URL field. As soon as you do this once, it will become your default choice.

So far, I am really enjoying this feature of HootSuite. It is too soon to tell if it will cost-justify itself. I am watching it closely.
Questions: Have your tried setting up a vanity URL shortener? How has it worked for you? You can leave a comment by
clicking here
.