Even though my company officially uses Microsoft Exchange, including the calendar function, I use Google Calendar. I do this because a few people outside the company need access to my calendar. Google Calendar allows me to give access to anyone I want, provided they have a Google account.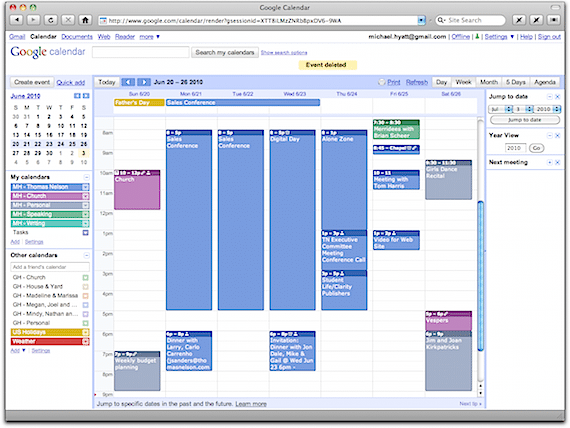 However, using Google Calendar with my new iPhone 4 was not as straight forward as I had hoped. When turned the calendar function on within my iPhone's Gmail account, I only got one calendar. (I actually have five different Google calendars.) Some people suggested that I set up my Gmail account using the Exchange option, but that did not work.
After an hour or so of research and hacking, I finally figured it out. Here are the steps I took to get all my Google calendars to show up on my iPhone:
Open Safari on your iPhone and go to the Google Calendar Sync Settings page. If you are not logged into Google it will prompt you to do so. This is what my page looks like. My Thomas Nelson appointments are synced to my main Gmail account. "GH" refers to my wife Gail's calendars. (We share our calendars with one another.)

You should see all of your calendars listed, including your shared calendars. Some calendars (e.g., "Weather" and "US Holidays") are not available for syncing. Check the ones you want to appear on your iPhone. Scroll down and tap on the Save button.
Open the Settings app on your iPhone. It should look similar to this:

Tap on Mail, Contacts, Calendar. You should now see all of the email accounts you have set up. Mine looks like this:

If you don't already have your Gmail account set up, tap on Add Account, select Gmail and follow the directions.

Tap on your Gmail account. It should look similar to this:

If the Calendars switch is on, turn it off. You should immediately get a prompt that looks similar to this:

Click on the button that says "Delete from my iPhone."

Now turn the Calendar switch back on. (If the Calendars switch was off originally, then just turn it on.)

Go to your iPhone Calendar app. Click on the Calendars button in the upper left-hand corner. You should see all of your Google Calendars, including shared calendars listed under the Gmail section. Mine looks like this:

Tap on all the calendars you want to include on your calendar. A checkmark will appear to the right of each one you select. You can change this any time you want. When you are finished, tap on the Done button at the top of the screen.

It may take a few minutes for your phone to download all of your calendar appointments from the Google servers. However, if all has gone well, all of your appointments should appear on your calendar with the same colors you use on the Google Calendar. Here is a screen shoot of my Google calendar on my iPhone 4:
Note: If you decide to add a new calendar to your Google account and want to include it on your iPhone, you will need to add the calendar in Google, then repeat these steps again, making sure that you select your new calendar in Step 1.
I was surprised that Google didn't provide these step-by-step directions. They are usually very good about documentation. I had to root around in several tech forums before I stumbled on the solution.
Question: Did this procedure work for you?