I have been using Evernote for a couple of years now. I use it to manage meeting notes, store blogging ideas, and file interesting articles I read on the Web. It has basically become my electronic brain. However, unlike my aging brain, Evernote provides near-instant recall.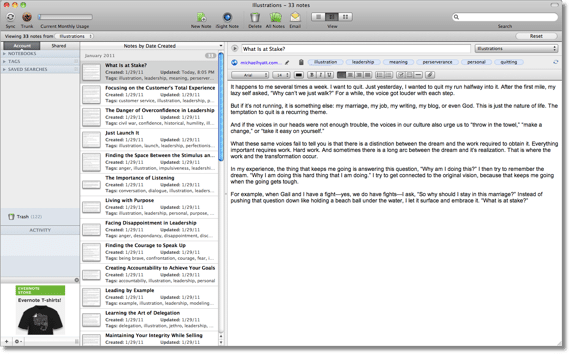 Screenshot of Evernote
Recently, I started using it to manage the raw components of my speeches. I have seen a lot of different systems for this. One of my authors, who is also a popular public speaker, once showed me his system. It contained literally thousands of 4″ x 6″ cards, arranged alphabetically by topic.
I decided to use Evernote for this and am loving it. It works beautifully. I don't have everything converted yet, but enough to make it an indispensable tool. This database will only become more valuable over time.
I have set up four separate notebooks in Evernote:
Illustrations
Jokes
Quotes
Statistics
I am now in the process of adding my content to this database of speaking resources. Specially, I am including the following:
Blog posts. I am going back through my 900-plus blog posts and extracting the various components. When I find a personal illustration or a historical anecdote, I copy and paste it into my Illustrations notebook. The same is true for quotes and jokes.
Web articles. When I am reading on the Web, I do the same. If I stumble across something I think I might want to use later, I copy and paste it into the appropriate notebook. This can include everything from other bloggers' posts to news articles.
Digital books. This is also a big advantage of using Kindle for my reading. Anything I highlight in a Kindle book is automatically extracted to my personal Highlights page on Amazon. I can copy and paste these directly into Evernote from there. This is a huge productivity boost.
Traditional books. One of the great things about Evernote is that you can share individual notebooks with others. For example, I am still reading several print books and highlighting them as usual. In the margin, I put an "I" with a square around it to indicate to my assistant that I want her to key the highlighted content into Evernote. I use a "J" for Jokes, a "Q" for Quotes, and a "S" for Statistics. Like this:
The key with all of this is to add the appropriate meta tags, so that you can search the content later. I try to add every tag I can think of—usually 6–8 per entry—so I can find the relevant information quickly. Evernote also allows me to add a URL for each entry, so that I can get back to the original source if I need to.
I am going to do my very best to add to this database every day. I think this will become hugely valuable to me as I prepare speeches and even write books in the future.
I have written several posts about Evernote. Here is a handy reference: