In 2004, I bought a Toshiba Tablet PC. I had hoped I could use it for taking notes in meetings, using Microsoft's OneNote software. However, after a few months, I gave up. The system was just too clunky. I resigned myself to using a Moleskine notebook for taking notes in meetings.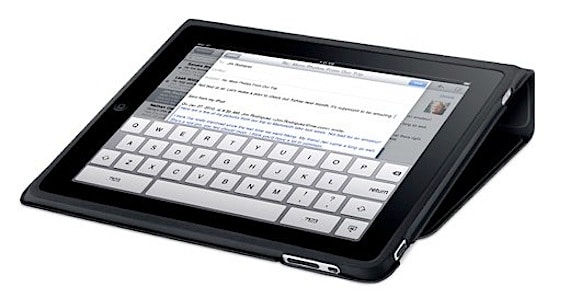 However, a few weeks ago, I was sitting in a meeting with one of our authors. Several people pulled out their iPads and began taking notes. This piqued my curiosity.
Although I had bought an iPad, I wasn't that impressed with it. While it was a beautiful machine, I thought of it as "An Elegant Solution in Search of a Problem."
Watching these people type into their iPads made me re-think my position.
Since that time, I have replaced my faithful Moleskine notebook with an iPad running Evernote. I am now carrying it with me everywhere, just as I used to do with my paper notebook. So far, I am pleased.
Here's why:
The iPad is just a little bigger than my Moleskine notebook. Heavier, to be sure, but not bulky like my Toshiba was. It seems natural now to carry it into a meeting, prop it up on the conference table using the official Apple iPad Case, and start taking notes.
Evernote is a great piece of software. It's like a digital file drawer. You can store anything in it and find it almost instantly. Best of all, they have a version for my iPad, my Mac, and my iPhone. It all syncs remotely in the "cloud," so I can access the same notes anywhere, regardless of the device I am using. In addition to text notes, you can also take a picture on the iPhone or Mac and record a voice memo on the iPhone or iPad.
I actually like typing better than writing by hand. My handwriting is almost illegible, and it was always a challenge for my Toshiba to recognize it. I'm sure the software has gotten better, but typing is now my preferred input method. (Yes, I have tried NoteTaker HD and PenUltimate with the Pogo Stylus.)
I have adapted my paper note-taking system to Evernote, using the following notations symbols for the four types of items that require follow-up:
If an item is particularly important or insightful, I put a double exclamation mark in front of it, like this:

!! This is a really important item. I'd like to be able to find it quickly when I scan my notes later.

If an item requires further research or resolution, I put a double question mark in front of it, like this.

?? This is an item that needs more research.

If an item requires follow-up, I put a double "at sign" next to it. The at sign reminds me of David Allen's GTD task management system. The item looks like this:

@@ This is an item that needs follow-up.

If I have assigned a follow-up item to someone, I put a double ampersand sign in front of it. The ampersand, which is symbolic for "and" reminds me that I am doing this task with someone else's help. It looks like this:

&& This is a delegated item that needs tracking.
When I get back to my office after the meeting, I act on these items, either calling people, sending emails, or adding the items to my task manager.
If you are just getting started with Evernote, I suggest that you buy Brett Kelly's remarkably practical e-book,
Evernote Essentials
. It is worth setting aside a couple hours to work through this brief, 84-page book. It will save you DAYS of learning Evernote on your own.
The system is not perfect. I would love to see Evernote add to their iPad app the same formatting options they have in their desktop client (e.g., bold, italics, alignment, numbered lists, etc.). I'd also like the ability to create templates I could reuse with custom fields. However, the system is working, and I think it will undoubtedly improve as the software gets better.
I have written several posts about Evernote. Here is a handy reference:
Questions: Have you tried digital notes? If so, how does your system work? What software have you found helpful? You can leave a comment by
clicking here
.