I am on sabbatical for the next few weeks. While I am gone, I have asked some of my favorite bloggers to stand in for me. This is a guest post by Dan Miller. He is the author of
48 Days to the Work You Love
. You can read
his blog
and explore his community at
48Days.net
. You can also follow him on
Twitter
.
Remember the successful hamburger campaign that promised you could "have it your way"? If you want no mustard, extra ketchup and two lettuce leaves, just voice your desires. 
Consumers today are used to getting it "their way." Hamburgers with extra pickles, radio with no commercials, an individual chapter in a book or a pair of socks that purposely do not match.

But I continue to encounter coaches, speakers, and writers with a one-size-fits-all method of delivery for their message. "Yes sir, we've got a hamburger with one pickle and one leaf of lettuce." If you want something else we can't help you. 
For example, a coach requires a client to drive to his office. An author holds her new book close to her chest and says, "Give me $20 and I'll let you see what's in here." Or a speaker cringes in fear, knowing she is booked for only one event next month.
When I started offering my weekly radio show via iTunes, our listening audience exploded to over one hundred times my previous numbers. Moving from training coaches one-by-one to hosting three annual events of forty coaches each year increased our impact, and profitability increased exponentially.
Here are some ideas for expanding your income. Let's start with a scenario. Let's assume you're a speaker with a fee of $2,500 per speech. With the expectation of twenty bookings this year you're projecting income of $50,000. You love your topic and are passionate about sharing your message. But you really want to make $150,000. Can you arbitrarily triple your fee to $7,500 or just "decide" to be booked 60 times? No, that may be challenging. But are there other ways to leverage presenting your message? Absolutely.
Product Sales: $52,000
What if you wrote a small eBook on your message? In response to inquiries about my own mastermind group I recently wrote Creating Your Own Mastermind Group. A young entrepreneur read the 44-page ebook and wrote a blog about his experience. That triggered 2,400 purchases in three days.
If you had an ebook that sold for $17 and you sold only one thousand in the course of a year, you would add $17,000 to your income. Price it at $29.94, as with Writing a Winning Book Proposal, and you only have to sell 425 units.
Could you record a thirty-minute overview of your unique approach to solving a problem? Add 414 of those at $37 for another $15,300.
I love instructional manuale—those clunky three-ring binders that have some content and perhaps two audio CDs. We've sold thousands of products like Write to the Bank in this form at $197 each.  With only 100 of these a year you'll see another $19,700. Add a little more content like Michael Hyatt's Get Published and make it $297. Get creative and see the possibilities.
Add the three I've described and you've got a cool $52,000 in product sales, without a New York Times bestseller or numbers that are out of reach for even a beginning speaker.
Live Events: $12,000
Could you invite people to an informative and fun live event? If you hosted two events a year where you had twenty participants paying $300 each, you'd add $12,000 to the bottom line. We recently did a teleseminar where we charged only $1.00 but had 4,768 people sign up. Providers like InstantTeleseminar have taken the complexity out of being able to pick up the phone and start talking to your audience.
Attend events like Launch or Innovate to learn and develop your own model.
Affiliate and Referral Commissions: $6,000
You have a specific message. Let's say you speak on "Effective Decision Making in 20 Minutes." You can recommend the new book Decisive or the classic Decision Making and the Will of God through Amazon's affiliate program and immediately start getting affiliate commissions on every sale. 
For years I have attended major conferences by recommending those same conferences to my audience, where I receive affiliate commissions for each referred attendee.  Attending events like Brendon Burchard's Expert Academy then becomes not only a great learning experience but an income generator as well. Mix and match, but you can put in motion a system that would generate at least $500 per month in affiliate and referral income.
Coaching: $12,000
After speaking, you find people asking to meet with you personally to work on their decision-making skills. You say, "Sure, which of these three options would work best for you?" and you show them your $2,500, $1,500, and $250 coaching packages. You have plenty of flexibility to create coaching options that fit your style and comfort level. From these you average only one new client per month but add $1,000 to your income.
Membership Fees:  $18,000
What if your specialty is growing organic vegetables? Do you think others with this same interest would like to have a place to be inspired and share ideas? What if you gave them a place to do just that for a monthly membership fee of $10 and found only 150 eager participants? That's $1,500 a month or $18,000 a year. Trust me, it's being done with thousands of simple affinity groups.
The couple with HerbMentor has 3,400 members who enjoy sharing together at $10 a month. That's not $18,000 a year, it's $408,000!
Or you could help "get your art seen and sell it" with a fun place like WorkYourArt. The process for setting up a membership site is probably not as complicated as you may think.
Consider this simple model: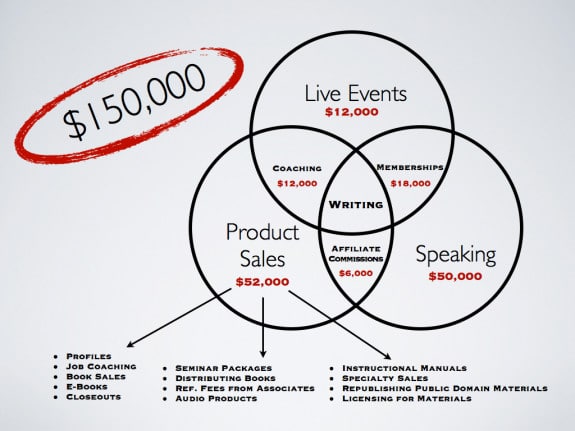 In this graphic, I have writing as the central focus. As an author that has worked well for me. But rather than wringing my hands waiting for significant revenue to come from fancy publishing house advances and royalties, I simply see my writing as the fuel to entice readers to these other more profitable areas of my business.
You have a message. See yourself as a rich resource of content for that message in a variety of forms, not as the deliverer of a one-pickle hamburger.
Question: Have you been hiding the condiments in the back pantry? Which of the above options do you think you'll try? Share your answer on Facebook, Twitter, or LinkedIn.