I started my first mentoring group in January 2010 after being inspired by Regi Campbell, author of Mentor Like Jesus. His organization, Radical Mentoring, guided me through the process and enabled me to do something I had always dreamed of doing.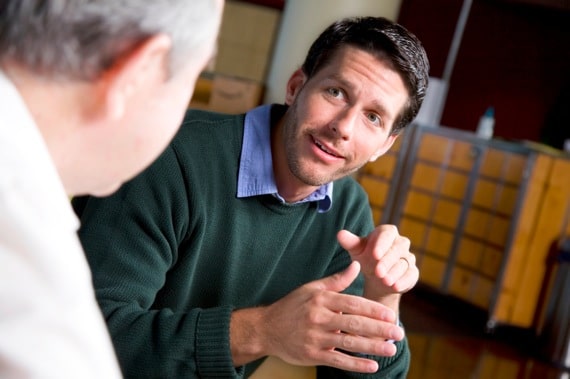 Photo courtesy of ©iStockphoto.com/asiseeit
Mentoring has been one of the most rewarding experiences of my life. The first year went so well, I decided to do it again in 2011. We just wrapped up our second season. I am doing it again in 2012.
Scores of people have written to ask how my group works. I thought I'd write about it here in the hope that you might be inspired to start your own group. (This is not an invitation to join my group. It is already full for 2012.)
I am contacted almost weekly by people who want to be mentored. If there's one thing I have learned, it's that young men and women are desperate for mentors who will build into their lives.
Here's how my group works. (Again, this inspired by what I learned from Regi, but modified a bit by me.) Let's start with the vision.
My vision is to help younger men live a God-centered, integrated life and fulfill their God-given potential.
I believe that we can be followers of Jesus Christ and have successful careers and be great husbands, fathers, church members, civic leaders, disciple-makers and friends—ALL at the same time.
I endeavor to share what I have learned about success in these areas, most often by focusing on where I have failed. (And I have plenty of examples!) I want to help my mentees avoid the same mistakes that I made along the way.
I have eight men in my group. Why so few? As Regi says, "More time with fewer men equals greater Kingdom impact."
Also, the reason I have not included women is because I want to focus on those things that men struggle with. I believe mentoring is done best with those of the same gender. You may disagree, and that's fine.
Requirements
I specifically recruit men who met the following criteria:
Men who have a passionate commitment to Jesus Christ. They may be struggling in their relationship with God, but, fundamentally, they want to grow.
Men who are married and in their late 20s to late 30s.
Men who are willing to look themselves in the mirror and make changes to improve.
Men who are teachable and willing to take direct feedback—about anything—without being defensive.
Men who are willing to replicate the process at least once with another group of guys sometime in the future.
Men who live in the greater Nashville area. I think it is important to be able to meet face-to-face.
Commitments
The men and their wives sign a written covenant to do the following:
Be on time to every session. I am big on punctuality.
Attend two scheduled retreats, one at the beginning of the year and one at the end. These start on a Friday evening and end late Saturday afternoon.

Meet with the group at my home once a month for three-hours (7:00–10:00 pm). This is the formal session.

Read one book a month. I assign these and the mentees are responsible for purchasing them themselves.
Prepare a written "net-out" (book summary) for each book and bring eight copies to each meeting.
Memorize two assigned Bible verses per month.
Meet with me one-on-one for lunch every eight weeks (six meetings through the year).

Meet with their assigned growth partner (one of the other mentees) in person or by phone once a month. These meetings can be as short or as long as the partners desire.
Opportunities
In addition, I invite my mentees to participate in these optional activities:
Meet with the group informally once a month for two hours (7:00–9:00 pm). This is the informal session and will be driven by my mentees' questions. I host this in between the formal sessions.
Come to dinner with my wife, Gail, and me at our house once during the year—just the four of us. This is purely social.
Contact me as necessary to process any specific issues they need to work through.
Schedule and Topics
This is the program I have planned for this year:
Agenda
The agenda for the formal, three-hour session looks like this:
Prayer: We begin with me praying for the meeting.
Catch-up: Each guy shares the high point and low point of the prior two weeks. I encourage the guys to take notes. They will need these at the end of the meeting.
Scripture Memory: Each guy says his two assigned verses from memory. I then randomly ask guys for previously assigned verses.
Break: We take a ten-minute break.
Discussion: This is the bulk of our time. Each guy passes out copies of his book "net-out." I then lead a discussion around the content of the book. (I use questions I have prepared before the meeting. I also do a net out.)
Assignments: I make the assignments for the next session. This includes the next book, next two Scripture verses, and any exercises I expect them to complete. (Every session will have one practical exercise that they will do daily before the next session.)

Prayer: We pray for one another, based on what was expressed in the Catch Up section.
The informal, two-hour session is driven entirely by their questions. They bring questions they want to ask me. These could be on any topic. I also ask the guys questions. It's a very free-flowing discussion.
Cost
The total cost is approximately $360. This includes the books and the retreats above, plus the cost of going to lunch with me six times during the year. (We go "Dutch" and I assume they will spend $10.00 per lunch). In addition, I ask them to make a donation to Radical Mentoring and suggest $100 each.
As you can see, my guys make a serious commitment of time, effort, and money. So do I. This insures we all have "skin in the game" and maximize our learning.
I am really excited about leading my mentoring group this next year. I only wish I had time to do more than one. That's also why I am praying that other men will step up and become mentors.
If you are over forty, I seriously encourage you to consider it. It will be one of the most rewarding things you could ever do.
Question: What questions do you have about mentoring? You can leave a comment by
clicking here
.