"There aren't enough hours in the day."
It's a phrase I hear all the time. I've even said it myself.
We're all busy. We've got long to-do lists and a short amount of time to tackle them.
Yet many people accomplish audacious goals and achieve great things — in the same number of hours a day that you and I get.
The secret?
Using the right tools.
When I have the right tool, app or software, I can save hours of my time. I can create better quality content. And I can enjoy my work more.
In fact, as a busy blogger, podcaster, author, speaker and consultant, I get asked all the time about the tools I use to get it all done.
So I decided to write a simple ebook with all of them.
It's called Inside My Toolbox: 99 Resources That Will Make Your Personal and Business Life Hum.
In this brief, to-the-point resource, you'll discover:
The word processor I use for all my writing—books, blog posts, podcast outlines, speeches—everything. Hint: It's not Microsoft Word.
The online system I use to manage my automated marketing campaigns. This tool has made me tens of thousands of dollars over the last year.
The WordPress plugin I use to optimize my blog posts, making them SEO-friendly and more likely to get a higher ranking in Google.
The software I use to manage my seven-figure membership site. It's surprisingly inexpensive—and effective.
The earphones I use for running. They have a unique design that keeps them in my ear, so they won't fall out.
The software package I use to edit audio files. It's like having a recording studio at your fingertips. Seriously!
The microphone I use in my podcast, along with all the other audio equipment.
The utility software I install first on any new computer. It enables me to start applications, find files, and launch workflows.
A simple application I use to backup my computer in the cloud. It works quietly in the background, insuring that I never lose anything important—and I haven't in years.
The online program I use to document workflows, so I can share them with my colleagues and virtual assistants, making my team more efficient and effective.
And eighty-nine more. I have organized my tools into eight categories:
Blogging
Personal Development
Podcasting
Productivity
Social Media
Speaking
Video
Writing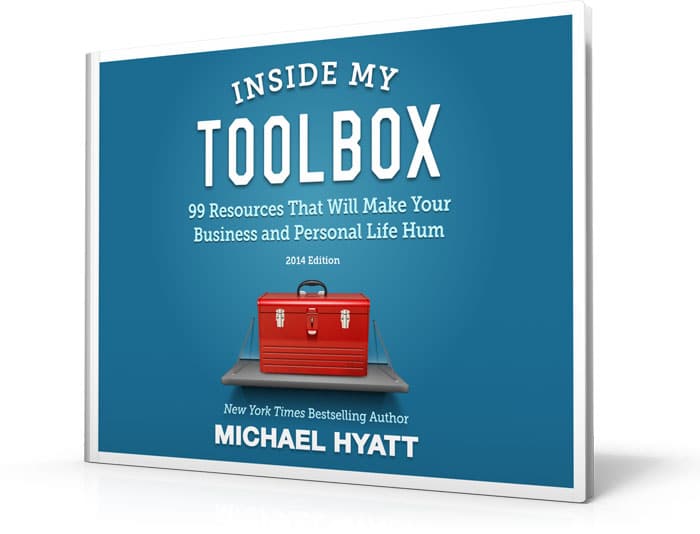 Here's the thing:
You can't buy Inside My Toolbox. There's only one way to get it—by subscribing to my FREE email newsletter.
Sorry, this eBook is not currently available.

All you need to do is fill in the form on the top right-side of this page. Once you do that and confirm your subscription, I will email you the download link to this amazing, FREE resource.
And whenever I post fresh content, I'll send you an email. That way, you won't have to visit my blog to stay up to date. Plus, you can unsubscribe at any time.
You'll never find any more hours in the day. But you CAN make the most of the time you do have.
Don't waste any more time using the wrong tools. Get my free ebook now and find the tools that can transform the way you work and help you achieve big goals in your personal and professional life.