During my coaching sessions at EntreLeadership Master Series in Orlando, there were a few themes that kept popping up. One of those was leaders having problems with their teams not going the extra mile. Not taking on more responsibility. The first instinct is that you hired lazy people. In many cases that is true.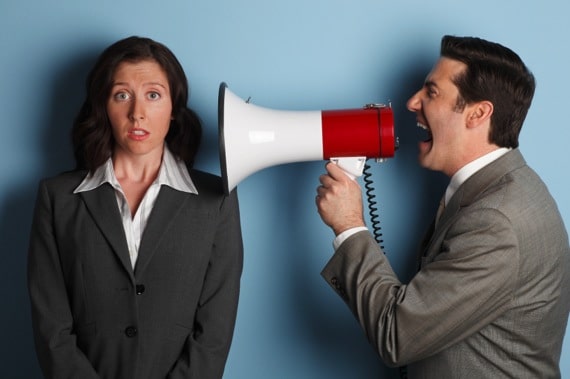 Photo courtesy of ©iStockphoto.com/DNY59
But there's a combination that I've found that explains why so many team members are so hesitant. When a leader is perceived to be a bully, or condescending, or leads with fear, then I find that they tend to have a team that, in their own words, "won't go the extra mile."
Why, you ask? It's simple really. When team members are made to feel like all they can do is fail, they won't try to succeed.
If they can't ever make you happy, and all they get is friction, their minds tell them to stop doing so many things that leave them vulnerable to a verbal flogging. Now if you're sitting there saying, "Wimps! They just need to get over it!" then you probably have these people on your team.
When you keep your team in a constant state of shell shock, you can't expect them to take risks. They know that if they do, there is a chance they will get punished for failure, which leads to more tongue lashings. So how do you know if this is your team? Ask some questions.
It's not you. It's me. Start with your spouse. I know, I know, this already sounds bad. But really, who knows you better? Ask them if they feel like maybe, possibly, you might tend to be a little, teeny bit rough as a leader from time to time. If you have to throw a bucket of water on them to stop them from rolling around on the floor laughing, then take that as a "yes."
Do you … wanna tell him? Ask your leaders. Now, this gets a little tougher because they aren't going to want to answer you honestly for fear that you'll react like you always do … if you're that person, that is. So you're going to have to let them know it's safe for them to be honest and crystal clear. If you hear something you don't like, you can't take it out on them.
He gets it, he really does. Finally, ask your team. This is the toughest of all because you feel like this is weakness in their eyes. And if they say "yes," then surely there's going to be some revolt the next time you get onto them for taking the last of the coffee and not making a new pot. Trust me, it'll be okay. They will have more respect for you if you show them that you're working on it.
You can't be expected to change overnight. And you can't expect them to trust that you've changed overnight. But what do you have to lose by trying? Your attitude and their lost productivity. The one silver lining is that they really do want to please you. If they didn't, they would already be gone. (This might explain some of the losses you've had.) Ultimately they want to make you happy, but not at the expense of getting in trouble.
Question: Have you ever worked for "That guy?" If so, what would you want him or her to know? You can leave a comment by
clicking here
.