I have now been using the Kindle Fire for about a month. I thought I'd weigh with my impressions thus far. This isn't intended to be a thorough, technical review. It is simply my view as a publishing professional and e-reader enthusiast.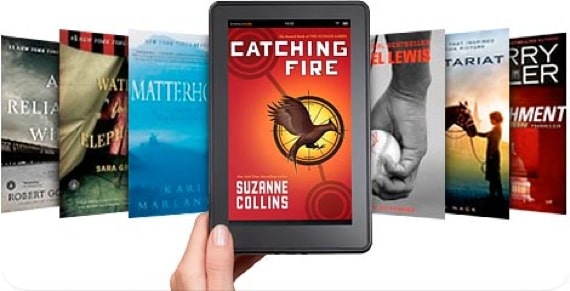 I have been a fan of the Kindle since Amazon introduced it in 2007. I have bought every iteration since then and have been pleased with the evolution of the device. The simplicity, battery life, and integrated buying experience have been delightful.
However, when I first saw the announcement about the Kindle Fire, Amazon's Android-based tablet with a color touch screen, I decided to opt out. I already have an iPad 2, so I didn't see what the Kindle Fire had to offer.
However, after reading Chris Brogan's review, I decided to go for it. As someone with a professional interest in e-publishing, I thought I should try it for myself.
I am currently using the Fire for reading books and casual browsing. I have not watched a movie on it yet nor really listened to music (though I have uploaded my music library to the Amazon cloud). I have not used the email app. I have watched movie trailers, and the device seems to work as-advertised.
Here's the good, the bad, and the ugly.
The Good
The price point is terrific. At $199.00 it's pretty easy to justify, especially compared to the iPad. It offers one of the best value propositions out there.
The 7" display is beautiful. The size of the Fire is also nice. It feels more "bookish" than the iPad. However, it is heavier than I anticipated.
Book pages look terrific. Because it uses a touch screen, it is much easier to access everything: highlighting, notes, definitions, bookmarks, etc. I don't miss the joystick from the last version.
Highlighting passages is easier and more intuitive than any e-reader I have used. (I am a highlighting junkie.) However, you still can't highlight across pages.
The battery is great. Amazon advertises at least eight hours of continuous reading. I have gotten at least that. It has been a non-issue for me.
Purchasing is truly one-click. Some users have complained that this makes it too easy for children and thieves, but I like the convenience. (I also use the password lock feature.)
Synching across all Kindle devices continues to work flawlessly, whether they are on your desktop, your iPad, or your iPhone. I can pick up any device and continue reading right where I was on the last one.
The 8GB internal storage will accommodate about 6,000 books—less if you want to also store movies and apps. That's half as much as the Nook, but still more than adequate for most needs.
The Bad
The virtual bookshelf, which is the primary way you access your content works as expected. The shelves use a carousel to let you swipe through your content in the order it as last accessed. However, it feels clumsy and it's easy to flip past the book or app you want.
Twitter is no longer integrated as it was with the last generation. This is curious. I think "social reading" is still a huge opportunity for the e-reader space. So far, only Rethink Books seems to have the vision for this.
There is currently no 3G version, so if you are not connected to a Wi-Fi, you cannot purchase new books. This makes it less attractive for frequent travelers.
The touch screen is sometimes unpredictable. On numerous occasions, I have found myself having to touch the screen more than once to activate a control or feature. In addition, the keys are just too small to access comfortably.
The OS transitions are not as smooth or as impressive as the iPad. This is not a big deal, but it makes the Fire feel less polished.
The Ugly
The Power Switch is located on the bottom of the device rather than the top. As a result, I have unintentionally turned it off on numerous occasions. (Yes, you can rotate it 180°, but this isn't the intended orientation.)
I have crashed on more that one occasion, and I have even had the tablet spontaneously reboot on me. Amazon is promising an update to the OS within the next few weeks. Hopefully, that will help.
Overall, the Kindle Fire is no iPad killer. If you can afford the iPad, I'd buy that instead. It is just much more polished and, with so many available apps, can do so much more.
However, if your primary goal is media consumption at an outstanding price, you won't go wrong with a Kindle Fire. With Amazon's backing, it will only improve with time.
Question: What's your take on the Kindle Fire? You can leave a comment by
clicking here
.